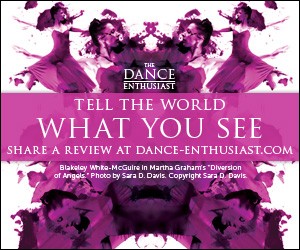 Doug Varone and Dancers Summer Workshop 2017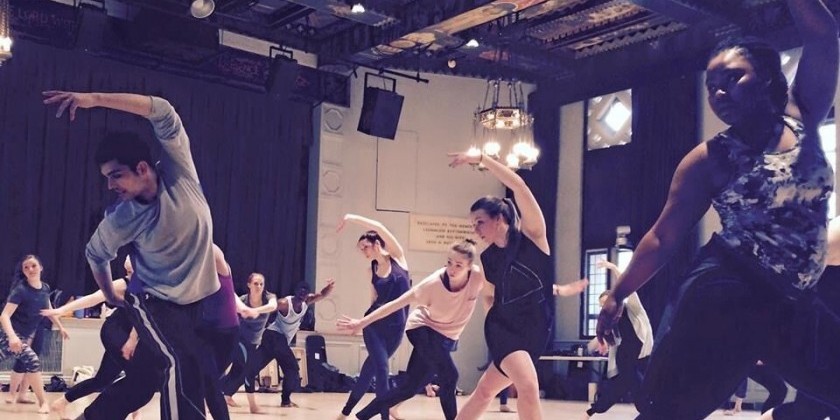 Company:
Doug Varone and Dancers
Doug Varone and Dancers
Summer Workshop 2017
June 4 - 23, 2017
New York City's famed Doug Varone and Dancers will offer Summer Workshop 2017, an immersive, three-week workshop for pre-professional and professional dancers, at Purchase College.
"The 2017 Summer Workshop marks our 18th year of teaching and sharing our work and process," said Doug Varone, artistic director of Doug Varone and Dancers.  "I've always seen this intensive as a way of channeling the philosophy of the dances we create into a shared experience. For three weeks, we'll live together, work together, create together, and grow together. The Company builds a safe haven that allows you to challenge yourself in both mind and body and explore the individual qualities that we each possess as artists. I am confident that the personal teaching approach of the Company will leave you with new ideas, new answers and new questions about why we all do what we do: DANCE."
The workshop includes:
Pilates/Morning Warm Up (optional): This class consists of a series of mat exercises developed by Joseph Pilates in combination with somatic and rehabilitation exercises that strengthen the body's core muscles and connect the mind and body. This class will prepare participants for a full day of dancing. Taught by former company member Stephanie Liapis.
Modern Technique: This highly technical, movement-based class investigates the line of human movement and how it can affect the broader strokes of our dancing. Through the expansive use of the back and limbs, Varone's style will be explored through an emphasis on breath, strength, dynamic lyricism and musicality.
Phrase Work: This class investigates individual phrases created on the spot as well as phrases from Company repertory. Students will focus on quick assimilation and exploration of movement in terms of quality and musicality.
Ballet: This class encourages the individual dancer to be their whole self within the material, and to nurture and expand the form's technical and expressive parameters from barre work to flight while exploring the ever shifting balance between rigor and ease. Each student will take ballet in the afternoon for half of the three weeks. Taught by Megan Williams.
Improvisation: The class will provide an opportunity for students to hone in on their individuality, creativity, and ability to make choices in the moment. Each student will take improvisation in the afternoon for half of the three weeks. Taught by former company member, Keith Johnson.
Each student will also choose one elective class from the list below for the entirety of the three weeks.
Repertory - Large Work: Company members will stage a section of one of Varone's larger group works on participants for an informal performance at the end of the workshop. The class will focus on movement dynamics and spatial awareness within group choreography, as duets and solos gather seamlessly into group explosions of choreographed chaos.
Repertory - Exploring Excerpts: This class will spend short intense spans of time exploring excerpts (i.e. duets, trios, etc.) from a variety of pieces, offering an overview of Varone's work. Through this investigation, the class will experience the wide range of movement dynamics, emotional nuance and spatial architecture inherent in Varone's choreography.
Choreographic Devices with Doug Varone: The teacher will emphasize compositional structure and explore new devices for expanding and inventing material. A large body of material will be created, varied and manipulated both in and out of the studio, pushing towards the development of a new work utilizing the material built in class.
New Work: This class will focus on the creation of a new work by former company member, Keith Johnson. Participants will be involved in the creative process and will have the opportunity to explore the personal and performance aspects of the dance throughout the three weeks.
Performance Skills: In this class, dancers will examine how to use time, focus, awareness and identity as tools to explore the performance experience and build a performance practice. We will strive for authenticity and expressivity in daily discussion, observation and comprehensive movement exercises. Performance Skills will be taught by former company member, Stephanie Liapis.
DOUG VARONE, ARTISTIC DIRECTOR
Award-winning choreographer and director Doug Varone works in dance, theatre, opera, film, and fashion. He is a passionate educator and articulate advocate for dance. His work is known for its emotional range, kinetic breadth and the diversity of genres in which he works. His New York City-based Doug Varone and Dancers has been commissioned and presented to critical acclaim by leading international venues for three decades. In the concert dance world, Varone has created a body of works globally. Commissions include the Limón Company, Hubbard Street Dance Chicago, Rambert Dance Company (London), Martha Graham Dance Company, Dancemakers (Canada), Batsheva Dance Company (Israel), Bern Ballet (Switzerland) and An Creative (Japan), among others. In addition, his dances have been staged on more than 75 college and university programs around the country. In opera, Doug Varone is in demand as both a director and choreographer. Among his four productions at The Metropolitan Opera are Salome with its Dance of the Seven Veils for Karita Mattila, the world premiere of Tobias Picker's An American Tragedy, and Stravinsky's Le Sacre du Printemps, designed by David Hockney. His Met Opera production of Hector Berloiz's Les Troyens was broadcast worldwide in HD. He has directed multiple premieres for Minnesota Opera, Opera Colorado, Washington Opera, New York City Opera, and Boston Lyric Opera, among others. His numerous theatre credits include choreography for Broadway, Off-Broadway and regional theatres across the country. His choreography for 2012's musical Murder Ballad at Manhattan Theatre Club earned him a Lortel Award nomination. Film credits include choreography for the Patrick Swayze film, One Last Dance. In 2008, Varone's Bottomland, set in the Mammoth Caves of Kentucky, was the subject of PBS's Dance in America: Wolf Trap's Face of America. Most recently, he directed and choreographed MasterVoices' production of Dido and Aeneas at New York City Center, starring Tony Award winners Kelli O'Hara and Victoria Clark, alongside the Company. Varone received his BFA from Purchase College where he was awarded the President's Distinguished Alumni Award in 2007. Numerous honors and awards include a John Simon Guggenheim Fellowship, an OBIE Award (for Lincoln Center's Orpheus and Eurydice), the Jerome Robbins Fellowship at the Boglaisco Institute in Italy, two individual Bessie Awards, two American Dance Festival Doris Duke Awards for New Work, and four National Dance Project Awards. In 2015, Varone was awarded both a Doris Duke Performing Artist Award and a Lifetime Achievement Award from the American Dance Guild. Varone teaches workshops and master classes around the world for dancers, musicians and actors. He is currently on the faculty at Purchase College, teaching composition and choreography. 
"Doug Varone and Dancers command attention as soon as the curtain goes up. Rarely do you find a choreographer so dedicated to the full and generous complexity of the human spirit. Many choreographers can create interesting movement; few can make it mean so much." 
- CHICAGO TRIBUNE
"Varone has an unquenchable instinct for expressing the vagaries of the human heart." 
- ARTS JOURNAL
"This is a company of master dancers, performing masterly choreography." - NEWSDAY
DOUG VARONE AND DANCERS 
The recipient of 11 Bessie Awards, Doug Varone and Dancers has toured to more than 125 cities in 45 states across the US and in Europe, Asia, Canada, and South America. Stages include The Kennedy Center, Lincoln Center, Brooklyn Academy of Music, New York City Center, San Francisco Performances, London's Queen Elizabeth Hall, Toronto's Harbourfront, Moscow's Stanislavsky Theatre, Buenos Aires' Teatro San Martin, the Venice Biennale, and the Tokyo, Bates, Jacob's Pillow and American Dance Festivals. In opera and theatre, the Company regularly collaborates on the many Varone-directed or choreographed productions that have been produced around the world. Doug Varone and Dancers continues to be among the most sought-after ambassadors and educators in the field. The Company's multidisciplinary residency programs take audiences deeper into the work, with a hands-on approach that moves beyond the studio to speak directly to people of all ages and backgrounds, both dancers and non-dancers alike. Our annual intensive workshops at leading universities have attracted students and professionals from around the country, and through our innovative DEVICES choreographic mentorship program, we are training the next generation of artists and dance-makers. Whether on the concert stage, in opera or theatre or on the screen, choreographer Doug Varone creates kinetically thrilling dances with rich musicality and emotional depth. From the smallest gesture to full-throttle bursts of movement, Varone's work can take your breath away with both its athleticism and its passion.