Contribute
Your support helps us cover dance in New York City and beyond! Donate now.
Douglas Dunn & Dancers presents the World Premiere of AIDOS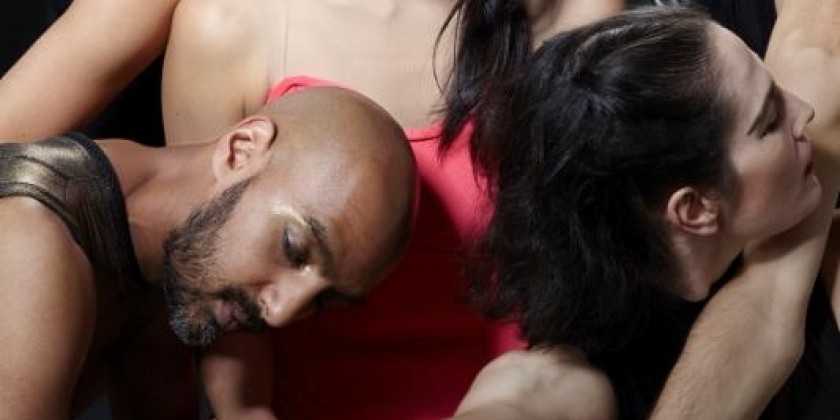 Company:
Douglas Dunn & Dancers
Douglas Dunn & Dancers presents the World Premiere of Aidos at Brooklyn Academy of Music, BAM Fisher, 321 Ashland Place, Brooklyn, NY from February 11-15, 2015.  Performances: Wed-Sat at 8pm, Sat & Sun at 3pm. Tickets are $20 and are available at www.brownpapertickets.com/event/1040421, by phone at (866) 620-7509 or in person at the BAM box office during the week of the show from noon to show time.
Aidos, a new work by Douglas Dunn, features dancing by Dunn himself, Jules Bakshi, Alexandra Berger, Emily Pope-Blackman, Jin Ju Song-Begin, Jessica Martineau, Paul Singh, Jake Szczypek, and Timothy Ward to Bach Cello Suites performed live by Ha-Yang Kim, with design by Andrew Jordan and lighting design by Carol Mullins.
Though highly stylized and elegant, as is typical of Dunn's work, the piece allows Aidos, the Greek goddess of shame, to appear as a split personality danced by two six-foot tall women, Jin Ju Song-Begin and Jessica Martineau. Their ongoing duel, juxtaposed against six more affiliated dancers, is the focal point of the general suggestion of dance display as inherently embarrassing. The beauty of the Bach Suites played live by Ha-Yang Kim and the sleek black and gold costumes by Andrew Jordan keep the mordant theme from shredding the luxuriant texture of the hour-long dance.
Douglas Dunn began presenting work in New York City in 1971. In 1976 he formed Douglas Dunn & Dancers and began touring the U.S. and Europe. In 1980 the Paris Opera and the Autumn Festival invited him to set Stravinsky's Pulcinella on the Paris Opera Ballet. He has collaborated on film and video-dances with Charles Atlas and Rudy Burckhardt. He works with visual artists (Mimi Gross, David Ireland, Uli Gassmann, Jeffrey Schiff), composers (Joshua Fried, Bill Cole, Eliane Radigue, Alvin Lucier, Robert Ashley, Linda Fisher, John Driscoll, Ron Kuivila), poets (Anne Waldman, Reed Bye, Ruth Margraff), and lighting designer Carol Mullins, to present a multifaceted dance image. Dunn has received funds for his work from the New York State Council on the Arts, the National Endowment for the Arts, the John Simon Guggenheim Memorial Foundation, the Foundation for Contemporary Performance Arts, and other sources. In 1998 he received a New York Dance and Performance (Bessie) Award for Sustained Achievement.
Douglas Dunn has been dancing and making dances for forty-three years. He likes to collaborate with poets, painters, sculptors, musicians, composers and playwrights to offer a multifaceted theatrical experience. He has set pieces for many companies besides his own, including the Paris Opera Ballet, and has composed numerous outdoor and site-specific events. He is renowned as a teacher of Technique and of Open Structures, with a long tenure at NYU's Steinhardt School of Culture, Education, and Human Development. Awards include a Guggenheim, a Bessie, and Chevalier in the Ordres des Arts et des Lettres. Douglas produces Salons at his studio in Soho, and is a Board Member Emeritus of Danspace Project/St. Mark's Church. In 2012 his collected writings, available via Amazon.com, were published under the title Dancer Out of Sight.
For more information about Douglas Dunn & Dancers, visit www.douglasdunndance.com.
ABOUT BROOKLYN ACADEMY OF MUSIC
BAM (Brooklyn Academy of Music) is a multi-arts center located in Brooklyn, New York.  For more than 150 years, BAM has been the home for adventurous artists, audiences, and ideas—engaging both global and local communities. With world-renowned programming in theater, dance, music, opera, film, and much more, BAM showcases the work of emerging artists and innovative modern masters. For more information visit www.bam.org.
(Photo : Courtesy Press Photo/Julieta Cervantes)