Dutch National Ballet premieres Shen Wei's new 'Sacre du Printemps'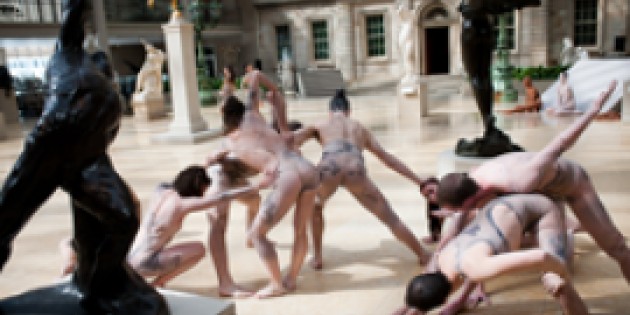 At Holland Festival, June 15-22
SHEN WEI
CREATES NEW WORK FOR
DUTCH NATIONAL BALLET and
COMPAGNIA DI BALLETTO DEL TEATRO DI SAN CARLO
Dutch National Ballet premieres Shen Wei's new Sacre du Printemps at Holland Festival, June 15-22
Shen Wei's new production of Carmina Burana premieres in Naples, July 21 – 27
featuring the chorus, orchestra and ballet of Teatro di San Carlo and dancers from Shen Wei Dance Arts
New York, New York -- Internationally acclaimed choreographer Shen Wei, renowned for his work with his own modern dance company, Shen Wei Dance Arts, and his impressive contribution to the opening ceremony of the 2008 Olympic Games in Beijing, will premiere two new works this summer, created for ballet dancers.
In honor of the hundredth anniversary of Stravinsky's famed score, Le Sacre du Printemps, the Dutch National Ballet has commissioned Shen Wei to create a new work to the landmark orchestral score. Shen's Le Sacre du Printemps will premiere at the Amsterdam Music Theatre during the Holland Festival. Performances will take place Saturday, June 15, 16, 18, 19, 21 and 22. Ted Brandsen, artistic director of the Dutch National Ballet, invited Shen Wei to create a new work for the company several years ago, but the time was not right for Shen Wei. Brandsen stated, "He is very happy that the collaboration is now becoming a reality. Shen Wei combines Chinese calligraphy with modern dance and thus has developed a completely unique visual idiom, which nevertheless appeals to a wide audience."


For Teatro di San Carlo, Shen Wei will choreograph, direct and design the costumes and sets for a new production of Carl Orff's Carmina Burana. The production will feature the ballet, chorus and orchestra of Teatro di San Carlo and members of Shen Wei Dance Arts, who will perform lead roles in the production. Shen Wei's vision of Carmina Burana will premiere in Naples on July 21, 2013 with subsequent performances on July 23, 24, 25 and 26.
In an interview with Pia Catton published in the Wall Street Journal, Shen Wei discussed his return to the Stravinksy score after having created an acclaimed 15-dancer version for his own company in 2003, set to the composers' four-hand piano version. He told Catton, "It was a big challenge to face it again. I have spent so much time working on this one piece of music." According to Catton, Shen estimated that he spent two years listening to the piano score for his 2003 production, and a year listening to the orchestral score for the Dutch production, which features 36 dancers. For performances of Le Sacre du Printemps, The Dutch National Ballet will be accompanied by the Holland Symfonia, conducted by Matthew Rowe.
For the Teatro di San Carlo production of Carmina Burana, Shen Wei and a Company contingent of seven dancers will participate in 8-weeks of creative rehearsals with Compagnia di Balletto del Teatro di San Carlo and work with a chorus of over 100 and a full orchestra for a contemporary look at Carl Orff's stirring setting of bawdy, lascivious and sometimes grim medieval poetry. In this production, Shen Wei will intersperse actual music of the 12th and 13th centuries into Orff's rich sonorities to provide contrast and texture to the scenic cantata.
For Tickets to the Dutch National Ballet's production of Shen Wei's Sacre du Printemps:
HET MUZIEKTHEATER BOX OFFICE: Amstel 3, Amsterdam
Telephone 001-31-(0)20-6255 455.
To purchase tickets on line: http://www.het-ballet.nl/en/tickets/order/

For Tickets to Teatro di San Carlo's production of Shen Wei's Carmina Burana:
SAN CARLO THEATRE BOX OFFICE: Via San Carlo 98 / f Naples.
Tel: +39 081 7972331 - 412
Fax: +39 081 400 902
To purchase tickets on line: http://www.teatrosancarlo.it/biglietti/
Choreographer, director, dancer, painter and designer Shen Wei is internationally renowned for his cross-cultural, boldly visual movement-based spectacles. He is perhaps best known as the lead choreographer for the Opening Ceremonies of the 2008 Beijing Olympics, which won acclaim worldwide. The Washington Times has called Shen Wei "One of the great artists of our time" and The New York Times proclaimed, "If there is something to write home about in the dance world, it is the startlingly imaginative work of the Chinese-born choreographer Shen Wei."
Admiration for his talent has earned Shen Wei numerous awards, including a MacArthur "Genius" Fellowship (2007), the U.S. Artists Fellow award, and a John Simon Guggenheim Fellowship. Other accolades include: Les Etoiles des Ballet2000, awarded by Ballet2000, Europe's leading international dance magazine; Australia's Helpmann Award; the Nijinsky Emerging Choreographer Award; the World Economic Forum's Young Global Leader Honor; the Algur H. Meadows Prize; and a 2012 New York City Center Choreography Fellowship. Most recently, he was honored with the Audi 2012 Artist of the Year Award in Beijing, China.
Born in China's Hunan province in 1968, the son of Chinese Opera professionals, he was trained from youth in the rigorous practice of Chinese opera performance, traditional Chinese ink painting, and calligraphy and was a performer with the Hunan State Xian Opera Company from 1984 to 1989. During his student years, he studied Western visual art, which propelled an interest in modern dance. In 1991, at the age of 23, he became a founding member of the Guangdong Modern Dance Company, the first such company in China. In 1995, upon receipt of a fellowship, he moved to NYC to study with the Nikolais/Louis Dance Lab and was invited to present his work at the American Dance Festival. In July 2000, he founded Shen Wei Dance Arts (SWDA), and his Company quickly entered the international touring circuit.
Since forming his Company, he has received numerous commissions to support his creative works for Shen Wei Dance Arts including: multiple commissions from the American Dance Festival; 2 from Het Muziektheater Amsterdam; 2 from the Lincoln Center Festival; 2 from the Kennedy Center for the Performing Arts; as well as from The Metropolitan Museum of Art, the Park Avenue Armory, Hong Kong's New Vision Arts Festival, and the Edinburgh International Festival.
Shen Wei has also created dances for Les Grands Ballets Canadiens de Montréal and Les Ballets de MonteCarlo and choreographed the Rome Opera's production of Rossini's Moise et Pharaon, conducted by Ricardo Muti. Most recently, he has been commissioned to create a new work for the Dutch National Ballet in Amsterdam (premiere, June 2013) and to choreograph, direct, and design a new production of Carmina Burana for the chorus, orchestra, and ballet of Teatro di San Carlo in Naples, Italy. The production includes Shen Wei Dance Arts' dancers and will premiere in July 2013.
Recently, his work as a visual artist and choreographer have entered into a new dialogue in a series of performative installations and site-specific works which have been presented at a number of museums and galleries including, The Metropolitan Museum of Art, the North Carolina Museum of Art, Collezione Maramotti in Italy, Mana Contemporary and the Forum at the Yerba Buena Center for the Arts.
Transcending East and West,
Shen Wei Dance Arts
fuses contemporary modern dance, calligraphic gesture, painting, and the ritual power of ancient drama to forge a startlingly new hybrid form of dance and movement-based spectacle. Since its founding, the Company has performed in 138 cities, in 28 countries, on five continents and has appeared at prestigious festivals and venues worldwide such as: Jacob's Pillow, the Spoleto Festival, annual performances at the American Dance Festival, the Los Angeles Music Center, Venice Biennale, Sadler's Wells, the Barbican Centre, Het Muziektheater, the Edinburgh International Festival, the Berliner Festpiele, and the Sydney Festival. In the US, Shen Wei Dance Arts has performed in 25 of the 50 states, gave the first dance performances on the concert stage at Frank Gehry's Disney Hall in Los Angeles, and has been presented five-times at the Lincoln Center Festival in New York City. The Company has recently completed a unique 5-year performance residency at the Kennedy Center in Washington, D.C.
Recent company highlights include performances at the Ravenna Festival in Italy; week-long engagements at San Francisco's Yerba Buena Center for the Arts and Washington, D.C.'s Kennedy Center for the Performing Arts; a three-city tour of Brazil, and a three-week tour to China with performances at Hong Kong's New Vision Arts Festival and Beijing's National Center for the Performing Arts. The performances in Beijing marked the first time an émigré choreographer was invited to bring his company to the Chinese Mainland. It was a true milestone for Shen Wei and the Company. Upcoming performances include the American Dance Festival's 80th
Anniversary season, a collaboration with Compagnia di Balletto del Teatro di San Carlo in Naples, and performances in Israel, Argentina, Peru, France and Germany in the fall.
Shen Wei Dance Arts receives public support for its activities from the National Endowment for the Arts, the New York State Council on the Arts, and the New York City Department of Cultural Affairs. Additional support is provided by the SHS Foundation, the Winston Foundation, the Shubert Foundation, the Jerome Robbins Foundation, the Asian Cultural Council, and the National Dance Project, administered by the New England Foundation for the Arts.