EXIT 12 DANCE COMPANY RETURNS TO DECK OF USS INTREPID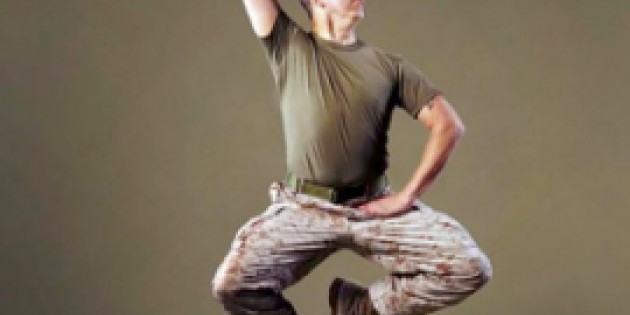 Marine Corps Sergeant Roman Baca's Company Honors Spirit of Fleet Week, Premiers "SometimesSilence"



EXIT 12 DANCE COMPANY RETURNS TO DECK OF

USS INTREPID



Marine Corps Sergeant Roman Baca's Company Honors Spirit of Fleet Week,

Premiers "SometimesSilence"




NEW YORK, NY (May 9, 2013): Exit 12 Dance Company, a contemporary dance company founded by United States Marine Corps Sergeant Roman Baca upon his return from Iraq, will perform on the flight deck of the USS Intrepid Sea, Air and Space Museum for the third year this Memorial Day weekend, May 25 at 12pm and May 26 at 1:30pm. The program will feature the New York premiere of "SometimesSilence," choreographed by a Army mother whose only two sons deployed to Afghanistan last year.



The company, which was dubbed "an unusual union of dance and topicality" by the New York Times, hopes to honor the spirit of Fleet Week and uphold New York City's Memorial Day tradition of raising awareness of military sacrifice.



"We are thrilled to salute our country's heroes through art on the iconic Intrepid," says Artistic Director Roman Baca. "For our third year here, we'll show our appreciation on the picturesque deck with an exciting and deeply personal premiere."



"SometimesSilence" is a narrative ballet communicating the toll deployment takes on relationships, told from a mother's point of view. The touching piece was choreographed by Angela Scimonelli, whose two sons in the Army (a captain and a sergeant) recently returned from a combat tour to Afghanistan. Her brother, Paul Scimonelli, a US Marine, composed its original score.



Sarah Kaufman of the Washington Post called the work, "straightforward, exquisitely simple and unmuddled with cliche or overwrought emotionalism... If you are a mom, it is almost more than you can bear."



Celebrating veterans and the military is a key part of Exit12's mission. Memorial Day Weekend rounds out the company's 2013 spring season, which included performances at Walter Reed Military Medical Center, West Point Military Academy, the 24th Annual Healing Communities Through the ArtsConference in Washington, DC, the livestreamed WiredArts Fest, Johnson State College, The Landon School, and the Gel Conference.



"We are proud of the work we've done this year to expose communities to artistic advocacy for veterans and healing," says Baca, whose unique background as a US Marine and ballet dancer was the cover story for the Village Voice in February.



A true cultural ambassador, Baca and his work have been featured in The Wall Street Journal, NBC News, NPR, WNYC, The Daily Beast, National Endowment for the Arts Magazine, and the New Haven Register's American Homecomings Project.



Tickets to the performances on the top flight deck are free with museum admission (2-4). U.S. Active and Retired Military enter free. The Intrepid is located at Pier 86, at West 46th Street and the Hudson River. www.intrepidmuseum.org



More information at www.exit12danceco.com

About Exit 12 Dance Company

Exit 12 is a contemporary dance company committed to creating and performing works of high cultural significance that inspire conversations about worldly differences and the lasting effects of violence and conflict on communities, families, and individuals. Founded by Sergeant Roman Baca (USMC) upon his return from a tour in Fallujah, Iraq, Exit 12 strives to educate audiences about the realities of war, advocate diversity and mutual understanding through cultural exchange, and champion the humanity and dignity of all persons. Referred to by The New York Times as "an unusual union of dance and topicality," Exit 12 supports and advances the notion that art heals, and is devoted to serving those who have been touched by conflict by expressing their stories.