Early Jacob's Pillow Dance Festival 2015 news & Archives expansion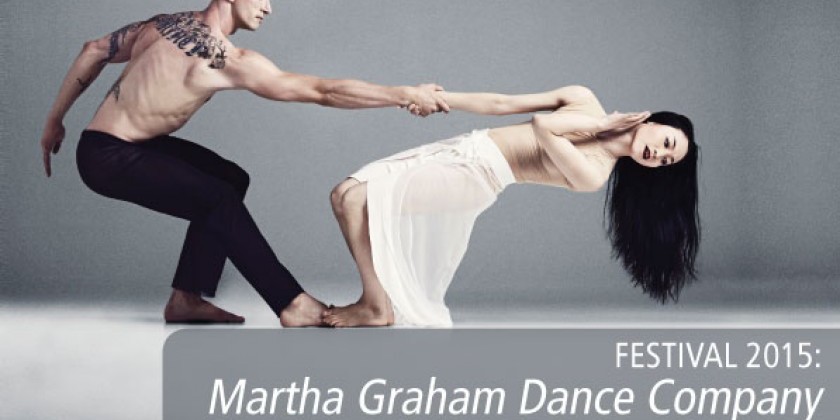 Company:
Jacob's Pillow Dance Festival
FOLLOWING A RECORD-BREAKING 2014 FESTIVAL
JACOB'S PILLOW DANCE MOVES INTO A NEW SEASON
ANNOUNCING FOUR FESTIVAL 2015 COMPANIES
AND EXPANSION OF THE PILLOW ARCHIVES FACILITY
November 20, 2014 – (Becket, MA) Following the record-breaking attendance and ticket sales of Festival 2014, Jacob's Pillow Dance Festival moves into a new season of exciting activity. The year-round international center of dance breaks ground this month on an expansion project which will triple the areas for storage and public access to its rare and extensive dance Archives. The Pillow also announces four companies that will perform at Festival 2015: the legendary modern dance ensemble Martha Graham Dance Company, launching its 90th Anniversary Season; Jessica Lang Dance in The Wanderer, created in part during a Creative Development Residency at the Pillow; New York Theatre Ballet in a family-friendly production of Cinderella; and tap superstar Michelle Dorrance, her company Dorrance Dance, and composer Toshi Reagon and her band BIGLovely in a return engagement of The Blues Project.
Festival 2014 Attendance
Festival 2014 was the most successful season on record for Jacob's Pillow, a National Historic Landmark, National Medal of Arts recipient, and home to America's longest-running dance festival. The Pillow hosted more than 96,000 visitor experiences in just ten Festival weeks, comprised of ticketed performances, free performances, free talks, tours, dance classes, film screenings, exhibits, and various other community events. The Pillow's free, outdoor Inside/Out performance series was particularly popular, serving more than 22,500 audience members of all ages, the highest Inside/Out attendance on record. In addition to landmark attendance at more than 200 free events, Jacob's Pillow sold more than 48,000 tickets, marking the most tickets sold in the organization's history and totaling more than $2.1 million in ticket revenue.
"In addition to achieving spectacular attendance, 2014 lit up the imagination. Audiences eagerly took in new works, debuts, and classics from artists of astonishing beauty, with provocative ideas," comments Ella Baff, Executive and Artistic Director of Jacob's Pillow. "Fifty two companies of just about every dance form, style, and tradition performed for audiences of all ages –whether regular dancegoers or newcomers to dance. Movement classes for the public, people observing exceptional dancer training with faculty at The School, as well as visits to the Archives and free exhibits, told a great story of how unique Jacob's Pillow is as a full-service epicenter of dance and related subjects."
Festival 2015 Early Announcement
In anticipation of the full Festival lineup announcement in December, Jacob's Pillow announces four companies that will be part of Festival 2015. New York Theatre Ballet will open the Doris Duke Theatre season June 24-28 with Donald Mahler's popular version of the classic story ballet, Cinderella. Cinderella is a treat for all ages, with skilled dancers, beloved Prokofiev music, and imaginative costumes and sets; $10 youth tickets will be available for every family-friendly performance. Following two sold-out engagements in 2013 and 2014, tap star Michelle Dorrance and Dorrance Dance return with The Blues Project, July 1–5. The Blues Project premiered in the Doris Duke Theatre in 2013; for the 2015 season the production will move to the larger Ted Shawn Theatre. The Blues Project cast includes co-choreographers and soloists Derick K. Grant and Dormeshia Sumbry-Edwards, and the production features music composed by renowned singer-songwriter Toshi Reagon, which will be performed live by Reagon and her band BIGLovely. July 29 – August 9, prolific choreographer and recent Bessie Award winner Jessica Lang returns for a two week run of a new evening-length ballet. The Wanderer, created in part during a Creative Development Residency at the Pillow, is set to the Franz Schubert's song cycle "Die schöne Müllerin" which will be performed live at the Festival. August 26-30, modern dance company Martha Graham Dance Company will close the season while also kicking off its 90th Anniversary. The program will feature a mix of classic Graham works and progressive contemporary dances by international choreographers of today (program to be announced). Tickets for Festival 2015 go on sale to members starting January 12, 2015 and single tickets go on sale to the public April 1. Visit jacobspillow.org for additional information.
"Building on success and moving forward, Festival 2015 will include key anniversaries, premieres of new projects we are co-commissioning, and several programs with live music," comments Baff. "We are also taking on the largest expansion of the Archives in its history, to make its unique materials ever more accessible to audiences, scholars, fellows, students, faculty, and the cultural field. Even in the early 1900s, Jacob's Pillow founder Ted Shawn understood the value of film (he created movies for the Edison Company), photo documentation, and other ephemera. In 1996 Director of Preservation Norton Owen established public access to the Archives and has guided its holdings and progress since. In 2011, we established Virtual Pillow and Jacob's Pillow Dance Interactive to extend the extraordinary holdings of the Archives in online form. This new physical expansion of the Archives is another giant step forward – this great resource will be more functional, accessible, and more visible to the world."
Blake's Barn Archives Expansion
2015 marks the 20th anniversary of public access to the Pillow's dance Archives, one of the most significant and accessible collections of archival material within the dance field. Blake's Barn, home of the Archives, houses tens of thousands of photographic prints and negatives; hundreds of boxes of correspondence; 9,000 films and videos from as early as 1894 to today; 6,615 online catalog records describing archival resources; and almost 30 trunks of costumes worn by dance icons Ted Shawn, Ruth St. Denis, Martha Graham, and others. Additionally, approximately four terabytes of digital HD video and hi-resolution photos are produced each year, documenting performances, rehearsals, talks, events, and oral histories by international dance artists. As the collection grows, so does the demand for access.
Jacob's Pillow is expanding Blake's Barn to manage the growing dance Archives and increase access for the public, artists, students, researchers, and scholars. Built in 1992 using structural components from a 19th century barn from Stockbridge, MA (donated by screen and stage star Marge Champion in honor of her son Blake) the main portion of the building is a two-story exhibition space, with a one-story wing housing a library and Archives reading room, office space, and the Archives and an attached deck, Sommerspace, which is used for PillowTalks and Pre-Show Talks. On average, 22,000 visitors attend talks and exhibitions in Blake's Barn each summer, and additional visits by scholars, artists, and academics take place throughout the year.
The expansion breaks ground this month and will be completed by June of 2015, adding more than 700 square feet to the Reading Room and effectively tripling space for both public access and climate-controlled storage. The new Reading Room will feature additional space for the extensive dance library and new visitor reading areas, additional HD video viewing stations, and a dedicated area for small groups to gather for communal video viewing. The lower floor of Blake's Barn will increase by 1,200 square feet to accommodate additional archival storage and documentation workspace. The Archives expansion is possible due to financial support from individual donors as well as the Massachusetts Cultural Facilities Fund, a program of the Commonwealth of Massachusetts, administered through a collaborative arrangement between MassDevelopment and the Massachusetts Cultural Council.
Jacob's Pillow Year Round
Jacob's Pillow is an active year-round organization. Through Jacob's Pillow Curriculum in Motion®, a nationally-recognized program, Artist Educators work with Berkshire County teachers and students grades K-12 to transform curricula such as biology, literature, and history into kinesthetic and creative learning experiences. 2014-2015 Curriculum in Motion® residencies will take place at Conte Community School, Becket Washington Elementary, and Monument Mountain Regional High School. Creative Development Residencies take place at the Pillow throughout the year. Dance artists are invited to live and work at Jacob's Pillow for one to three-week residencies and during that time they are given housing and unlimited access to rehearsal space, the Archives, and staff support. In October of 2014, choreographer Jessica Lang and her company enjoyed a two-week residency to create her new ballet The Wanderer. In 2015, Gallim Dance, Joanna Kotze, MADboots, and Bryan Arias will create new work at the Pillow during Creative Development Residencies.
Virtual Pillow, the Pillow's collection of videos, social networks, and digital dance resources, remains active every day of the year. Jacob's Pillow Dance Interactive (http://danceinteractive.jacobspillow.org/) includes Festival artists and video content from the 1930s to 2014 and new content is added each month. The Jacob's Pillow Intern Program is also active year-round, offering hands-on work experience to college students and recent grads seeking a deeper education within arts administration and production. At the same time, The School at Jacob's Pillow is hosting international auditions and workshops (most recently in Serbia) and planning its national audition tour, which will kick off in January in Miami. The School at Jacob's Pillow is a leading center for professional advancement; each year thousands of dancers audition and apply and only 100 are selected to participate in one of four programs in Ballet, Contemporary, Cultural Traditions, and Musical Theatre Dance. The international students of The School are immersed in Festival life as they take class, attend seminars, and learn classic and new dance work from today's greatest choreographers, mentors, directors, musicians, and Broadway performers.
ABOUT THE PILLOW
Jacob's Pillow, celebrating its 83nd Festival in 2015, is a National Historic Landmark, recipient of the National Medal of Arts, and home to America's longest-running international dance festival. Each Festival includes more than 50 national and international dance companies and 350 free and ticketed performances, talks, tours, classes, exhibits, and events. The School at Jacob's Pillow, one of the most prestigious professional dance training centers in the U.S., encompasses the diverse disciplines of Ballet, Cultural Traditions, Contemporary, and Musical Theatre Dance, as well as an Intern Program in various disciplines of arts administration, design, video, and production. The Pillow's extensive Archives, open year-round to the public, chronicle more than 80 years of dance in photographs, programs, books, costumes, audiotapes, and videos. Year-round Community Programs enrich the lives of children and adults through public classes, residencies in area schools, and an extensive schedule of free public events. Through Jacob's Pillow Curriculum in Motion®, a nationally-recognized program, Artist Educators work with Berkshire County teachers and students grades K-12, transforming curricula such as biology, literature, and history into kinesthetic and creative learning experiences. Creative Development Residencies, in which dance companies are invited to live and work at the Pillow and enjoy unlimited studio time; choreography commissions; and the annual $25,000 Jacob's Pillow Dance Award all support visionary dance artists and choreographers. Virtual Pillow is aimed at expanding global audiences for dance and offers the opportunity to experience dance and Jacob's Pillow from anywhere in the world via online interactive exhibits, global video networks, and social media. As part of the Virtual Pillow initiative, Jacob's Pillow Dance Interactive is a curated online video collection of dance highlights from 1936 to today. On March 2, 2011, President Obama honored Jacob's Pillow with a National Medal of Arts, the highest arts award given by the United States Government, making the Pillow the first dance presenting organization to receive this prestigious award. For more information, visit www.jacobspillow.org.