Eliot Feld's Kids Dance, June 11-14 at The Joyce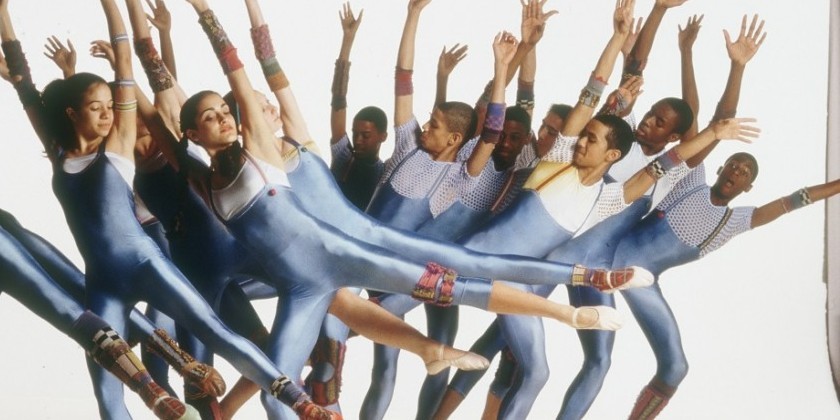 Company:
Eliot Feld
KIDS DANCE AT THE JOYCE, JUNE 11-14
CHOREOGRAPHY BY ELIOT FELD
 
Thursday -Sunday, June 11-14
June 11, 12 & 13 at 7 PM
June 13 & 14 at 2 PM
Joyce Theater, 175 Eighth Avenue (at 19th Street)
Tickets: $10-$39
Reservations: JoyceCharge at 212.242.0800 or www.joyce.org
(following the 2014 Kids Dance season)

"The beauty and impact of this year's presentation came from the impressive mix of offerings. The students taking to Mr. Feld's stage ranged in age from 9 to 14. All were remarkably poised, schooled and impeccably rehearsed."
Robert Greskovic, online.wallstreetjournal.com , June 26, 2014

 
 
Those talented youngsters of KIDS DANCE, an ensemble of 40 dancers, ages 9 to 14, from Ballet Tech, the NYC Public School for Dance, will appear in three Feld works, including the premiere of A Yankee Doodle, a brand new bugle and drum fanfare with a feather in its cap. 5 performances, June 11-14, at the Joyce Theater, 175 Eighth Avenue.
 
                  Ballet Tech dedicates these performances of Kids Dance to LuEsther T. Mertz.
                  LuEsther said this about herself: "I have no talent but I know a good idea when
                  I hear one."   These dancing children, and children for generations to come,
                  are her heirs, her imagined rainbow sons and daughters. 
 
The effervescent dancing youngsters will repeat last year's bubbly and rambunctious premiere KYDZNY, music by the Raya Brass Band, and Dotty Polkas, a daffy charmer to music by Johann Strauss II and Josef Strauss.
 
In her feature article in The New York Times, Gia Kourlas recounted Feld's initial inspiration for Ballet Tech: "(Feld) was riding the subway in 1977 when he first had the idea to look for dancers in public schools...The endeavor is about spotting talent and nurturing it."  (June 13, 2013).    Commited to providing classical dance training to all children with talent and desire, Feld and Cora Cahan, as principals of Ballet Tech Foundation Inc., founded the tuition-free Ballet Tech School in 1978.  Since that time: "Eliot Feld's vital Ballet Tech School has handpicked New York public-school students with what he calls 'innate joy' for dancing, and offered them top-flight training free of charge," noted Rebecca Milzoff (New York Magazine, June 2013).
 
The Ballet Tech Public School is a cooperative venture of the NYC Department of Education and the Ballet Tech Foundation. For students in grades 4-8, the School is a full service institution, integrating a comprehensive curriculum of academic courses provided by the Department of Education with intensive balletic and broad-based dance instruction provided by Ballet Tech, all under one roof. It's a unique and dynamic educational ecology. Absolutely and completely tuition-free!
 
In the fall of 2014, Ballet Tech and Professional Performing Arts High School (PPAS) allied their complementary programs. This partnership enables selected Ballet Tech students to attend the highly regarded PPAS High School where they receive their academic education in a rigorous and sympathetic environment, while continuing, indeed intensifying and expanding, their dance training at Ballet Tech.
 
Complementing the school's day in and day out operations, training students eleven months a year, Ballet Tech presents annual seasons of Kids Dance at the Joyce Theater, performing past dances and new ballets choreographed by Eliot Feld. In addition, Kids Dance has performed as part of the Public Theater's Public Works adaptation of "The Tempest" at the Delacorte in Central Park, and was part of the New Victory's inaugural Victory Dance series.
 
Today Ballet Tech auditions 30,000 children each year in more than 200 elementary public schools throughout NYC and provides free dance training and rigorous academic education at its headquarters at 890 Broadway in Manhattan.  Graduates have pursued professional careers with such companies as Ballet Tech, Alvin Ailey, Cedar Lake Contemporary Ballet, Dance Theater of Harlem, and New York City Ballet, and have pursued higher education at colleges and universities around the country.
 
The School is a recipient of numerous awards, including a 1986 Schools and Culture Award, co-sponsored by the Alliance for the Arts and the NYC Commission for Cultural Affairs; an Arts and Business Council honor in 1992; and the Creative Ticket Award for Schools and Excellence from the New York State Alliance for Arts Education in 2002.  Ballet Tech has served as a model for other organizations nationwide, offering consultations on how to replicate components of its unique and innovative program.
 
A few Ballet Tech School statistics:
·       Number of children who have auditioned since 1978: 811,794
·       Percentage of minority students: 85%
·       Percentage of male students: 51%
·       Number of dance classes each year: 2,688
·       Annual operating expenses: $3 million
·       Tuition income: $0
 
ELIOT FELD was born in Brooklyn, New York and studied dance at the School of American Ballet, New Dance Group, High School of Performing Arts, and with Richard Thomas.  At age eleven he danced with the New York City Ballet as the "Child Prince" in Balanchine's original production of The Nutcracker as well as with the companies of Donald McKayle, Pearl Lang, Sophie Maslow and Mary Anthony. At sixteen he joined the Broadway cast of West Side Story and appeared as Baby John in the movie version, and later danced on Broadway in I Can Get It for You Wholesale and Fiddler on the Roof. Mr. Feld danced with American Ballet Theatre, American Ballet Company and Feld Ballets/NY. Eliot Feld has choreographed 147 ballets since 1967, creating dances for American Ballet Theatre, American Ballet Company, Royal Danish Ballet, Joffrey Ballet, John Curry Skating Company, The Juilliard School, The National Ballet of Canada, Royal Swedish Ballet, Royal Winnipeg Ballet, London Festival Ballet, Boston Ballet, San Francisco Ballet, Atlanta Ballet, Richmond Ballet, New York City Opera, New York City Ballet, and Ballet Tech, among others.