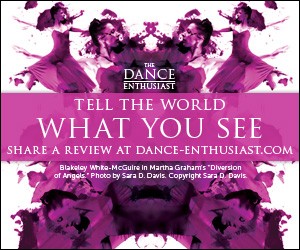 Energizer (1980);The Floor Dances (1989); Witches Float (1993) (Replay Series) Found Object (World Premiere)
Company:
Molissa Fenley
Tickets: 0
Molissa Fenley presents Energizer (1980),
The Floor Dances
(1989) and Witches' Float

(1993) in two programs

as part of the popular Replay Series. Energizer,

a quartet featuring music by Mark Freedman and originally commissioned by Dance Theater Workshop in 1980, returns to the public eye in its entirety for the first time since 1982. Two of Fenley's sculptural dances are presented in alteration: in Program A, The Floor

Dances (1989), a solo performed by Fenley herself, with sculpture by Richard Long and music by Henryk Gorecki; in Program B,

Witches' Float

(1993) a solo performed by guest artist Holley Farmer, with sculpture by Kiki Smith and music by Alvin Lucier. Both Program A and Program B culminate with the world premiere of Found Object, a new work commissioned by New York Live Arts.
October 5 at 3:00p: Lecture with Molissa Fenely and solo performance of The Floor Dances