Enthusiastic Events! DANCE + FASHION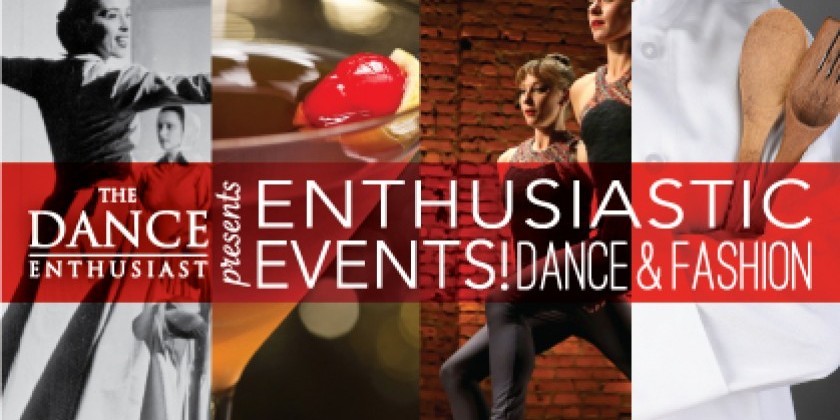 Company:
The Dance Enthusiast
The Dance Enthusiast Begins our *NEW* Enthusiastic Event! Series  and we are, you guessed it, Enthused.
JOIN US AS We  CELEBRATE Dance &Fashion on November 12th with our STYLISH GUESTS:
THE MARTHA GRAHAM COMPANY- Janet Eilber, artistic director, and dancers 

REID BARTELME DESIGN

VALERIE STEELE, director and curator of the Museum of the Fashion Institute of Technology currently running an exhibit Dance & Fashion

and the fabuolous food of CHEF RODNEY
The Details :
THE THEME IS FASHION & DANCE an EnthusiasticEvent!

When: Wednesday November 12th, from 6:15 pm  to 8:30 pm
What: Delicious pre-presentation nibbles and drinks from 6:15 pm
           Performances and Conversation 7pm
           More Mingling and Tasting to Follow Performances
Where: The New Gibney Dance Center 280 Broadway (entrance at 53A Chambers)
 
All for just $30 a ticket!
What is an Enthusiastic Event!?
How do dance lovers (whether newbies or aficionados) find the time to attend a performance, get together with friends, enjoy food and drinks, and, simultaneously gain a deeper (and unforgettable) understanding of what they saw -- all in one evening?
Enthusiastic Events! provide unforgettable experiences by inviting artists, prime movers from other related fields, and audiences to the same party. In a cross between a salon performance and a gathering at your best friend's home, the masters share their creations, ideas, and methods with our audience and all are welcomed to converse, discover, and mingle over delicious bites prepared by some of New York City's finest chefs.