Contribute
Your support helps us cover dance in New York City and beyond! Donate now.
Every Little Step… the Rhythm of Hope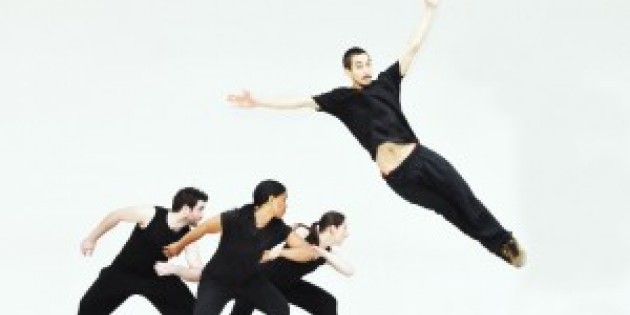 Company:
Dance Theatre of Ireland (IRL) & Soul Steps (USA)
Dance Theatre of Ireland (IRL) and Soul Steps (NYC) premiere an original collaboration combining African-American Stepping, Irish and modern dance
, rhythm and storytelling.

F
eaturing
dancers from both companies, Every Little Step…is all about rhythm.
It is presented in New York as part of
Imagine Ireland,
Culture Ireland's year of Irish arts in America in 2011.
When you have tried and tried; when you have run and run; and finally - you have to stop. You cannot go on. Now...listen. For this is when you will hear the rhythm of hope. Dance Theatre of Ireland and Soul Steps, the New York-based African American stepping company, bring this original creation, drawing on their unique vocabularies and individual stories and above all on rhythm; the dance of life, a dance of Hope. It draws on sheer human energy and determination, embodied by the precision of the choreography, the teamwork of the performers, and their personal stories.
Every Little Step… is an evolutionary meeting of Irish and African-American rhythms, dance, and culture. The piece explores that interaction - developing a vocabulary that interacts with the audience: an exhilarating and engaging performance. The production is choreographed by Robert Connor & Loretta Yurick (Dance Theatre of Ireland) and Maxine Lyle (Soul Steps) with dancers Angela L. Brackett, Robert Connor, Heather DeLeon, Adrienne Heaslip, Maxine Lyle, Marc Stevenson, and Andrew Vickers.
WHERE Joyce SoHo
155 Mercer Street (Houston/Prince)
B/D/F/M to Broadway-Lafayette, R to Prince or 6 to Bleecker
New York, NY 10012
WHEN November 17-19, 2011 @ 7:30pm & November 20, 2011 @ 2:00pm
TICKETS 0 (5 students/seniors)
Purchase tickets in advance at joyce.org or 212-242-0800 or onsite one-half hour before. There are no service fees for tickets to Joyce SoHo performances purchased at joyce.org!
DANCE THEATRE OF IRELAND (DTI) is one of Ireland's premiere Companies, touring dance theatre and outdoor spectacles internationally in Europe & Asia. Founded and directed by choreographers Robert Connor & Loretta Yurick, the Company is based in a purpose-built Centre for Dance, officially opened by President Mary McAleese, where 3000 people train in dance yearly. Their work has been described as a constant reflection on our human states of frailty and strength. www.dancetheatreireland.com

SOUL STEPS is founded and directed by Maxine Lyle and is based in New York. Their mission is to expand the presence of stepping in the arts while creating avenues for cultural exchange and awareness among diverse communities. Dance Theatre of Ireland met Soul Steps during their U.S. Embassy, Dublin sponsored tour of Ireland in February 2010 and have worked together since in dialogue and in the studio with the dancers in developing this meeting of cultures and stories. www.soulsteps.com