Contribute
Your support helps us cover dance in New York City and beyond! Donate now.
Exhibition: Tribute to Roland Petit. The relationship between the great French choreographer and Italy and Italian Opera Houses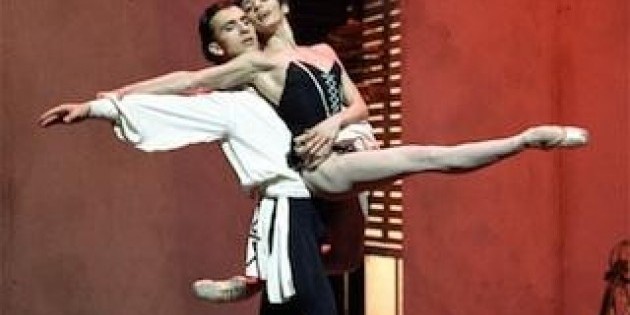 Company:
Center for Remembering and Sharing
The CRS Gallery is pleased to exhibit the photo exposition "Tribute to Roland Petit. The relationship between the great French choreographer and Italy and Italian Opera Houses."
The photographs will be on display at CRS from August 27 – September 4, 2011. The space is open from 10 am -9pm.
Roland Petit (Jan 13, 1924 – July 10, 2011) was one of the icons of 20th century dance. The exhibition, on loan from Italy, was created by Carmela Piccione and Paola Leoni and organized by ASMED — Associazoione Sarda Musica e Danza and the Italian Ministry for Cultural Activities. It includes photographs of Petit's opera ballets performed in the most important Italian opera houses: Fondazione Teatro La Scala in Milan (photos by Lelli & Masotti, Erio Piccagliani e Andrea Tamoni), Fondazione Teatro dell'Opera in Rome (photos by Corrado Maria Falsini) and the Fondazione Teatro di San Carlo in Naples (photos by Alessio Buccafusca e Luciano Romano).
About Roland Petit
Roland Petit was born in Villemomble, near Paris, France. He trained at the Paris Opéra Ballet school under Gustave Ricaux and Serge Lifar and began to dance with the corps de ballet in 1940. He founded the Ballets des Champs-Élysées in 1945 and the Ballets de Paris in 1948, at Théâtre Marigny, with Zizi Jeanmaire as star dancer; Petit and Jeanmaire wed in 1954.
Petit collaborated with Serge Gainsbourg, Yves Saint-Laurent and César, staged several music hall revues, and choreographed the dances for the films "Hans Christian Andersen," "The Glass Slipper," "Daddy Long Legs," "Anything Goes," and others. He returned to the Paris Opéra in 1965 to mount a production of Notre Dame de Paris (with music by Maurice Jarre). He continued to rule ballets for the largest theaters of France, Italy, Germany, Great Britain, Canada, and Cuba. In 1968, his ballet Turangalîla provoked a small revolution within the Paris Opéra. Four years later, in 1972, he founded the Ballet National de Marseille with the piece "Pink Floyd Ballet." He directed the Ballet for the next 26 years.
Author of more than 50 creations across all genres, he choreographed for a plethora of famed international dancers. He refused the free technical effects; he did not stop reinventing his style, language, and became a master in the arts of pas de deux and of narrative ballet, but he succeeded also in abstract ballets. His choreography was often angular or acrobatic and was considered theatrical in its use of mime dance, occasional singing, and props such as cigarettes and telephones.
For the décor of his ballets, he would work in close collaboration with the painter Jean Carzou (1907-2000), but also with other artists such as Max Ernst. He collaborated also with the nouveaux réalistes including Martial Raysse, Niki de Saint Phalle and Jean Tinguely. ''Le jeune homme et la mort'' ("The Young Man and Death") of 1946 (libretto by Jean Cocteau) is considered his magnum opus and it is also his most well-known work; the choreography and the costumes are of astonishing modernity. In his 1949 ballet Carmen, he made an unusual use of the en-dedans, while he gave a non-figurative treatment to Turangalîla.
In 1954, Petit married the dancer Zizi Jeanmaire, who performed in a number of his works. His memoirs were published in 1993 under the title J'ai dansé sur les flots (English: I Danced on the Waves). He and Jeanmaire had one daughter, Valentine Petit, a dancer and actress. Petit died in Geneva, Switzerland, aged 87, following a battle with leukemia.