Experience Trinidad & Tobago: New Waves! 2015 CALL FOR PROPOSALS due 20 February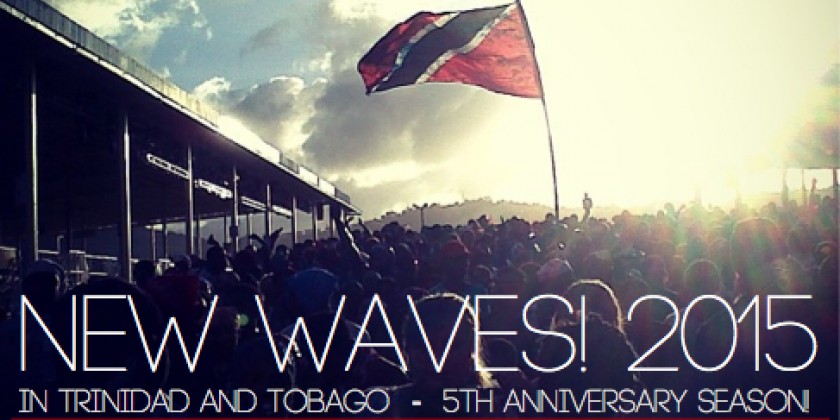 Company:
New Waves!
New Waves! 2015
5th Anniversary Season in Trinidad & Tobago
Now Accepting Applications
and
CALL FOR PROPOSALS
Dancing While Black Performance LAB
(Port of Spain - 18 January 2015) – New Waves! 2015 - The 5th New Waves! Institute will take place from 22 July to 1 August 2015 in Trinidad & Tobago. For 10 days, participants will engage intensive dance classes and workshops, build community, and experience the unique cultural landscape of Trinidad & Tobago. New Waves! 2015 is distinguished by its programs being held in Trinidad AND Tobago, to run concurrently with the Tobago Heritage Festival. The Institute is offering 3 days of intensive classes, workshops and unique experiences in Tobago and a week of programs in Trinidad.
New Waves! draws an outstanding faculty of international dance artists and scholars each year. Faculty for New Waves! 2015 will include choreographer and dancer, Makeda Thomas (Trinidad/Contemporary Dance), National Dance Theatre Company of Jamaica choreographer and University of Wisconsin-Madison professor of dance, Christopher Walker (Jamaica/Caribbean Dance), former Dance Theater of Harlem company member and founder of Exadans, Jean-Aurel Maurice (Saint Martin/Haiti/Haitian Folkloric Dance and Afro-Haitian) and the Folk Workshop series with Ade Ola (Trinidad/Ori Bata) and Kieron Sargeant (Trinidad/Folk Dance). Special returning guests include Thomas DeFrantz (professor of Dance, African & African-American Studies at Duke University) and Ananya Chatterjea, who will lead People Powered Dances of Transformation, a workshop series in Contemporary Indian Dance. Additional faculty and guests will be listed as confirmed.
Through a new partnership with Dancing While Black, the New Waves! Commission Project will present work by contemporary choreographers and performance artists of the Caribbean and its Diaspora. Dancing While Black is a U.S. based artist-led initiative of Angela's Pulse that supports the diverse work of Black dance artists by cultivating platforms for process, performance, dialogue and documentation. On Friday, 31 July 2015 at Big Black Box in Port of Spain, New Waves! will create an experimental multi-performance environment featuring work by New Waves! faculty, participants and special invited guests. As part of The Cloth's 30th Anniversary celebrations, iconic Caribbean fashion designer Robert Young will also present experimental pieces from the #inaboxtryingtogetoutofapattern collection.
TUITION & FEES:  $1500 USD for International participants  |  $1000 for Caribbean-based participants. Includes registration for all classes, events, accommodation in shared artist housing, and local transportation. Meals are not included.  Financial assistance is available.
See Application & Guidelines and learn more about New Waves! 2015 here: http://makedathomas.org/institute.newwaves.
About New Waves! Institute
The New Waves! Institute was established in 2011 and has since gathered 200 dance artists, teachers, and scholars in the Caribbean. Each year, participants, staff and a renowned faculty of international artists form a supportive and inspiring community that has created a unique space for dialogue, networking, experimentation and collaboration. The program has been made possible through a major partnership with and held at the University of Trinidad & Tobago/Academy for Performing Arts, within the National Academy for Performing Arts in Port of Spain in 2011, 2012, and 2013. In 2014, the New Waves! Institute was held in Jacmel & Port au Prince, Haiti. New Waves! returns to UTT/APA for its 5th Anniversary in 2015.
About the Dance & Performance Institute
Founded in 2010, the Dance & Performance Institute is an international community of dance and performance artists, a forum for exchange, and series of programs on contemporary dance and performance based in Trinidad & Tobago. The Institute spearheads the Artist in Residence program, the Carnival Performance Institute, and New Waves! Institute. The Institute is directed and curated by Makeda Thomas, with the support of a growing community of artists, scholars, teachers and network partners.
CALL FOR PROPOSALS
NEW WAVES! 2015 DANCING WHILE BLACK PERFORMANCE LAB
What practices constitute Caribbean dance? In what ways has Caribbean dance been recognized and acknowledged - within and outside the geocultural region? Is there a Caribbean embodied archive? How does dance, as a field of study, define Caribbean diasporic movement?
New Waves! 2015 invites proposals from choreographers, dancers and performance artists for the Dancing While Black Performance Lab.  Co-curated by New Waves! Director, Makeda Thomas and Paloma McGregor, Director of Dancing While Black, this experimental, multi-performance, interdisciplinary environment will feature dance and performances in the yard of and on stage at Port of Spain's Big Black Box.
The 2015 New Waves! Dancing While Black Performance Lab is a manifestation of the New Waves! Commission Project, which has offered a presenting platform for dance artists in the Caribbean since 2012. We welcome proposals from dance and performance artists working in the Caribbean and those throughout its diaspora whose work is grounded in Caribbean aesthetics. In a riff off "Dance a yard before yuh dance abroad", we will also explore how Caribbean dance artists create and perform work in the international landscape and how a new generation of cultural producers is transforming the ways the region is imagined and represented.
Performance themes could include:
Migration 
The Body as Home
Spaces, Objects, The Body as containers of memory
Hybridity, Authenticity & Otherness
Water, land and spirit
What is Black? Proximity to Blackness
Identity and community making
Gender and sexuality
Colonialism, nationalism, citizenship and commodification
Caribbean dance and mediated technologies
Proposals should be no more than 2 pages, single spaced, 12 pt. font and include:
Statement of how your work connects with theme(s) for this year's Performance Lab.
Explanation of how your practice has engaged with site and space, including ways you envision that practice living in a multi-performance setting during New Waves!
A link to a work sample - 5 minutes or less - that demonstrates your aesthetic leanings, with a 150-word or less statement about how the work is connected to your proposal.
Due Date for Proposals: February 20, 2015
Confirmations: February 27, 2015
Submit a proposal to: dancingwhileblack@gmail.com
Questions to: institute@makedathomas.org
Registration must be paid by May 15, 2015. 
The registration fee for the DANCING WHILE BLACK PERFORMANCE LAB is $500 USD, which covers production support at the performance venue, all local transportation and access to all New Waves! programs and course offerings. Performers will present work in the unique cultural landscape of Trinidad & Tobago, experiment with site-responsive practices centered on Caribbean/Black identities, and be provided photo and video documentation of their work. The schedule is as follows:
Wednesday, 29 July - Artists Arrive/New Waves! Institute
Thursday, 30 July - New Waves! Institute/Performance LAB Dress & Technical Rehearsal
Friday, 31 July - New Waves! Institute/Dancing While Black PERFORMANCE
Saturday, 1 August - Emancipation Day
Sunday, 2 August - Artists/New Waves! Institute departs
About Dancing While Black
Since 2012, Dancing While Black has supported dialogue, documentation, process and performance for Black dance artists living and working in the U.S. context. What carries over, strips away, shifts, amplifies when the context for presenting these platforms is a place where Black culture is the dominant culture? For the NEW WAVES! 2015 DANCING WHILE BLACK PERFORMANCE LAB, DWB founder, Caribbean-born Paloma McGregor, is interested in the way context plays a role in cultural production among people of color whose aesthetics are connected to Caribbean identity. Selected participants will be asked to submit a brief statement after the experience that helps to illuminate the myriad experiences that will emerge. These statements will be considered for publication in the forthcoming journal Dancing While Black: In Our Own Words.