FLICfest features 12 choreographers, 6 nights, 2 weekends, 12 world premieres‏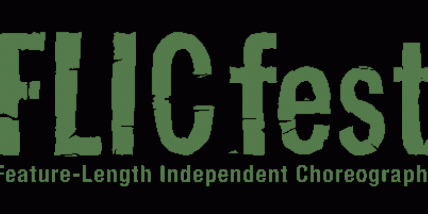 Company:
In The Lights



4th ANNUAL FLICfest FEATURES 12 CHOREOGRAPHERS AT IRONDALE THEATER IN BROOKLYN
 
Festival Premieres 12 Feature-Length Independent Works as Part of
Two Weekend Festival

 
NEW YORK, January 6, 2013 – FLICfest, the first dance festival dedicated to presenting feature-length alternative works, will give 12 choreographers the opportunity to present work over two weekends—January 23-25 and January 30-February 1, 2014—at the Irondale Theater in the heart of Fort Greene, Brooklyn. On each of the festival's six nights, the first performance will take place at 7:30 p.m. and the second will follow at 9:00 p.m. A single ticket guarantees you entry to both shows and the late-night cabaret that takes place in the venue's balcony lounge, following the performances. In addition to the six performances of 12 artists, FLICfest also offers workshops and panel discussions in conjunction with the festival.
 
Founded and curated by Jeramy Zimmerman of CatScratch Theatre and produced by Irondale, FLICfest is dedicated to presenting the work of artists who are making work outside of the traditional presenter/creator relationship—simultaneously offering these independent choreographers a cross-pollinated audience and a risk-encouraging platform. This egalitarian, curated festival is unique in that both Cat Scratch Theatre and Irondale are focused on serving alternative, spectrum-ranging artists who are unused to the advantages of being produced—particularly within a space as singular as Irondale, which was created from the ruins of a nineteenth century Sunday school in the heart of the BAM cultural district.
 
VENUE INFO
Irondale is located at 85 South Oxford Street in Brooklyn, New York. The theater is accessible by Subway: C to Lafayette; B, D, M, N, Q, R, 2, 3, 4, or 5 to Atlantic Avenue/Pacific Street; and G to Fulton Street.
 
FLICfest TICKET and PERFORMANCE Details
Tickets are $25 general admission, $20 for working artists and students, and can be purchased online at http://irondale.org/FLICfest.html.
 
Week 1:
Thursday, January 23 - Alberto Dennis (7:30); Yung-Li Chen (9:00)
Friday, January 24 - Lindy Fines (7:30); Chris Ferris (9:00)
Saturday, January 25 - Aaron McGloin (7:30); Keith Thompson (9:00)
 
Week 2:
Thursday, January 30 - Emily Berry (7:30); Hattie Mae Williams (9:00)
Friday, January 31 - Kora Radella (7:30); Tina Croll (9:00)
Saturday, February 1 - CJ Holm (7:30); Vanessa Walters (9:00)
 
ARTIST DETAILS

The Emancipation Proclamation of GoGo Gadget! | World Premiere
Alberto Dennis/[QuA2D]
 
Alberto Dennis presents his boylesk alter ego in his solo work The Emancipation Proclamation of GoGo Gadget! This dance theater exploration of body image, particularly in regard to sexuality, includes burlesque, dance, live video polling, inflatable balloons and even cream pies.
 
A. Cuddy Project | World Premiere
Yung-Li Chen/YUNG-LI DANCE
 
Taiwanese-born Yung-Li Chen has created a duet centered upon psychologist Amy Cuddy's theories of power posing—adopting confident postures such as a lifted chest, high head, arms propped on hips in order to increase social success. With A. Cuddy Project, Chen is interested in translating the "fake it till you make it" approach to dance.
 
Even As I Tell You This | World Premiere
Lindy Fines/GREYZONE
 
Lindy Fines' group piece Even As I Tell You This is a visceral and otherworldly juxtaposition of mechanical and fluid movement states. Fines' movement language tempers intense physicality with abstraction and highly complex movement patterns.
 
Perfect Tension | World Premiere
Chris Ferris/Chris Ferris & Dancers
 
Chris Ferris & Dancers explore the heady world of stress, anxiety and survival tactics in their group piece Perfect Tension, with an original composition by Loren Kiyoshi Dempster.
 
Native | World Premiere
Aaron McGloin/Aaron McGloin Dance
 
Aaron McGloin's Native for five dancers is an eclectic investigation into what constitutes home and identity, featuring jazz, hip-hop, acrobatics and ballet. The diverse cultures and rituals he has experienced in New York City inspired McGloin in this work.
 
A Piece of Hamlet's Machine | World Premiere
Keith Thompson/danceTactics performance group
 
Keith Thompson fuses dance and physical theater in his narrative-driven A Piece of Hamlet's Machine. Rooted in German playwright Heiner Müller's postmodernist drama Hamletmachine, Thompson's piece rounds out his choreographic cycle of text-driven movement.
 
Spin Art | World Premiere
Emily Berry/B3W
 
Emily Berry's Spin Art features four dancers who flip upside down, spiral and fling their bodies through space, reminiscent of spin art craft projects. Set to Daniel Bernard Roumain's original score, this piece layers both subtle and abrupt dynamic shifts with gesture and intense physicality.
 
I Wish I Could Drink Like a Lady | World Premiere
Hattie Mae Williams/The Tattooed Ballerinas
 
Hattie Mae Williams' interdisciplinary dance piece I Wish I Could Drink Like a Lady takes a closer look into the life and poetry of Dorothy Parker, exploring human strengths and weaknesses.
 
Shred | World Premiere
Kora Radella/Boomerang
 
Kora Radella's duet Shred is a fearlessly physical confrontation of the barriers that exist both within and between people. By implementing uncompromising athleticism and even primitiveness, Radella presents two people who must deal with each other in strictly physically demanding terms.
 
Ancient Springs | World Premiere
Tina Croll/Tina Croll + Company
 
Tina Croll is reworking her 2007 piece Ancient Springs, inspired by poet Kathleen Raine's Defending Ancient Springs and Federico Fellini's film La Strada. Comprised of vignettes—what Croll terms "short stories"—for two to four dancers each, it also includes a chorus of dancers who give the piece its structure.
 
Rare Birds | World Premiere
CJ Holm/Jansen and Holm
 
CJ Holm's duet Rare Birds is a danced nature documentary about people's desires, guilt, grief and resilience, blending tender and brutal choreographic language with an abstract meditation on the realities that create pressing social and environmental issues.
 
Ripening/Yield | World Premiere
Vanessa Walters
 
Vanessa Walters' Ripening/Yield is an ominous exploration of childhood memory and playtime. The quintet of dancers conveys time both within and outside of rhythm—alternately counting deliberately and avoiding all forms.
 

 
About FLICfest
FLICfest was founded by CatScratch Theatre's Artistic Director Jeramy Zimmerman in 2010 and is produced by Irondale. It is the first dance festival in New York City dedicated solely to producing feature-length dance and was conceived as a platform for choreographers who might otherwise fall through the cracks of traditional producing models. FLICfest has established itself as a performance platform for under-represented artists at various stages of their careers. The festival has featured the work of nearly 50 choreographers. In conjunction with the performances of the artists presented, FLICfest offers panel discussions and workshops to further cement itself as a destination for creativity and leadership in contemporary dance.
 
About Irondale
Irondale, the performance space, is home to the award-winning Irondale Ensemble Project (founded in 1983)—the ensemble has created over 60 Off-Broadway productions, from intimate chamber productions of Shakespeare to company devised epic work that reflects the values, myths and cultural mores of the American character. The transformational 250-seat theater serves as a laboratory for emerging and alternative artists of diverse disciplines. Opened in 2008, Irondale is the first performing arts space to open in the BAM Cultural District. A beautiful and historic space, the theater has been created in the ruins of the old Sunday school building.