FREE Class & Audition: Dancewave's Advanced Summer Dance Intensive -- Dance, Collaborate, Create!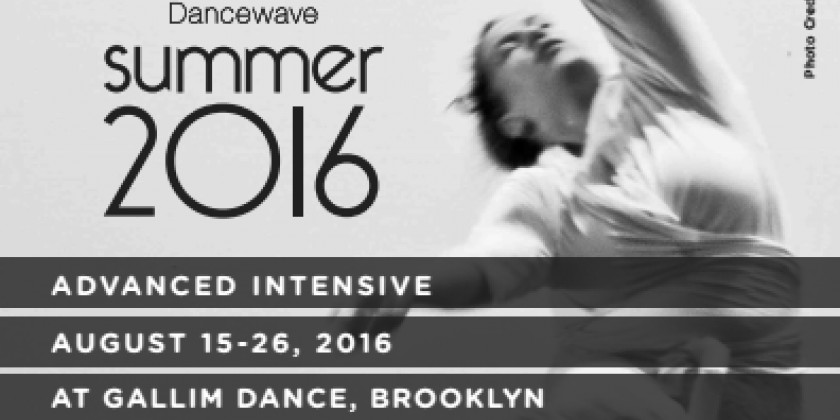 Company:
Dancewave
Ages 10+ // FREE CLASS! Join us for a free modern dance class and audition for our upcoming summer dance intensive. (No audition fee.)
Dancewave - 45 Fourth Avenue, Brooklyn, NY
May 26, 2016 – 5:00-6:30pm
June 17, 2016 – 5:00-6:30pm
July 19, 2016 – 5:00-6:30pm
REGISTER at http://bit.ly/1OfGS7W.
ABOUT THE INTENSIVE
520 Clinton Ave, Brooklyn, NY
August 15-26, 2016
Immerse yourself in a fun and focused experience featuring technique classes, repertory, and dance for film with renowned artists Dante Brown, Alexandra Beller, and Caroline Fermin. The Advanced Summer Dance Intensive will culminate in an informal showing and performance opportunity free and open to the public.
Refine your technique, collaborate in the choreographic process, and explore dance through the medium of film!
Audition & application required. Scholarships available.
Visit www.dancewave.org/summersem/asdi for details about artists and registration.
DAILY SCHEDULE
TIME                                   CLASS/ACTIVITY
10:30 -11:30 am                      Ballet with Caroline Fermin
11:30 am - 12:30 pm               Lunch Break
12:30 - 2:00 pm                      WEEK 1: Modern with Danté Brown
                                               WEEK 2: Modern with Alexandra Beller
2:00 - 2:30 pm                        Break
2:30 - 3:15 pm                        WEEK 1: Repertory with Danté Brown
                                               WEEK 2: Dance Film with Caroline Fermin
3: 15 - 3:30 pm                       Break
3:30 - 4:30 pm                        Elective Rehearsal
Tuition: $335-$945