FROM THE HORSE'S MOUTH CELEBRATES FREDERIC FRANKLIN‏
Company:
FROM THE HORSE'S MOUTH

FROM THE HORSE'S MOUTH
A Weekend Celebrating the life of 
FREDERIC FRANKLIN!
May 30 - June 1, 2014
Michael Schimmel Theater @ Pace U.



Friday, May 30 @ 7:30pm
GALA PERFORMANCE
Jacques D'Amboise, Arthur Mitchell, 
Charles Askegard, Martine van Hamel, 
Gus Solomons jr, Carmen de Lavallade, 
Xiomara Reyes, Marge Champion and More
 
Saturday & Sunday, May 31 & June 1 @ 7:30pm
THE MEN DANCERS!
FROM THE HORSE'S MOUTH
All Male Tribute to Frederic Franklin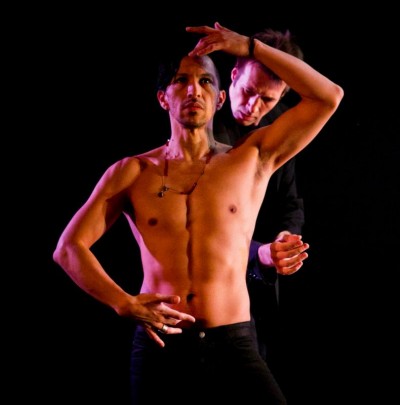 30 EXCEPTIONAL MALE DANCERS
PERFORM IN THIS NEW YORK PREMIERE!
 
Tickets: 
http://schimmel.pace.edu/events/pace_presents


The Men Dancers - Finale
Inspired by the sold-out success last year, THE MEN DANCERS is back 
with a new cast celebrating the amazing Frederic Franklin! 
 
Rare film footage, videos and multimedia, including a personal video tribute from American Ballet Theatre's Artistic Director Kevin McKenzie, enhance this edition of From the Horse's Mouth's unique blend of movement and storytelling to bring "Freddie" vividly to life. Through the sharing of personal experiences by dancers, actors, and critics, an insightful portrait of the charismatic and much-loved Fredric Franklin will emerge. The intimate From the Horse's Mouth format provides the ideal vehicle in which to celebrate Frederic Franklin's extraordinary legacy. 
Make a tax-deductible donation to make 
this celebration of Frederic Franklin a success! 
Any amount will help!
Ticket prices for From the Horse's Mouth at The Schimmel Center for the Arts at Pace University range from $25 to $95. 
Friday, May 30 at 7:30pm:  
Performance and Post-Performance Reception: $95
(Proceeds to include the Frederic Franklin Scholarship Fund at the Jacqueline Kennedy Onassis (JKO) school at ABT)  
Friday, May 30 at 7:30pm:  Performance only $40/$35/$25
Saturday, May 31 and Sunday, June 1 at 7:30pm: $40/$35/$25 
To purchase tickets click HERE.  For more information visit http://schimmel.pace.edu or call toll-free (866) 811-4111.
$5 Student rush tickets available at the box office with valid student ID.
Jamie Cunningham and Horse's Mouth co-founder Tina Croll were grateful to have spent a long afternoon with Freddie toward the end of his life. "At 99, he was as lively as ever," said Mr. Cunningham. "One story he told really stayed with me - Freddie said when he danced Stanley Kowalski in the ballet of Streetcar Named Desire, Marlon Brando came back stage and said, 'If I could do with words what you're doing with movement, I'd be a better Stanley.' That's the kind of artist he was," said Mr. Cunningham.
About Tina Croll and Jamie Cunningham
From the Horse's Mouth on YouTube
ABOUT PACE UNIVERSITY'S SCHIMMEL CENTER FOR THE ARTS:
 Located adjacent to The World Trade Center, Brooklyn Bridge and City Hall, Pace Presents' 670-seat Michael Schimmel Center for the Arts
 is readily and easily accessible by car, bus, subway and PATH train.  The room offers ample space for groups but is small enough to provide flawless sightlines and truly intimate performances.  Competitive ticket pricing is aimed at enticing New Yorkers of all types to visit and explore the best music, theatre and dance that the world has to offer.   Student tickets, available to enrollees at any University, High School or Junior High School in the New York area, are only $5 for any performance in the Pace Presents season with a valid student ID. 
Tina Croll & Jamie Cunningham, Co-Directors
From the Horse's Mouth
information: tina@horsesmouth.org