Fall Further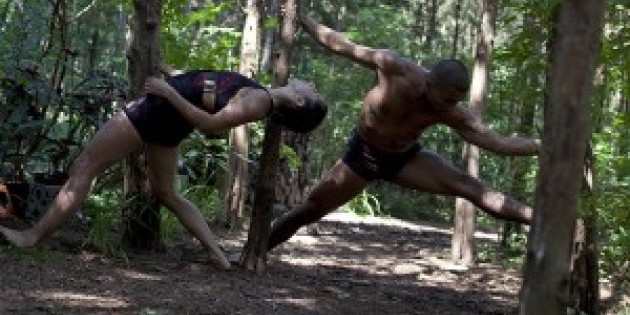 Company:
Amanda Selwyn Dance Theatre
Amanda Selwyn Dance Theatre joins with Pentacle's other East Coast Gallery artists for a one night only performance of new and touring repertoire on October 1, 2012 at 7:30 pm at the Ailey Citigroup Theater, 405 West 55th Street (at Ninth Avenue), New York City.
The Gallery at Pentacle is an eclectic group of vibrant and talented dance makers, some of whom may be unfamiliar to New York dance audiences. We are excited to represent them in the national performing arts marketplace. From solo performance to culturally specific, dance-theater to multi-disciplinary and traditional modern dance companies, The Gallery encompasses a diverse range of engaging dance artists. There is much to be discovered.
Participating artist/companies are: BARKIN/SELISSEN PROJECT, Robin Becker Dance, ClancyWorks Dance Company, Bryn Cohn and Artists, COLLECTIVE BODY | dancelab, Dance Iquail!, danceTactics performance group, Danse4Nia Repertory Ensemble, KDNY, Claire Porter/PORTABLES, Amanda Selwyn Dance Theatre, Prashant Shah, and Bill Young/Colleen Thomas & Co. Unable to participate are Blue13 Dance Company of Los Angeles and Duniya Dance and Drum Company from San Francisco.
Amanda Selwyn Dance Theatre will present "Oblivion," a duet from Five Minutes, as well as "Reflect," a duet from Detour.
Advance tickets are 0 and will be available online at www.brownpapertickets.com/event/269432 or onsite for 4, cash only, one half hour before curtain. Advance purchase is strongly recommended.
Amanda Selwyn Dance Theatre engages audiences in original and dynamic dance theatre that raises questions, challenges social norms and values, and magnifies humanity through dance. Productions pivot around core themes and through an interplay between athletic and pedestrian motion, activate emotional expression, character, and narrative in a rich and abstract collage. Amanda Selwyn Dance Theatre presents dance in an immediate, mature, and inclusive way that engages our audiences from start to finish and beckons a response of thought, feeling, and soul.