Feld's KIDS DANCE at the Joyce, June 12-15‏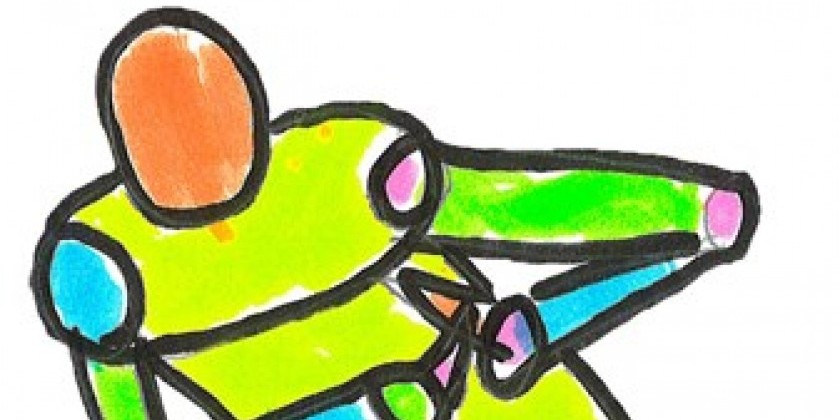 Company:
BALLET TECH FOUNDATION
BALLET TECH FOUNDATION 40 YEARS YOUNG presents KIDS DANCE
including the World Premiere of KYDZNY

Music by Raya Brass Band
All Choreography by Eliot Feld
June 12-15 - five performances
(Thursday at 8 PM Friday at 7 PM Saturday at 2 & 7 PM Sunday at 2 PM)
The Joyce Theater, 175 Eighth Avenue
Tickets: $10-$39
Reservations: 212.242.0800 or www.joyce.org
The irrepressible KIDS DANCE, an ensemble of 40 young dancers, ages 9 to 14, from Eliot Feld's Ballet Tech School, the NYC Public School for Dance, will dance three Feld works, including the premiere of KYDZNY, set to music by Raya Brass Band. The five performances will take place June 12-15 at The Joyce Theater, 175 Eighth Avenue.
A special feature of the June 12th opening will be an appearance by Brooklyn's own Raya Brass Band, performing live their soul-shaking, border-defying dance music infusing traditional Balkan melodies with American jazz and funk (not to mention champagne and sweets at intermission). The dancers will also perform a crowd favorite, Feld's A Stair Dance. Following its premiere in 2004, Anna Kisselgoff wrote that A Stair Dance "...is in the must-see category. Mr. (Steve) Reich's 'Tokyo/Vermont Counterpoint' finds an ingenious match in the permutations of phrases that Mr. Feld has created for his version of the old tap staircase dance. Shirley Temple, eat your heart out." (The New York Times, October 2004).
The full ensemble has a ball in Apple Pie, a merry hoe-down to music by Bela Fleck and Joe McCracken. Choreographer ELIOT FELD began his professional career at age 11, when he danced with the New York City Ballet as the "Child Prince" in Balanchine's original production of The Nutcracker. At sixteen he joined the Broadway cast of West Side Story and appeared as Baby John in the movie version, and later danced on Broadway in I Can Get It for You Wholesale and Fiddler on the Roof. Mr. Feld danced with American Ballet Theatre, American Ballet Company and Feld Ballets/NY, and choreographed his first ballet, Harbinger, in 1967 for ABT. Since then, Eliot Feld has choreographed 146 ballets for companies throughout the world. 2014 marks the 40th anniversary of the organization Feld launched in 1974 – now known as Ballet Tech. Inspired by the notion that all children with talent and desire should have access to classical dance training, Eliot Feld and Cora Cahan, as principals of Ballet Tech Foundation Inc,, founded the tuition-free Ballet Tech School in 1978. Today Ballet Tech auditions 30,000 children in more than 200 elementary public schools throughout New York City and provides intensive dance training and rigorous academic education at Ballet Tech, a/k/a the NYC Public School for Dance, at its headquarters at 890 Broadway in Manhattan. Since 1978, Ballet Tech has auditioned 614,607 public school children and enrolled 16,525, providing thousands of students with the opportunity to rigorously train and develop their talents in a tuition-free professional ballet school. Graduates have pursued professional careers with such companies as Ballet Tech, Alvin Ailey American Dance Theater, American Ballet Theatre, and Dance Theatre of Harlem, and pursued higher education at colleges and universities including Brown, Columbia, Hunter College, Penn State, Skidmore, St. John's and SUNY Purchase. The school is a recipient of numerous awards, including a Schools and Culture Award, co-sponsored by the Alliance for the Arts and the New York City Commission for Cultural Affairs, in 1986, an Arts and Business Council honor in 1992 and the Creative Ticket Award for Schools and Excellence from The New York State Alliance for Arts Education in 2002. Ballet Tech has been consulted by ballet companies nationwide on replicating components of its unique and innovative program. Since 1978, "Eliot Feld's vital Ballet Tech School has handpicked New York public-school students with what he calls 'innate joy' for dancing, and offered them top-flight training free of charge," noted Rebecca Milzoff in New York Magazine (June 2013).
Just a few Ballet Tech School statistics: Number of children who have auditioned since 1978: 782,404 Percentage of minority students: 83% Percentage of male students: 51% Number of dance classes each year: 1,585 Number of buses bringing students to class each week: 90 Annual operating expenses: $2,095,700 Tuition Income: $0 In her New York Times feature article about the Ballet Tech School, Gia Kourlas remarked: "For Mr. Feld, the aim is to produce dancers. The best service he can provide, Mr. Feld said, is to be rigorous. 'Ballet is not for a class of people', he said, 'it's for everybody with talent'." (June 2013). www.ballettech.org