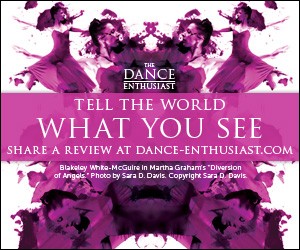 Five by Five (Moon She Be Struttin)
A collection of new, short, small group pieces
Choreographer

David Appel

premieres
Five by Five (moon she be struttin)
, a collection of new short small group pieces,

Wednesday January 30—Saturday February 2

at

Dance New Amsterdam, 280 Broadway (entrance at 53 Chambers Street) in New York City. The five performances are Wednesday-Friday at 7:30pm, and Saturday at 3:00pm and 7:30pm. Tickets are

7

general and

2

DNA members and in advance, and may be purchased at the door or through the Dance New Amsterdam website (www.dnadance.org). For more information call DNA at
212-625-8369
. This is a shared program being presented under the auspices of DNA's

RAW Directions, which this year also includes work by Anne Zuerner, Megan Bascom & Dancers, Lane Gifford, and Pascal Rekoert/ Flexicurve.
Five by Five (moon she be struttin)
collects the first in a planned series of short dances growing from dissimilar choreographic underpinnings,
weaving variously-composed blends of set and improvised dancing in intricate and intriguing fashion. On one level, these dances are simply "about" how the dancers—individually and collectively—wield their abilities to articulate, play through fluidly, and enliven the progression of each piece. Yet they allude as well to some of the singular and shared aspects of human interaction revealed through encounters with the invented and intuited ways we structure our lives. Whether mapping/illuminating a path or embodying a way of being, these dances ride a sense of possibility, and reveal Appel's curiosity about how we (can) articulately engage each other from moment to moment in different circumstances—above all celebrating our ability to reject rigidity in favor of pliable and vibrant responses within the worlds we encounter and re-create.
Performers include Ava Heller, Jenni Hong, Hannah Seidel, Darla Stanley, and David Appel.
David Appel
is a

choreographer, performer, and teacher whose work has been presented in a wide range of contexts

throughout North America, Europe, and in Mexico since 1973.

While his primary focus has long been on the creation and development of his own choreographic interests, h

e has also had the opportunity to perform with Simone Forti, City Dance Theater of Boston (a company touring innovative pieces during the early 1970s), several dance/music collaborative and improvisation groups, and many other individual artists in a variety of media. He has received a number of grants and awards for his choreography, including three NEA Choreographers' Fellowships, and has been invited to festivals in both the U.S. and abroad.
Appel's dancing and dances

reflect his insatiable desire to find an ever more subtle articulation of the moving body, to acknowledge the vivid presence of that body within its surrounding environment, to learn more about why and how we organize our movement choices, and to ascertain how the structures we engage have significance not only as intriguing dance forms but as models that suggest more extended ideas about our interactions with others and the world around us. The link between these—and the essence of what he is exploring—is an ongoing interest in possibilities and connections, and how we address and wield them.
RAW Directions
supports up to five emerging to mid-career choreographers having more than ten years of professional choreographic experience. DNA provides a full marketing and production support package, a peer artistic consultant, two informal showings, a small commission, an artist fee, and discounted and free rehearsal space (when available) leading up to five performances of new 15-minute works in DNA's theater. The artistic consultant for RAW Directions 2012 is

Gus Solomons jr.