Flamenco Wit' Grit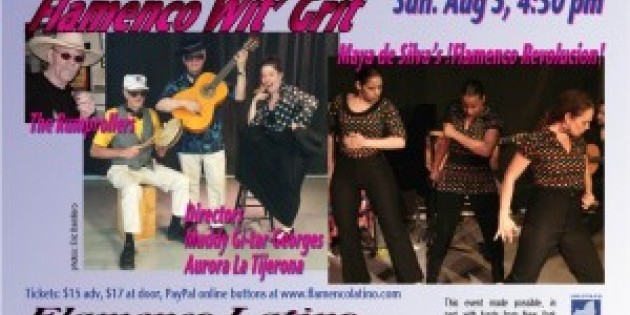 Company:
Flamenco Latino
Flamenco Latino
Presents

Flamenco Wit' Grit!
at Flamenco Latino Studio Theater
Sunday August 5th 2012, 4:30PM
NOT FOR THE FAINT OF HEART!
Flamenco Latino 2012 Concert Series presents Flamenco with Grit! at Flamenco Latino Studio Theater (244 West 54th Street, between Broadway & 8th Aves, 4th Floor), Sunday August 5th at 4:30 PM.
Maya de Silva's ¡Flamenco Revolucíon! in collaboration with Flamenco Latino explore themes from the Rolling Stones, Chicago Blues and a little 60s R&B. Flamenco gets down and dirty. Rediscover the philosophy of the Hootchie Cootchie Man, reevaluate your Sympathy for the D__, take a little Satisfaction in observing a unique experience, includin' a taste o' organ and references to musicians named Junior. Lyrics in English and Spanish.
11 dancers and musicians, including Maya de Silva, La Olyda, Ryan Rockmore and Edu Duyos, members of the Rumprollers, percussionist Mark Holen, singer/harp player Michael Greene, guitarist Gerhard Schlanzky, with Nathan Herrera, guitar, saxophonists Cam Collins and Jay Rattman, all under the direction of Muddy Gi-tar Georges and Aurora La Tijerona.
Flamenco Latino Studio Theater is the premiere flamenco center in NYC. The dance and music company was founded by Aurora Reyes and Basilio Georges in 1979 to explore and experiment with the ida y vuleta ("round trip") styles, representing an amalgamation of rhythms, structures and melodies from Latino countries. For 32 years Flamenco Latino has continued its journey to the edge of the

frontier. In the past 4 years it has expanded its original concept through collaboration with tap dancers, Latin and jazz musicians, and involvement in collaborations including three flamenco musicals at Thalia Spanish Theatre in Queens, participation in American Tap Dance Foundation's 2010 season at Dance Theater Workshop, and through Flamenco Latino's own May 2012 production of "La Rumba" featuring Max Pollak RumbaTap. The company's annual programming offers the broadest training in flamenco dance, guitar and cante to adults and children, hosts both US- based and Spain-based guest artists, and presents recitals and concerts in its alternative theater.
Maya de Silva was a core member of Flamenco Latino for many years and has been getting attention during the past three years for her work with ¡Flamenco Revolucíon! The company was featured at Jacobs Pillow in August 2010, is being presented at Sullivan County Community College during July 2012, and has produced three seasons at Duo Multicultural Center, and Jackie Kennedy Onasis High School. Maya has performed with Carlota Santana Flamenco Vivo, Andrea del Conte Danza España , The Metropolitan Opera, and was a scholarship student at the Herren Foundation for flamenco studies in Sevilla.
Tickets are 5 general admission advance purchase, 7 general admission at the door, Children/0 Seniors (limited quantity by reservation only). For information and reservations, please go to www.flamencolatino.com for PayPal online button, or call Flamenco Latino at (212) 399-8519. Credit cards accepted.