Footprints From My Head's Rhythm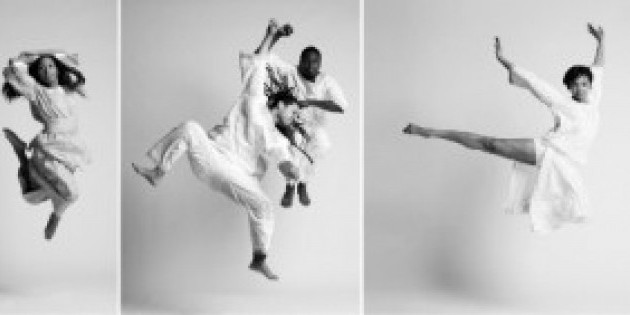 Company:
Jamal Jackson Dance Company
JAMAL JACKSON DANCE COMPANY
AT MARK MORRIS DANCE CENTER, MARCH 11-13

FOOTPRINTS FROM MY HEAD'S RHYTHM

WITH SPECIAL GUESTS BATOTO YETU DANCE COMPANY
ACCOMPANIMENT BY THE BEREAN COMMUNITY DRUMLINE (BCD)
Jamal Jackson Dance Company (JJDC)
is pleased to announce its 2011 New York season,
Footprints From My Head's Rhythm,
at the James and Martha Duffy Performance Space at Mark Morris Dance Center running from
March 11 – 13
. This show will feature two premiere performances, along with new works, and repertory favorite "Supplant." JJDC is also excited to present Batoto Yetu Dance Company and BCD at this energetic, rhythm driven show.
Each show will begin promptly at
8:00 p.m.
Tickets
Mark Morris Dance Center is located at 3 Lafayette Avenue in the Fort Greene section of Brooklyn, NY.
Tickets for general admission are 0 and available as a Paypal purchase through the JJDC website,
www.jamaljacksondancecompany.org
. Industry complimentary tickets and discounted group sales rates available. Please call (646) 808-5507 or email
asha@jamaljacksondancecompany.org
for reservations.
Jamal Jackson Dance Company (JJDC) was founded in 2004 with the purpose of fusing various traditional African dance styles with contemporary movement and music to create a new, unique technique that is relevant to a multifarious community. The movement and story lines of JJDC choreography focus on redefining ideas of community and blurring divisive lines, while still celebrating the beauty of individual cultures. Jackson has a strong desire to not only entertain and educate an audience, but to pass on dance to people of all ages, which he does through regular dance workshops throughout the year. In keeping with the strong mission, the company used 2010 to begin work on a youth outreach program with Berean Baptist Church's youth drum line. The dancers of JJDC have donated their time to working with the drummers, dancers and choreographers to impart dance training, as well as discipline, professionalism, work ethic and self-confidence.
Jamal Jackson Dance Company has established a strong presence in New York City, performing year round in festivals, self-produced shows, and private events. The company has presented work at venues including, Jennifer Muller/The Works series, Dance Theater Workshop, DanceNow Festival, Battery Downtown Dance Festival, and White Wave's Cool New York Dance Festival. JJDC has also toured to Big Range Austin in Austin, TX, the Yard in Martha's Vineyard, MA, and Performance Spaces of the 21 Century in Chatham, NY. Jackson has also created work for the Diversity in Dance Project at The Yard alongside the Urban Bush Women and the Carolyn Dorfman Dance Company.

# # # # # # # # # #
PREMIERES
Pickles and Ice Cream (2011)
Choreographer: Jamal Jackson
Music: Pérola and James Brown
Jackson choreographed "Pickles and Ice Cream" to celebrate the strength of women in child birth. Never straying from his signature fast paced, gravity defying movement, Jackson moves seamlessly between portraying both the joy and labor of pregnancy. The piece highlights both the individual process of each woman, as well as the importance of community and the way in which women commiserate and support each other around their shared experience.
Space Coding (2011)
Choreographer: Jamal Jackson
Music: Jamal Jackson
"Space Coding" is the epitome of the theme
Footprints From MY Head's Rhythm
. Rather than be inspired by a pre-recorded song or theme from life, Jackson wanted to focus on footwork and rhythm for this piece. The music is his vocalization of timing through syllabic phrases, such as "ba ti di da" – Jackson's standard way of measuring timing, in place of counting measures. The raw, stripped down nature of the piece allows the movement and the dancer's body to be featured in a way that excites and spellbinds.
NEW PRODUCTIONS
Mile 21 (2010)
Choreographer: Jamal Jackson Music: Berean Community Drumline (Ensemble)
The choreography in "Mile 21" combines multiple-paced sequences to simulate the difficult search for the "finish-line". Within this piece, the dancers experience a tug-of-war within themselves as well as with one another.
NEXT TIME (2010)
Choreographer: Jamal Jackson Music: Mahalia Jackson and Frances Bebey
"Next Time" premiered February 4, 2010 at the Cool New York 2010 Dance Festival hosted by White Wave in Brooklyn, NY. This piece explores the process of redemption as a dancer moves from conflict and isolation within herself into finding a church home and receiving a second chance. The goal of the piece is to investigate the balance between individuality and group acceptance.
REPERTORY FAVORITE
SUPPLANT
(
2008)
Choreographer: Jamal Jackson Music: Puto Prata
"Supplant" premiered in 2008 at the Connelly Theater in New York City as part of the JJDC New York Season,
This Place Called Home
." This piece takes a look at the emotions that occur when one feels displaced; however, it takes the stance that there is freedom in not having an identity imposed on oneself. Through movement that keeps the dancers constantly disconnected from the ground and ever-changing groupings, "Supplant" speaks to the shunning of labels and stereotypes, as well as the joy in being able to move fluidly between different groups of people.