FringeNYC Announces Dance and Movement Highlights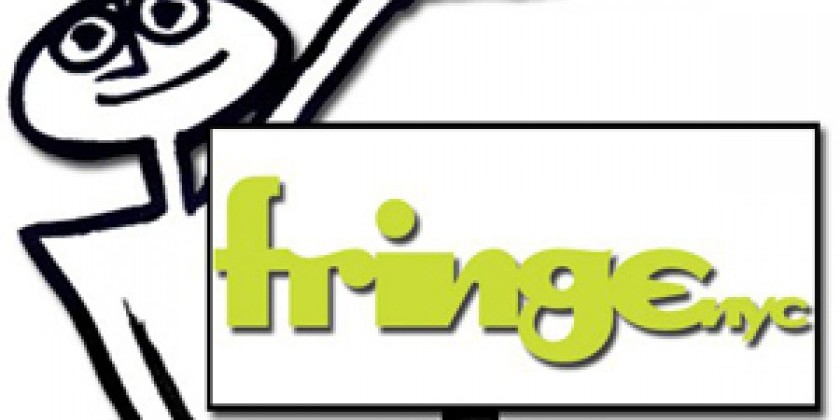 Company:
FringeNYC
NEW YORK INTERNATIONAL FRINGE FESTIVAL ANNOUNCES DANCE & MOVEMENT THEATER HIGHLIGHTS
18th Annual Festival Runs August 8-24, 2014

 
The 18th annual The New York International Fringe Festival
(FringeNYC), the largest multi-arts festival in North America, runs
August 8 - 24, 2014. The festival offers programming from 205 of the
world's best emerging theatre troupes and dance companies in 18 venues
in downtown Manhattan. With attendance topping 75,000 people,
FringeNYC is New York City's fifth largest event (just behind New York
International Auto Show, Tribeca Film Festival, New York City
Marathon, and New York Comic Con).
 
The 205 shows in FringeNYC 2014 represent 13 countries (including
South Africa, Italy, Japan, China, Mexico, Israel, Korea and
Australia) and 17 U.S. states (including New Jersey, California,
Illinois, Ohio, Arizona, Florida, Michigan and Colorado). Shows
represent an array of genres including dance, drama, comedy, classical
theater, performance art, and puppetry.
 
Dance and movement theater highlights the 2014 festival include:
 
Cortez
Milkwood Theater (Brooklyn, NY)
Choreographer/Director: David Riley
Two marine biologists are at odds during the most important expedition
of their career. When a stranded shark refuses to die, things get
weird in this physical theatre piece about the nature of ego, love and revenge.
The Theater at the 14th Street Y (344 East 14th Street at 1st Avenue)
SUN 10 @ 5:30   SUN 17 @ 7   TUE 19 @ 7:30   THU 21 @ 2   SAT 23 @ 8
 
Isis Variations
The Ume Group (New York, NY)
Choreographers: Dave Herigstad, Marie Putko, Jordan Rosin, Yokko
The company hailed by The Village Voice for "commanding, physically
impressive performances" returns to the Fringe with a new Butoh-driven
physical theatre odyssey. Four choreographers invoke the Egyptian
goddess Isis to discover the mythic "home" in each of us.
The Theater at the 14th Street Y (344 East 14th Street at 1st Avenue)
WED 13 @ 7:45   SAT 16 @ 8:30   TUE 19 @ 5:45   WED 20 @ 7:30   FRI 22 @ 2
 
Nisei
Covenant Ballet Theatre of Brooklyn (Brooklyn , NY)
Choreographer: Marla A. Hirokawa
It's WWII and a Nisei, 2nd generation Japanese American soldier has to
overcome bigotry displayed against him and his family by the very
country he is fighting to protect. This legacy unfolds in a ballet of
love, strength and honor.
The Theater at the 14th Street Y (344 East 14th Street at 1st Avenue)
SAT 9 @ 3:30   TUE 12 @ 7   WED 13 @ 5:45   FRI 15 @ 6:15   SAT 16 @ 2
 
Tejas Luminous
Malini Srinivasan and Dancers (Queens, NY)
Choreographer: Malini Srinivasan
Her eyelid flickers, time stands still. Her ankle bells ring and time
soars at lighting speed. With each movement of these Bharatanatyam
dancers, journey through afternoon's liveliness, dusk's harmony,
evening's rituals, night's passion, and morning's purity and renewal.
Robert Moss Theater at 440 Studios (440 Lafayette St, 3rd Floor)
SAT 9 @ 8:45   TUE 19 @ 2   FRI 22 @ 4:45   SAT 23 @ 8:15   SUN 24 @ 4:15
 
The Call of the Siren
Choreographer: Ashley DeLane Burger (Linden, NJ)
By day, she's a struggling dancer named Karla, by night, the vigilante
hero The Night Siren. Inspired by true events in a story infused with
dance, our hero is forced to redefine justice when a fellow dancer is killed.
The Theater at the 14th Street Y (344 East 14th Street at 1st Avenue)
FRI 8 @ 9:15   SUN 10 @ 2*   SAT 16 @ 5:45   TUE 19 @ 9:15   FRI 22 @ 9:15
 
The Link to The Missing Link
Choreographesr: Gary Shore, Michelle Birmingham, Ali Burke, Leanne Smith (Bristol, RI )
This movement-theatre piece captures audience members with its comic
twist and live music. Utilizing dance, mime,dialogue, three cell
phones, three bean bags,and a small TV monitor, it explores the
dramatic and humorous effects of media on society.
The Theater at the 14th Street Y (344 East 14th Street at 1st Avenue)
SAT 16 @ 4   SUN 17 @ 8:45   WED 20 @ 2   THU 21 @ 8   SAT 23 @ 9:45
 
Wing to the Rooky Wood
Choreographer: Renaissance Now Theatre & Film Ensemble (Brooklyn, NY)
Inspired by physical theatre, Psychological Gesture and Butoh
technique, classical scenes surrender spoken text to the emergence of
subtext expressed through dynamic physical gesture: Chekhov's "The
Seagull," Wuthering Heights and Shakespeare's "MacBeth." Enriched by
photographic imagery and choral movement.
Robert Moss Theater at 440 Studios (440 Lafayette St, 3rd Floor)
FRI 8 @ 7:45   TUE 12 @ 5   SAT 16 @ 2:15   THU 21 @ 6:45   SAT 23 @ 2
 
FringeNYC is a production of The Present Company, under the leadership
of Producing Artistic Director Elena K. Holy. In 1997, New York became
the seventh U.S. city to host a fringe festival, joining Seattle,
Chicago, Minneapolis, Houston, Orlando and San Francisco. FringeNYC
has presented over 3000 performing groups representing every
continent, prompting Switzerland's daily, New Zurich Zeitung, to
declare FringeNYC as "the premiere meeting ground for alternative
artists." In 2007, FringeNYC was honored by Michael Bloomberg with the
Mayor's Award for Arts & Culture for
"showcasing the best and boldest theater and performance."
 
FringeNYC shows run 2pm - midnight weekdays and noon - midnight on
weekends. Tickets are $18 each, available beginning July 18 at
www.FringeNYC.org. Discount passes for multiple shows (including the
Fiver and the all-you-can-see Lunatic Pass) are also available. For
more information visit www.FringeNYC.org.