GALA OPENING NIGHT - FJK SEASON 2015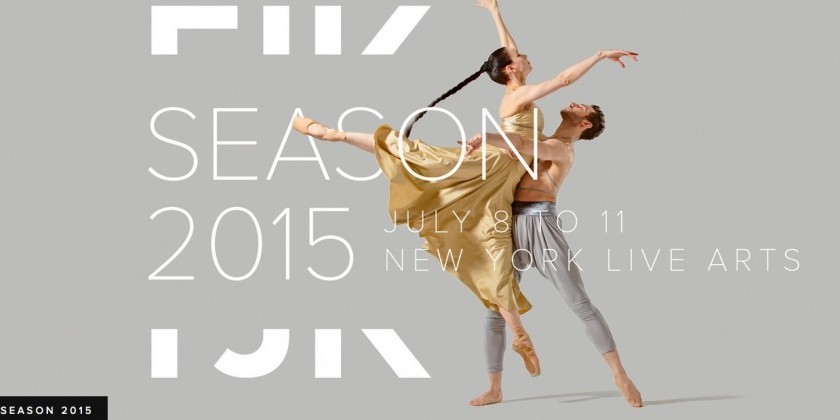 Company:
FJK DANCE
Fadi Khoury, the Iraqi-born Artistic Director of FJK Dance, will return to New York Live Arts July 8 through July 11 with his company of ten dancers in new and repertory works combining a variety of dance mediums in a rare cultural fusion. The run will include four premieres and a special guest choreographer collaboration.
With percussion music fusing classical instruments with electric sounds, Mr. Khoury's choreography explores the human intuitive relationship to rhythm and the purity of dance as an expression of human identity and divine presence.
All four of FJK Dance NEW choreographic works will be presented on Gala benefit evening, Wednesday July 8 at 7pm:
Home (premiere), choreographed to a selection of Frédéric Chopin compositions, is a ballet reflecting man's resilience in the face of war and the universal beliefs in trust and hope. A work for ten dancers and a vision of positivity, Home symbolizes Fadi Khoury's Iraqi childhood aspirations, the manifestation of a dream. Score includes Chopin's Adante Spianato G-major; Nocturne in C-sharp minor; Étude Allegro sostenuto; and Fantaisie-Impromptu in C-sharp minor.
Echoes (premiere), is a piece in which five men dance to music by Shamou, a Persian percussionist and composer who fuses Middle Eastern drums and percussion instruments with electric based sounds and rhythms. "Dabke," a folkloric traditional Bedouin dance of the mountains of Lebanon and Syria, serves as inspiration.
Serenade (premiere), is a female solo to classical Middle Eastern music by Ihsan Al Mounzer, playing Kanoun, a harp-like string instrument from the Middle East.
Dum Tak (premiere), a composition of Tabla (Middle Eastern Drum) playing Latin salsa by Matias Hazroum, from the Arabic Percussion album of Mrio Kirlis. Three couples perform in pointe shoes, Latin heel and bare feet together in a blend of ballet movement and Latin salsa.
The July 8 Gala benefit performance will also include excerpts from FJK's Arabesque and Tango Unframed, and an excerpt from a new work, Duke's Time, by guest choreographer Gary Pierce. Mr. Pierce was a co-founder of American Ballroom Theater Company who for ten years served as the company's resident choreographer.