GALA Opening Night / 2013 DUMBO DANCE FESTIVAL
Thursday, September 26, 2013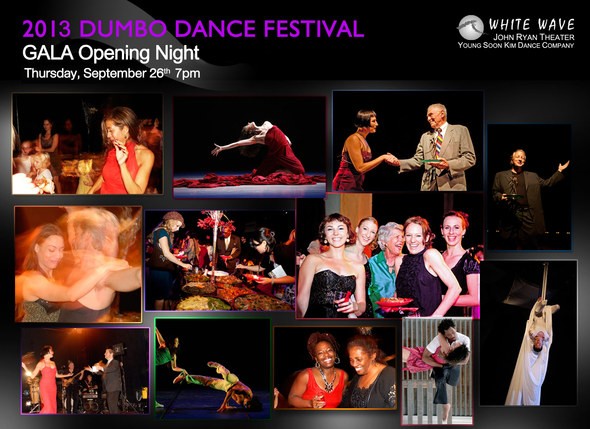 GALA Opening Night / 2013 DUMBO DANCE FESTIVAL
Thursday, September 26, 2013
at WHITE WAVE John Ryan Theater
25 Jay Street, DUMBO, Brooklyn, NY 11201
7:00pm Honoree Ceremony & Performances / 8:30-10:30pm Dinner Party with Live DJ and Dancing
Stunning Contemporary Dance followed by a champagne reception,
scrumptious buffet dinner and dance party with Live DJ by The Bacchanal!

2013 Gala Promo Video on YouTube Click Here
Tickets for the GALA Benefit can be purchased Click Here
WHITE WAVE's annual GALA is a thrilling night of celebration which opens our Fall Season. Witness performances by six stellar contemporary dance companies, enjoy a scrumptious buffet dinner of Korean specialties, and dance the night away to live music at our fabulous party!
Stunning performances by Antonio Brown, OUI DANSE/Brice Mousset, Kuperman Brothers, Billy Bell / Lunge Dance Collective, Buglisi Dance Theatre and WHITE WAVE Young Soon Kim Dance Company. Live DJ by The Bacchanal will inspire you to move with uninhibited expressions of dance.
Our Opening Night GALA begins with opening remarks by Mr. John Ryan our most revered and honored benefactor and longtime friend, as well as our theater's namesake. Dr. Ludo Scheffer and Mr. Ken Park will both be honored this evening for their devotion and dedication to WHITE WAVE Dance.
Tickets are 00 and 50 (VIP). All funds raised will go directly towards offsetting WHITE WAVE's production costs including our 13th Annual DUMBO Dance Festival (Sept. 26th-29th), 8th Annual WAVE RISING SERIES (Oct. 23rd-Nov. 10th) and to the development of our future programming. Please join us for this great night of art and celebration!!! Your participation will make a huge impact on our ability to present and promote rising dancemakers.
Tickets for the GALA Benefit can be purchased [Click Here]
More info.. www.whitewavedance.com, 718-855-8822, wwyskdc@gmail.com.
WHITE WAVE is a 501(c)(3) non-profit organization.
All contributions are tax-deductible to the fullest extent of the law.