"GENE KELLY: THE LEGACY" - An Evening with Patricia Ward Kelly - July 9 - Symphony Space‏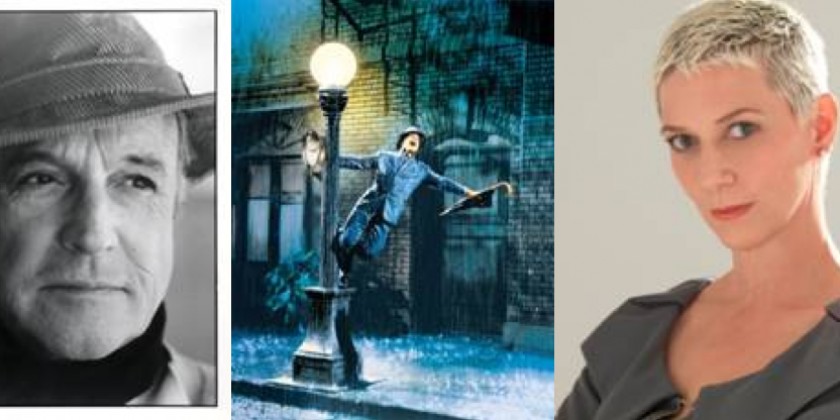 Company:
AMERICAN TAP DANCE FOUNDATION
GENE KELLY: THE LEGACY
One Night Only – Symphony Space - July 9
Gene Kelly Inducted into ATDF'S Tap Dance Hall of Fame
July 8 – Bruno Walter Auditorium/NY Public Library
(L-R) - Gene Kelly, Tap Dance Hall of Fame Inductee – Photo Courtesy Patricia Kelly;
Gene Kelly in Singin' in the Rain; Patricia Ward Kelly
New York, NY, June 11, 2014 – GENE KELLY: THE LEGACY, An Evening with Patricia Ward Kelly, is an intimate, behind-the-scenes portrait of legendary star of stage and film Gene Kelly. THE LEGACY will be presented one night only at Symphony Space/Peter Jay Sharp Theatre, Wednesday, July 9, 2014 at 8pm, 2537 Broadway at 95th Street.
THE LEGACY SHOW comes on the heels of ATDF's Tap Awards – Tuesday, July 8 at 7pm - Bruno Walter Auditorium at NY Library for the Performing Arts. At the Tap Awards, Gene Kelly will be named into ATDF'S International Tap Dance Hall of Fame. Both events are featured presentations of Tap City, New York's weeklong Tap Dance Festival, July 5 to July 12. *Event details below.
A renowned dancer, director and choreographer, Gene Kelly brought astonishing grace and athleticism to the big screen. In this unique one-woman show, Patricia Ward Kelly, his wife and biographer, takes audiences behind the scenes with rare and familiar film clips, previously unreleased audio recordings, personal keepsakes, and stories Kelly shared with her over their decade together. She guides us on an unforgettable journey into the life and heart of the man who changed the look and style of dance on film and became one of the world's most beloved and iconic stars.
"I am very happy to be bringing the show to New York City," said Patricia Ward Kelly, "and especially to be presented by Tony Waag and The American Tap Dance Foundation in conjunction with Gene's induction into The International Tap Dance Hall of Fame. So much of who Gene was and what he accomplished is rooted here in NYC and in the Broadway theaters where he honed his skills and ultimately caught the eyes of Hollywood. Pivotal roles, like Harry the Hoofer in Bill Saroyan's The Time of Your Life and Joey Evans in John O'Hara's ground-breaking play Pal Joey, played an important role in Gene's creative development, as did his directorial debut in M-G-M's On the Town, the story of three sailors on leave in New York City and the first movie musical to be shot on location. So it is an honor—and a kind of coming full circle—to bring his Legacy to the place where so much of it began."
Currently, Patricia Kelly serves as sole trustee of The Gene Kelly Image Trust and as Creative Director of Gene Kelly: The Legacy, a corporation established to celebrate Kelly's artistry worldwide. She lives in Los Angeles where she is completing the definitive book about her late husband. Mrs. Kelly is available for phone and in-person interviews.
GENE KELLY: THE LEGACY, currently on tour in the U.S. and abroad, premiered at sold-out evenings at The Academy of Motion Picture Arts and Sciences and New York City's Lincoln Center. More details about GENE KELLY: THE LEGACY can be found at www.GeneKelly.com and at "Gene Kelly: The Legacy" on Facebook.
"Truly personal - a rarity in tributes like these. I felt privileged to be there" - Leonard Maltin, Entertainment Tonight; "Trenchant as well as endearingly entertaining" - The Hollywood Reporter; "A one-of-a-kind, out of this world event" - Sony Pictures; "A real treat" - Variety; "And we thought we knew Gene Kelly" - Pittsburgh Post-Gazette
TICKETS
GENE KELLY: THE LEGACY
An Evening with Patricia Ward Kelly
Wednesday, July 9, 2014, 8pm
Peter Norton Symphony Space/Peter Jay Sharp Theatre
2537 Broadway at 95th Street
Reserved seating $40 (Day of Show $45)
Children 17 & under/Symph. Member/College Student/Senior: $20 (Day of Show $25)
Box Office: 212.864.5400 Hours: Tues - Sun from 1 - 6pm. (Box office windows remain open on the night of a show until one half hour after curtain) Or visit: www.symphonyspace.org
AMERICAN TAP DANCE FOUNDATION'S TAP AWARDS
Tuesday, July 8 at 7:00pm
NY Public Library for the Performing Arts
Bruno Walter Auditorium
(Enter at 111 Amsterdam Avenue - 65th Street)
Tickets: $20 - Advanced purchase required!
Visit Awards Tickets or contact ATDF 646-230-9564
Hosted by ADTF Artistic/Executive Director Tony Waag, Tap Awards will feature film presentations and performances honoring recipients of this year's Hoofer and Tap Preservation awards and inductees into the International Tap Dance Hall of Fame. Recipients this year include:
2014 Hoofer Award
2014 Tap Preservation Award
2014 Tap Dance Hall of Fame Award
Tap City Promo Video - YouTube
ABOUT THE AMERICAN TAP DANCE FOUNDATION
ADTF was founded in 1986 by tap master Charles "Honi" Coles, his protégée Brenda Bufalino, and the Foundation's current artistic and executive director, Tony Waag. Called the American Tap Dance Orchestra until 2001, the organization was directed and choreographed by Ms. Bufalino and presented hundreds of stage performances and films from 1986 through 1999. From 1989 to 1995, it also operated Woodpeckers Tap Dance Center, where tappers from all over the world gathered for classes, workshops, jam session and performances. In 2002 with a new generation of tap dancers and enthusiasts, the Orchestra was renamed under the artistic direction and leadership of Tony Waag.