Goldman Sachs Announced as Title Sponsor of 2013 Jersey City Nutcracker Season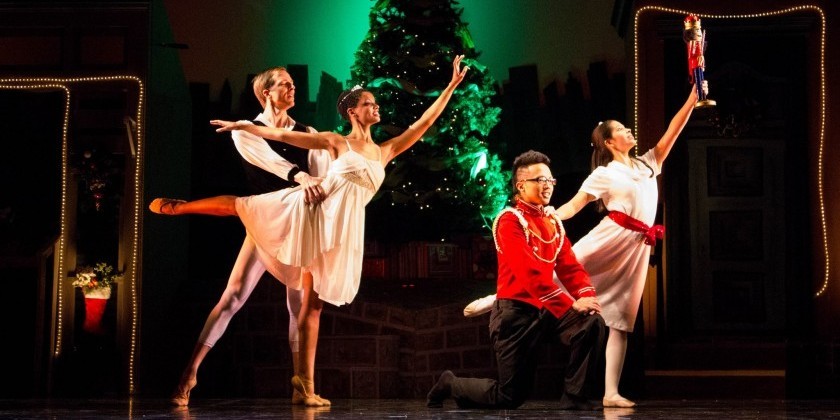 Company:
Nimbus Dance Works
Nimbus Dance Works Elects New Board Members and Officers;
Goldman Sachs Announced as Title Sponsor of 2013  Jersey City Nutcracker Season, underwriting participation of students from Jersey City's Henry Snyder High School
Further consolidating key elements of the organization's foundation and year-to-year programming, Nimbus announces the election of new board members and officers, and Goldman Sachs as the 2013 Title Sponsor of Jersey City Nutcracker. The announcements come on the heels of an exceptionally active year of performances and the founding of the School of Nimbus Dance Works. As Nimbus has redoubled its efforts to ensure the organization's sustainability as a leading arts organization in the region and a resource to the Jersey City community, the board developments and the support from Goldman Sachs represent important steps forward for Nimbus.
For the second year, Goldman Sachs will be the title sponsor of Jersey City Nutcracker. Their support not only provides backing for production costs, dancer salaries, and costumes and sets; but also will enable sophomores, juniors and seniors from Jersey City's Henry Snyder High School to rehearse and perform in the production.  Says Goldman Sachs' Managing Director Anthony Cammarata about the sponsorship, "Goldman Sachs is a proud supporter again this year of Nimbus Dance Works and their production of the Jersey City Nutcracker. We value Nimbus' ongoing commitment to introducing our Jersey City youth and their families to the arts."
Nimbus welcomes incoming board members Lillian Rivera and Lisa Talma, Jersey City residents who both bring extensive backgrounds in the non-profit world and strong commitments to the arts in the community. Ms. Rivera, Director of Advocacy & Capacity Building at the Hetrick-Martin Institute, is also, with her partner Elsa Vasquez, parent of a student at the School of Nimbus Dance Works. Lisa Talma, a lifelong dancer, is Senior Asset Manager at Enterprise Community Asset Management, Inc.; Ms. Talma is inspired to unite her passions for dance and for community development through her work with Nimbus.
Additionally, Nimbus welcomes a new slate of officers whose leadership will help propel the company to new heights. Dr. Guillem Lomas, Assistant Professor of Orthopedic Surgery, NYU - Hospital for Joint Diseases and Attending Physician, Jersey City Medical Center, is the new Board President. Says Dr. Lomas: "We are committed to supporting Nimbus' world-class dance company and also the organization's important work teaching dance within the Jersey City community.  I am extremely proud to be a part of Nimbus Dance Works and excited about the upcoming year." Having joined the board in 2011, Dr. Lomas has served the company not only with his guidance and stewardship, but also with expert, pro-bono, medical expertise for company dancers. Ms. Edith Hunt is the company's new Board Treasurer. Ms. Hunt, Advisory Director at Goldman Sachs, is a fixture in the Jersey City Community and surrounding region through her affiliation with Grace Church Van Vorst, Phillips Academy Charter School (Newark), New Jersey Needs You (Jersey City), Women's Campaign Intl. (Philadelphia), and Howard University School of Business (Washington DC). Founding board member, Dr. Judith Pott, a clinical pschologist with a private practice in New York City, and mother of Nimbus Founder/Artistic Director Samuel Pott, will continue to serve as Board Secretary. Dr. Pott brings a lifelong interest in the arts
Says Artistic Director, Samuel Pott, "We could not be more grateful for the support and generosity of our Board of Directors who, as volunteers, demonstrate a tremendous commitment and passion for the arts in Jersey City. Similarly, Goldman Sachs has reached out to Nimbus and taken a stake in the success of our organization. Running a dance company is not for the slight of heart, the support of our board and the folks at Goldman Sachs means a great deal to the organization and to me personally."
Nimbus Dance Works Board of Directors
Dr. Guillem Lomas, President
Assistant Professor of Orthopedic Surgery, NYU - Hospital for Joint Diseases; Attending Physician, Jersey City Medical Center
Edith Hunt, Treasurer
Advisory Director, Goldman Sachs
Dr. Judith G. Pott, Secretary
Clinical Pyschologist, Private Practice,
Hannah Kwon
PhD Student, Rutgers University
Samuel Pott
Artistic Director, Nimbus Dance Works
Lillian Rivera
Director of Advocacy & Capacity Building, Hetrick-Martin Institute
Elizabeth Sobo
Principal, SoboConsulting 
Lisa Talma
Senior Asset Manager, Enterprise Community Asset Management, Inc.
Jessica Wasilewski
Associate Producer, Arts and Cultural Programming, Montclair State University
About Nimbus Dance Works
Nimbus Dance Works focuses its work on the intersection between high-level dance and innovative ways of involving communities and audiences. Nimbus presents performances and programs to diverse audiences locally and on tour: serving present audiences and building future ones. Performers with Nimbus Dance Works are top-tier dance artists drawn from widely recognized companies including Ballet Hispanico, Ailey II, and the Martha Graham Dance Company. In addition to work by Artistic Director Samuel Pott, the company commissions dances by leading international dancemakers including Pedro Ruiz (Cuba/USA), Huang Yi (Taiwan), korhan baAAŸaran (Turkey), and Xiao-Xiong Zhang (Australia/Taiwan). Through critically acclaimed performances throughout New Jersey and the Northeast, programs for Jersey City youth and seniors, partnerships with institutions such as the Jersey City Board of Education, Rutgers University, and the Newark Museum, and collaborations with notable composers and visual artists, Nimbus weaves together artistic excellence and community impact.
Entering the company's 10th season, Nimbus Dance Works programs impact more than 9,000 people each year. The company's JC Grooves program serves over 2,000 youth each year in the Jersey City public schools. Nimbus presents biannual home seasons in Jersey City, tours regularly throughout New Jersey and the Northeast and recently opened the School of Nimbus Dance Works offering dance classes to diverse youth and adults from the region. Featured projects in Nimbus' 2012-13 season included a staging of Charles Weidman's 1936 modern dance classic Lynchtown along with the creation of a new partner work by Artistic Director Samuel Pott, We Acquiesce; and a collaboration with Taiwanese choreographer Huang Yi performed by an international cast of American and Taiwanese dancers.
Samuel Pott, Artistic Director, Nimbus Dance Works
Samuel Pott founded Nimbus Dance Works in 2005 drawing on a deeply held personal belief in the value that the arts can play in bringing people and communities together. Under his direction the company has grown each year adding performances, new repertory, and new community initiatives and projects. Known for creating structured and musical dances that evoke deep-rooted emotional connection, Mr. Pott's choreography has been shown in New York City and throughout New Jersey, New England and California at venues including the Joyce Theater, NJPAC and Jacob's Pillow Dance Festival. He has choreographed dance to chamber music, choral music, jazz, new music, folk and mainstream vocal ballads; collaborations have included productions with theater groups, visual and video artists, composers and music improvisers.  Collaborations have included work with many esteemed contemporary artists including composers Daniel Bernard Roumain, Samson Young, Judd Greenstein, Aaron Parks and visual artists Nicola Lopez and Trudy Miller.
A member of the New Jersey State Arts Council's Arts in Education roster of artists, he has taught dance at the elementary, high school, college and professional levels and has served on the faculty of Rutgers University's Mason Gross School of the Arts. In 2008 Mr. Pott founded JC Grooves, a program that brings dance to over 2000 Jersey City middle school youth each year through unique and participatory methods. He is a certified practitioner of the Feldenkrais Method. Mr. Pott received a Choreography Fellowship from the New Jersey State Council on the Arts in 2008 and was awarded a Governor's Award in Arts Education in 2013. He serves on the board of directors of Dance New Jersey and on the Arts Advisory Council for the for the Jersey City Board of Education.
Mr. Pott began his dance training at the University of California, Berkeley, and completed his Bachelor of Arts degree in 1999.  As a soloist with the Martha Graham Dance Company, his repertoire included such iconic roles as the Husbandman in Appalachian Spring, Agamemnon in Clyemnestra, and Adam in Embattled Garden. In addition to work with the Martha Graham Dance Company, Mr. Pott has performed as a lead dancer with many ballet and contemporary companies including New Jersey's American Repertory Ballet and the Oakland Ballet. Featured roles are from a wide range dance styles and choreographers including works by Marius Petipa, Martha Graham, Jose Limon, Isadora Duncan, Twyla Tharp, Lar Lubovitch, and directors Robert Wilson and Ann Bogart among many others.