Contribute
Your support helps us cover dance in New York City and beyond! Donate now.
Gotham Arts Exchange presents 3rd Annual FOCUS DANCE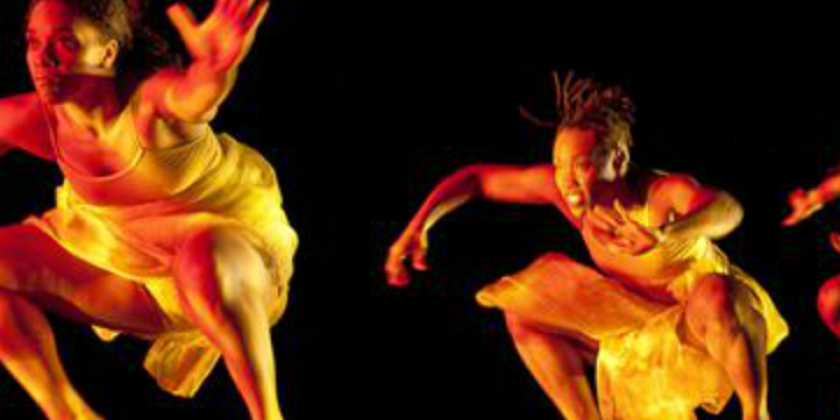 Company:
Gotham Arts Exchange
Gotham Arts Exchange presents the Third Annual
FOCUS DANCE
Four Programs featuring Eight Choreographers
January 7-12, 2014
PLEASE JOIN US:
Tuesday, January 7, 2014 at 7:30pm - Program A
Wednesday, January 8, 2014 at 7:30pm - Program B
Thursday, January 9, 2014 at 8pm - Program C
Friday, January 10, 2014 at 8pm - Program D
FOCUS DANCE is a part of FOCUS 2014, the National Platform to promote American dance both abroad and nationally.  The week-long platform presents performances of U.S. based dance companies during the annual Arts Presenters Conference in New York City, and one of the largest gatherings of artists, dancers and dance professionals in the U.S.  In January 2014, two venues partner with Gotham Arts Exchange to present the artistic visions of the curators gathered to shape the 2014 edition of FOCUS.
Gotham Arts Exchange returns to The Joyce to present the third season of FOCUS DANCE. This year, the week-long celebration of American dance is curated by Laurie Uprichard, associate producer at Quaternaire, Paris, France, and the former director of both the Dublin Dance Festival and Danspace Project. A national platform that promotes U.S. based dance artists to the national and international community, FOCUS DANCE features some of the most intriguing companies performing today.  FOCUS DANCE is comprised of four programs featuring eight companies: Jean Butler, doug elkins choreography, etc., Kelly Garfield Dance, Mark Haim Dance and Theater, Yvonne Rainer and Group, Vicky Shick and Dancers, Morgan Thorson, and Urban Bush Women.  FOCUS DANCE will run from January 7-12, 2014 at The Joyce Theater, 175 Eighth Avenue, NYC. Tickets start at $10 and are available at 212-242-0800 or www.joyce.org.
Program A - Tuesday, January 7 at 7:30pm; Sunday, January 12 at 7:30pm
Vicky Shick and Dancers -Everything You See  doug elkins choreography, etc. - Scott, Queen of Marys - Revival
Program B - Wednesday, January 8 at 7:30pm; Saturday, January 11 at 8pm
Morgan Thorson - The Thing of it Is
Keely Garfield Dance - Twin Pines (part real, part arboreal)
Program C- Thursday, January 9 at 8pm; Sunday, January 12 at 2pm
Yvonne Rainer and Group -Assisted Living: Do You Have Any Money?  Urban Bush Women - dark swan
Program D - Friday, January 10 at 8pm; Saturday, January 11 at 2pm
Jean Butler - Hurry
Mark Haim Dance and Theater - This Land Is Your Land (2013) - New York Premiere
ABOUT THE ARTISTS
JEAN BUTLER has been dancing for over 30 years. Best known as a practitioner in Irish Step Dance, Jean was awarded the prestigious Irish Post Award for her outstanding contribution to Irish Dance in 1999. Since 2005, Jean has worked in a contemporary context, dedicating her practice to creating a repertoire of solos. Her solo work has been commissioned and supported by the The Irish World Academy of Music and Dance (Artist in Residence 2003-5), The Arts Council of Ireland, The Dublin Dance Festival (2007-13) The Project Arts Center (Dublin), Plankton Productions (Japan), The Abbey Theatre (Dublin), Jacobs Pillow, Lower Manhattan Cultural Council and Danspace Project. Choreography and performance credits include Riverdance the Show, Dancing on Dangerous Ground, Greyage,Thicker than this, and does she take sugar? In 2010 Jean had the pleasure of performing DAY, a solo choreographed by Tere O'Connor. Her latest solo work, entitled hurry, was created in collaboration with NY dance artist Jon Kinzel. She currently lives in New York and lectures in Irish Studies at NYU. In January 2014, Jean will partake in BAC's Artist Residency Program.
doug elkins choreography, etc. was launched in 2009 to organize Mr. Elkins' independent dance, theater, and teaching projects. The original Doug Elkins Dance Company debuted in 1987 on Dance Theater Workshop's 11 O'Clock News series and went on to tour nationally and internationally for 15 years. Mr. Elkins is the recipient of a 2012 Guggenheim Fellowship. Other honors include a Bessie and Elliot Norton Award for Fräulein Maria, a modern dance twist on The Sound of Music that began at DanceNOW Joe's Pub in 2006 and toured North America from 2009 to 2012. He is currently a Joyce Theater Foundation Artist-in-Residence for the final phase of development of the new comic piece Hapless Bizarre, a National Dance Project selection.
KEELY GARFIELD: Garfield's work has been presented at many theaters and festivals both nationally and internationally. Highlights include: Deep (The Joyce Theater), Disturbing The Peace (Zenon Dance Company, MN), Iron Lung (Groundworks Dancetheater, OH), Disturbulance (Dance Theater Workshop), Scent of Mental Love (a film for Radio Bremen/Canal Arte), Limerence (Danspace Project 2009), "Bessie" nominated Twin Pines (Danspace Project 2012), and the widely-acclaimed Telling The Bees (Chocolate Factory 2013). Additionally, she has created work for ballet dancers, antique puppets, musical theater, children, students and MTV.
MARK HAIM began his dance studies with an honorary scholarship at The Juilliard School. He was Artistic Director of Mark Haim & Dancers from 1984-1987, and the Companhia de Danca de Lisboa from 1987-1990. Mark has created new works for many dance companies in the US, Europe and Asia, among them the Nederlands Dans Theater, Ballett Frankfurt, Limon Dance Company, Joffrey II, Rotterdamse Dansgroep, Silesian Dance Theater, and the Companhia de Danca de Lisboa. He has restaged his works on companies such as The Joffrey Ballet, the Bat-Dor Dance Company of Israel, and the Juilliard Dance Ensemble. His full evening solo project, The Goldberg Variations, has been presented by the American Dance Festival, the Danspace Project, The John F. Kennedy Center, On The Boards, Bumbershoot, and other venues in the U.S, Europe, and Asia. In 2013, This Land Is Your Land opened the ArtDanThe Festival in Paris and was presented by the ADF at the Nasher Museum of Art.
YVONNE RAINER, born in 1934, was a dancer/choreographer (1960-75), then a filmmaker (1972-96), then a choreographer/performer again, also an occasional writer, most recently of a memoir, "Feelings Are Facts: a Life" (2006). Her work has been seen internationally and rewarded with museum exhibitions, awards, and grants, most notably two Guggenheims, two Rockefellers, a Wexner, and a MacArthur. A selection of her poetry was published in 2011 by Paul Chan's Badlands Unlimited.
VICKY SHICK: Choreographer Vicky Shick has danced with Trisha Brown, Sara Rudner, and Stephen Petronio. She won a  New York Dance and Performance Award ("Bessie") for Undoing. Heather Olson has danced with Yanira Castro and Tere O'Connor. Wendy Perron has danced with Trisha Brown,Susan Rethorst, and Sara Rudner. Laurel Tentindo has danced with Liz Lerman, Trisha Brown and Sara Rudner.
MORGAN THORSON is an independent choreographer based in Minneapolis, Minnesota.  She has been making dances since 2000. Sage Award Winner in Outstanding Choreography and Performance (2006 & 2007, USA Artist Fellow (2011), Guggenhiem Fellow (2010), McKnight Fellow (2009 & 2002), Guest Professor in interdisciplinary study in Archaeology and Choreography at Wesleyan University.
URBAN BUSH WOMEN Founded in 1984 by choreographer Jawole Willa Jo Zollar, Urban Bush Women (UBW) seeks to bring the untold and under-told histories and stories of disenfranchised people to light through dance. We do this from a woman-centered perspective and as members of the African Diaspora community in order to create a more equitable balance of power in the dance world and beyond. We do this by facilitating the use of art as a means of addressing issues of social justice and encouraging civic engagement. Based in Brooklyn, we aspire to ensure continuity by strengthening and expanding our international community via ongoing professional education, development of new audiences, nurturing young talent and presenting bold, life-affirming dance works in a variety of settings including at our annual Summer Leadership Institute.  Since its founding in 1984, UBW has been presented extensively in New York City and has traveled throughout the United States, Canada, Africa, Asia, Australia, Europe and South America. Festival appearances include Lincoln Center Out of Doors Festival, BAM Next Wave Festival, Jacob's Pillow, Spoleto USA, National Black Arts Festival and Dance Umbrella UK. The Company has been commissioned by presenters nationwide and is highly sought after for its choreography and residencies.
FOCUS 2014:  FOCUS DANCE
The Joyce Theater, 175 Eighth Avenue (at 19th Street), NYC
January 7 - 12, 2013
Tuesday, Wednesday and Sunday at 7:30pm; Thursday - Saturday at 8pm; Saturday and Sunday at 2pm
Tickets start at $10.  Ticket prices are subject to change.
JoyceCharge: 212-242-0800
* FOCUS DANCE at The Joyce Theater, curator Laurie Uprichard
* DANCE GOTHAM at NYU/Skirball Center for the Performing Arts, curator Jodee Nimerichter
* DANCE MEET and SHOW CASE at New York City Center
FOCUS 2014 STEERING COMMITTEE
Rena Shagan, Chair; Laura Colby; Chad Herzog; Ken Maldonado*; Harold Norris; Cathy Pruzan; Bernard Schmidt; Linda Shelton; Burke Wilmore*
*staff members
FOCUS 2014 is produced by Gotham Arts Exchange and made possible with major support from the National Endowment for the Arts, New York State Council on the Arts, and the New York City Department of Cultural Affairs.