H.T. Chen's "Ear to the Ground"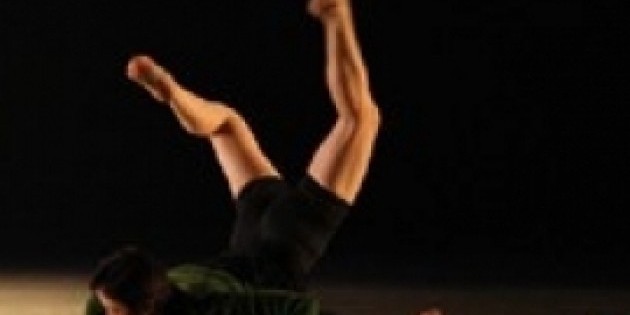 From April 24-26th 2013
presents
70 Mulberry Street, 2nd Floor
New York, NY 10013
(corner of Mulberry & Bayard)
Wednesday-Saturday, April 24-26, 2013 at 7:30PM
Chen Dance Center, 70 Mulberry Street, 2nd floor
Tickets: 2; 0 for students & seniors

(Meet the Artist Reception after Wednesday performance)
(Post-performance discussion after Thursday performance)
Chen Dance Center
presents
Ear to the Ground,
its commissioning series for Asian-American artists.
Since 1994, the Chen Dance Center venue has supported and presented over 250 artists developing innovative and risk-taking works.
The series has received acclaim in
The New York Times
,
Dance Magazine
,
The Village Voice
,
Downtown Express
and
The Villager
. Ear to the Ground artists receive a space grant, a choreographic commission, and are produced in three public performances.
"The Strange Wait" is a duet with original music composed by bassist and composer Giacomo Merega.
The work is a personal commentary on the idea of "familiar" and "unfamiliar"
, and the cognitive process that turns the latter into the former. It can start from a detail, a face, a sound.
The cognitive process of discovering the 'otherness' is always a look into ourselves as well, a moment of self-recognition.
dancers: Chia Ying Kao, Charles Arthur Milliken
"Smell of Fresh Cut Watermelon" "explores the movements of the body and their textures when manipulated and affected by imaginary things.

The trio f

ollows the theme of childhood, summer vacation, restlessness, and other emotions and events inspired by the smell of watermelon.
Mana Kawamura, Morgelyn Tenbeth-Ward, Suzanne Thomas
TRAVEL DIRECTIONS

Subway: Take the 6, N, R, Q, J, Z to Canal Street, then walk East along Canal towards Chinatown.

Turn right on to Mulberry Street then one block south to Bayard. The theater is on the northeast corner of Mulberry and Bayard.
ABOUT CHEN DANCE CENTER
With its renovated artist spaces and cultural information hub, Chen Dance Center (CDC) provides a refreshed and intimate black box performance space. CDC was created in 19
8
8 with the mission to promote understanding through the arts, provide professional opportunities for artists, increase participation in the arts and develop future audiences. As a co-presenter of independent artists and presenter of the dance series – newsteps and Ear to the Ground - CDC supports the development of dance artists by providing a professional theater space in which artists of high caliber receive visibility to the dance community and press.

CDC serves as a home base for local and visiting artists to develop and showcase their work and proudly celebrates the distinction of being the first professional performance space in New York City's Chinatown.

CDC also hosts H.T. Chen & Dancers' annual educational series for children, provides affordable rehearsal space for modern dance artists, and serves as a venue for community events.
CHEN
DANCE CENTER is comprised of three components: a performing arts SCHOO

L

,

a black-box THEATER (formerly MULBERRY ST THEATER) for modern dance, and its resident dance company, H.T. CHEN & DANCERS.

CHEN DANCE CENTER is supported by: THE FORD FOUNDATION,
METLIFE FOUNDATION, LOWER MANHATTAN DEVELOPMENT CORPORATION, NEW YORK STATE COUNCIL ON THE ARTS, NEW YORK CITY DEPT. OF CULTURAL AFFAIRS, NEW YORK COMMUNITY TRUST, PFIZER FOUNDATION,
CONSOLIDATED EDISON COMPANY OF NEW YORK, ETTIE CHIN HONG FUND .