Hoo-Ha (for your eyes only)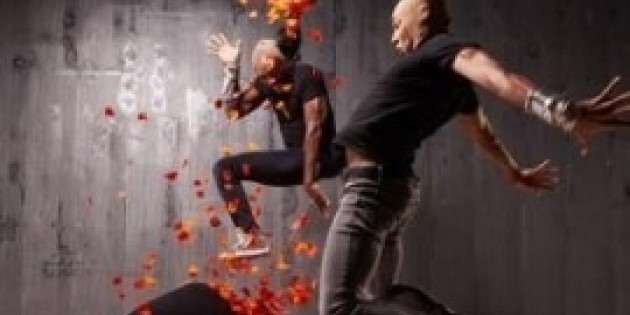 Danspace Project presents Darrell Jones - May 23-25, 2013 at 8pm
Danspace Project Presents
DARRELL JONES
Hoo-Ha (for your eyes only)
MAY 23-25, 2013 [THU-SAT] 8PM
Admission:
8 General Admission / 2 Danspace members
FOR IMMEDIATE RELEASE, New York, NY, May 17, 2013
- Danspace Project presents the premiere of Darrell Jones
' latest work, Hoo-Ha (for your eyes only).
Jones has toured the world, gaining recognition as a performer with Urban Bush Women, Min Tanaka, Ralph Lemon, and Bebe Miller. He recently performed in Miller's A History,

which was co-presented in New York City by 651 Arts and New York Live Arts. A choreographer, improviser, and performer, Jones is

associate professor at The Dance Center of Columbia College in Chicago. His classes and workshops are informed by his diverse training in contemporary dance techniques, improvisation, Butoh and Traditional Dance forms.
An excerpt of Jones' Hoo-Ha
series was presented during Danspace Project's PLATFORM 2012: Parallels
in Winter 2012 as part of an evening exploring the influences of club and social dancing.
"What a smart, moving, gorgeous work this is - more, please," praised the New York Times
. Eva Yaa Asantewaa wrote in Dance Magazine
that Jones "did not just drop voguing and house dancing into a postmodern setting; he underscored the discrete, almost ritualistic vocabulary, arrangement and timing of club dance movement, arguing for it as contemporary choreography."
Since 2007,

Jones has been working with collaborators

Damon Greene
, Jsun Howard
, and dramaturge Talvin Wilks
to deconstruct and experiment with recognized voguing vocabularies in order to c

reate his own experimental vocabulary.

This research into voguing aesthetics seeks

"to unravel the physical poetics of this dance form and how it has become a present metaphor for ideas of power and transgression." In Hoo-Ha (for your eyes only),
Jones and collaborators journey through different sections, "environments" or "rituals" as Jones has called them, in order to create a visceral experience for the audience. "It's about how you attack the movement. The severity with which you use your body is what is emphasized." He explained during a residency at Maggie Allesee National Center for Choreography. "The body is almost used like a weapon." Jones and collaborators imbue the sanctuary of St. Mark's Church with the energy and drive of a club to forge forbidden moments and movements in this danced ritual of passage seeking physical and psychic liberation.
Hoo-Ha (for your eyes only) is funded, in part, by Danspace Project's 2012-2013 Commissioning Initiative with lead support by the Andrew W. Mellon Foundation. Jones received a Choreographic Fellowship at the Maggie Allesee National Center for Choreography at Florida State University.
LOCATION

:
Danspace Project is located inside historic St. Mark's Church in-the-Bowery at 131 East 10th Street (at 2nd Avenue), New York, NY 10003.
TICKETS

:
General Admission is 8. Danspace member tickets are 2. Tickets are available for purchase online at www.danspaceproject.org, or by phone at (866) 811-4111.
BIO:
Darrell Jones
has performed in the United States and abroad with a variety of companies such as Bebe Miller, Urban Bush Women, Ronald K. Brown, Min Tanaka, Ralph Lemon and KOKUMA DanceTheater.

He has collaborated with choreographers (Angie Hauser, Jeremy Wade, Onye Ozuzu), writer (Cheryl Boyce-Taylor), musicians (Jessie Mano, Brian Schuler) and designer (Mawish Syed) in dance films, documentations and interactive multimedia installations. In addition to his collaborative work he continues to work in solo forms.

Along with performing, Darrell has taught workshops and master classes in dance technique and compositional processes throughout the United States, South Africa, United Kingdom and South Korea. Darrell is presently a full-time faculty member at the Dance Center of Columbia College in Chicago.