Contribute
Your support helps us cover dance in New York City and beyond! Donate now.
INTRODUCING MONTHLY "TAP TALKS"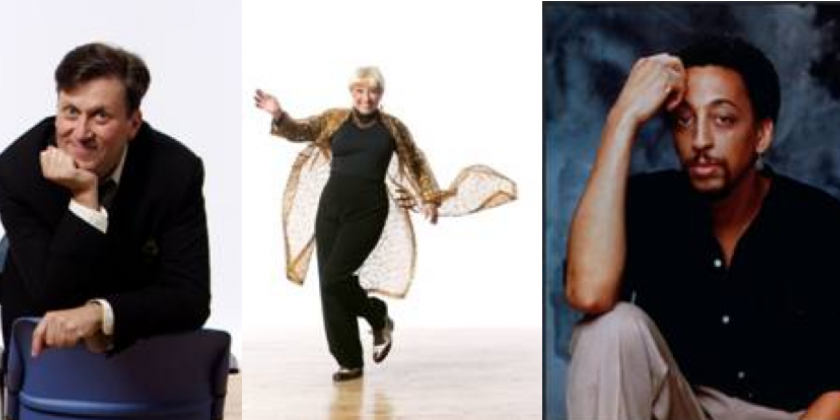 Company:
AMERICAN TAP DANCE FOUNDATION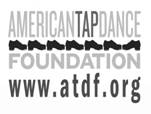 AMERICAN TAP DANCE FOUNDATION
INTRODUCES MONTHLY "TAP TALKS"
Six-Part Monthly Education Series Begins January 24
ATDF Mission to Educate and Preserve Tap Dance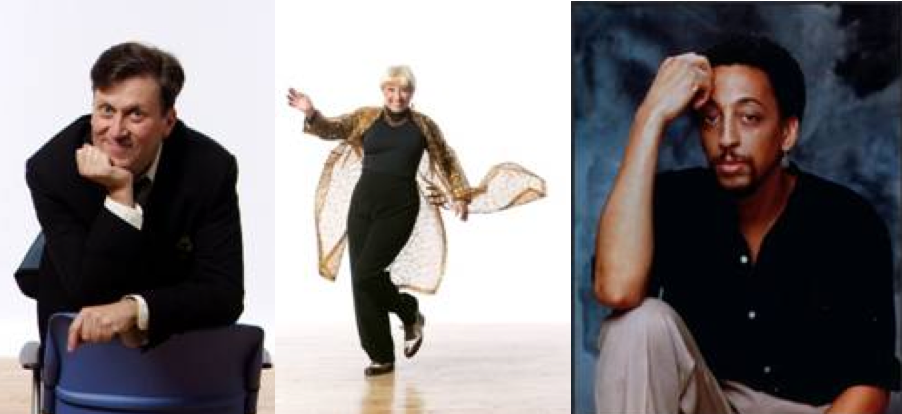 Photos L-R –Tony Waag – Photo: Lois Greenfield; Brenda Bufalino - Photo: Lois Greenfield; the late Gregory Hines, Photo –Greg Gorman.
New York, NY, January 13, 2013 – Rare video, archival footage, film clips and choreographic presentation will highlight the new, six-part monthly education series presented by the American Tap Dance Foundation (ATDF) beginning January 24, 7:30-9pm at the American Tap Dance Center in lower Manhattan.
The ATDF Tap Talks/Tap Film series was designed to augment the organization's mission to establish and legitimize Tap Dance as a vital component of American dance. The monthly education series will feature tap dancers, historians, teachers, writers and choreographers, covering the birth of tap and its practice in film, television, and on Broadway and concert stages through throughout the world. Open discussions regarding current issues within the art form will be included.

All series events will be hosted by ATDF Artistic/Executive Director Tony Waag. "This talk/film education program in an important step in fulfilling our mission to create, present, educate and preserve. We are in a unique position as both a promoter of the new and preserver of the living history of tap dance as an art form. Our Tap Talks/Tap Film series will help contribute to the preservation of tap dance by educating not just the next generation but the community at large," he said.
 
PROGRAM:
·         January 24, 2014 (7:30-9:00pm)
Explore Choreography!
Master tap dancer, teacher, choreographer and ATDF mentor Brenda Bufalino leads a discussion and presents footage on tap dance CHOREOGRAPHY and the leading choreographers of the tap dance "renaissance" and beyond.
·         February 14, 2014 (7:30-9:00pm)
Happy Birthday Gregory!
Film clips and discussion hosted by Tony Waag in memory of the late Gregory Hines as part of ATDF's Winter Tap Intensive. Let's reflect on the incredible life and talents of one of the most influential and beloved tap "masters" that inspired our entire tap community. Come and share YOUR stories as we celebrate Gregory on his birthday! For detailed Winter Tap Intensive info visit WTI.
·         March 28, 2014 – 
Tap Forward!
Open forum and presentation of new "works in progress" currently in development at the American Tap Dance Center. ATDF Artists in Residence showcase and discuss their current work to be presented in concert during Rhythm in Motion (April 8-13, 2014) at the Theater at the 14th Street Y. For concert details visit: RIM 2014
·         April 25, 2014 (7:30-9:00pm)
Tap and Vaudeville!
Film clips (rare and contemporary) are viewed followed by a discussion led by dancer, teacher, and archivist Hank Smith.
·         May 23, 2014 (7:30-9:00pm)
Let's Celebrate National Tap Dance Day! (May 25)
Join us for the final event of a entire day of activities in honor of the late Bill "Bojangles" Robinson. Visit National Tap Dance Day for a complete list of ATDF Events.
·         June 27, 2014 – 
Tap City Re-visited!
Join Tap City Director & Producer Tony Waag as he reflects and revisits the "best of" highlights and hand-picked favorite moments in performances caught on film at the annual New York City Tap Festival since 2001. For detailed info on this year's festival visit: Tap City 2014


VENUE:
American Tap Dance Foundation
American Tap Dance Center 
154 Christopher Street #2B 
New York, NY 10014
Phone 646-230-9564
Fax 646-230-7777

info@atdf.org
TICKETS:
$5.00 in advance by calling (646) 230-9564 
$5.00 at the door/pending availability
(ATDF Members FREE)
ABOUT THE AMERICAN TAP DANCE FOUNDATION
ADTF was founded in 1986 by tap master Charles "Honi" Coles, his protégée Brenda Bufalino, and the Foundation's current artistic and executive director, Tony Waag. Called the American Tap Dance Orchestra until 2001, the organization was directed and choreographed by Ms. Bufalino and presented hundreds of stage performances and films from 1986 through 1999. From 1989 to 1995, it also operated Woodpeckers Tap Dance Center, where tappers from all over the world gathered for classes, workshops, jam session and performances. In 2002 with a new generation of tap dancers and enthusiasts, the Orchestra was renamed under the artistic direction and leadership of Tony Waag.