INVITATION: New York Theatre Ballet presents LEGENDS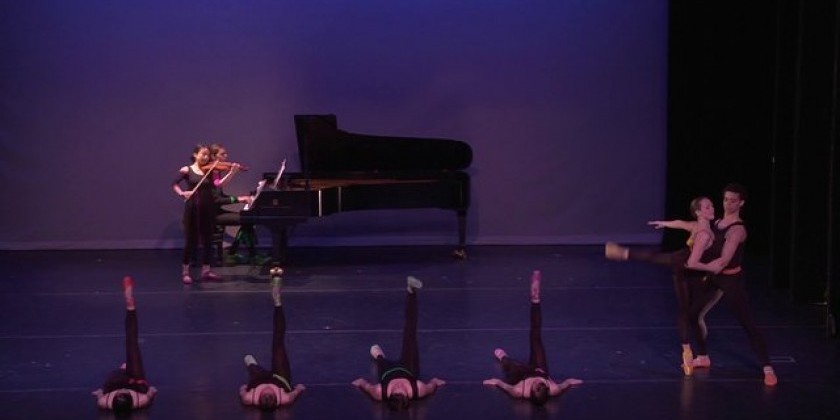 Company:
New York Theatre Ballet
New York Theatre Ballet
celebrates 35 Years with
LEGENDS
May 9 and 10, 2014 at 7pm
"The generous breadth of taste shown by New York Theatre Ballet...
is good for New York's whole dance scene."
- Alastair Macaulay, The New York Times

PLEASE JOIN US:
Friday, May 9 at 7pm
Saturday, May 10 at 7pm
RSVP for press tickets to Michelle Tabnick, 646-765-4773
michelle@michelletabnickcommunications.com
 
New York Theatre Ballet celebrates 35 years with LEGENDS at Florence Gould Hall, 55 East 59th Street, NYC.  LEGENDS, the second of two programs in the series LEGENDS AND VISIONARIES, performs on Friday, May 9 and Saturday, May 10, 2014 at 7pm.  Tickets are $30 ($20 for students and seniors) and are available for purchase at www.ticketmaster.com or by calling 800-982-2787.

The LEGENDS performance program is a tribute to Antony Tudor and includes a full evening of ballets.
New York Theatre Ballet's repertory pairs the ballets of legendary creators with those of contemporary visionaries, bringing a new understanding and appreciation of dance.  This season features new works and beloved favorites from choreographers including Dan Siretta, Gemma Bond, Pam Tanowitz, Richard Alston, Antonia Franceschi, Remy Charlip, and Antony Tudor.
LEGENDS includes a full evening of ballets by Antony Tudor - A. Tudor Celebration:
Jardin aux Lilas (Lilac Garden) (1936) was first performed at London's Mercury Theatre on January 26, 1936.  The bittersweet theme is set in the gracious Eduardian era.  A young woman betrothed to a man she does not want to marry, mirrors the society in which power and position are uppermost.  The first program read: "Caroline, on the eve of her marriage to the man she does not live tries to say farewell to her lover at a garden reception.  In the end, she goes off on the arm of her betrothed with hopelessness in her eyes."  The ballet is so musically constructed that it would seem Ernest Chausson, musician and composer of the ballet, indeed wrote it for the ballet.  The changes of weight amplify the changes of emotion. And while the movement vocabulary is simple in its use of ballet steps and gestures, the choreography and layering of emotional content are dense.  The music is Ernest Chausson's Poeme for Violin and Orchestra Opus 28.
Dark Elegies (1937) was first performed in London at The Duchess Theatre on February 19, 1937.  Tudor described this as his favorite ballet and many people agree and consider it to be his greatest.  From tender moments of quiet devastation to careering bursts of rage, Tudor's "ballet requiem," set to Gustav Mahler's absorbing Kindertotenlieder, expresses the raw emotion of a tight knit community faced with the inexplicable loss of their beloved children. "Tudor works, as ever, from the particular to the general; when he wants to show a universal truth, he embodies it in a specific situation.  Yesterday the fact that the whole community has been afflicted gives the mourning ceremonies an epic quality. The scale is big, the passion intense, but Tudor treats it with scrupulous honesty.  Do people act, in the presence of disaster, as Tudor has shown them?  Dark Elegies was given in London during the war to audiences who knew the effect of mass bombing; it continued to ring true" (Dance Perspectives).  The work consists of five songs to lyrics by Frederich Ruckert.
Trio Con Brio (1952) is a short, punchy pas de trois technical statement for two men and one woman.  Tudor presents a woman and two men who work in Petipa-like movement formulas to Glinka's predictable music with pirouettes, bourrees and movement patterns.  In 2008, a 16 mm film was found by Norton Owen at Jacob's Pillow.  Diana Byer and then Music Director Ferdy Tumakaka took a year to reconstruct the pas de trois.  A minute of the second man's variation was burned out and Lance Westergard re-choreographed that small section.  The first performance was at The Jacob's Pillow Dance Festival on June 27, 1952.  The dancers were Tatiana Grantzea, Nicholas Polajenko and Ralph Mc Williams. 
Judgment of Paris (1938)premiered on June 15, 1938 at the Westminster Theatre.  Hugh Laing wrote the libretto and designed original costumes.  The Greek legend transferred to a French Café, late at night, where a drunken boulevardier makes his choice from three sad and aging ladies of pleasure.  "Judgment of Paris is, I suppose, as perfect a work in its way as Jardin aux Lilas.  The idea of setting the piece in a clip joint, where a drunken customer tries to choose one of three sleazy showgirls, was Laing's and he designed the costumes, so savagely right in their tatty sex appeal.  The piece is sharply observed, completely unsentimental, and so nicely balanced between a comic and a tragic view that many people take it for one or the other" (Dance Perspectives).
For full season information visit www.nytb.org.
ABOUT NEW YORK THEATRE BALLET
New York Theatre Ballet (NYTB), founded in 1978 by artistic director Diana Byer, is the most widely seen chamber ballet company in the United States and has been hailed by The New York Times as "an invaluable company." NYTB is dedicated to inspiring a love of dance in diverse audiences through performances of chamber ballet masterpieces and bold new works, as well as innovative one-hour ballets for children, all at affordable prices.
By pairing the ballets of legendary creators with those of contemporary visionaries, NYTB brings a new understanding and appreciation of dance. The approach to live performance for children is groundbreaking and unique. New York Theatre Ballet offers an annual series of hour-long ballets tailored to the attention span of young audience members, while offering high production values and clever choreography sophisticated enough for discerning parents.
NYTB is committed to reaching underserved audiences by performing in small cities throughout the U.S. Its professional school provides ballet training based on the Cecchetti syllabus. Classes are offered at affordable prices. Scholarships are awarded to talented homeless and underserved children along with support for well-rounded learning.