Contribute
Your support helps us cover dance in New York City and beyond! Donate now.
ISLAND MOVING CO.'S SITE SPECIFIC DRACULA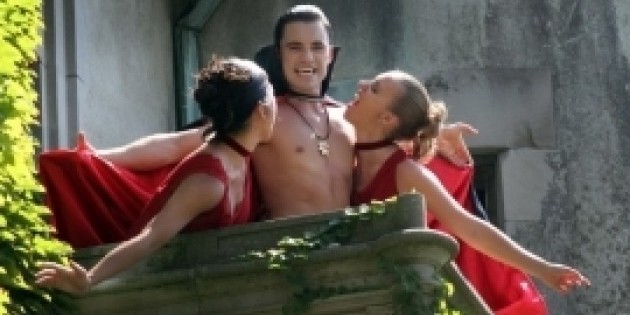 REIMAGINED FOR SEAVIEW, NEWPORT'S DARK SHADOWS MANSION

ISLAND MOVING CO.'S SITE SPECIFIC
DRACULA
REIMAGINED FOR SEAVIEW, NEWPORT'S DARK SHADOWS MANSION
Newport's resident contemporary ballet company, Island Moving Co., brings the spectacular site-specific "Dracula" back to life once again, from October 17 to October 21, 2012. Artistic Director Miki Ohlsen sets the groundbreaking ballet anew in Seaview, known as the eerie backdrop for television's Dark Shadows. The acclaimed ballet moves from room to room, among the stone galleries, carved ceilings and magnificent spaces of Newport's largest privately owned mansion, at 207 Ruggles Avenue. A commissioned score by Felix Ventouras is played live for the seven performances.
The ballet, which incorporates dance, trapeze and film as well as live music, will be performed Wednesday, Thursday and Friday, October 17, 18 & 19 at 7:30pm; Saturday, October 20 at 4 and Sunday, October 21 at 2 & 6pm. The Island Moving Co. limits the audience to just 85 patrons, who follow the action of the story as performed by the Company's dancers in the salons, galleries and ballrooms of the mansion. As in Miki Ohlsen'sinnovative Newport Nutcracker at Rosecliff, "the audience doesn't so much see the show as experience it, feeling like guests at an elite and roaming party, moving with the action from one breathtaking scene to another" (Providence Journal). Island Moving Co.'s Jason Stotz is the new Dracula; the Company is joined by guest artists and musicians, including Eddie Camara, Felix Ventouras, Jonathan Pratt and Chelsea Bernstein, as well as members of Island Moving Co.'s Junior Company.
Special pre-sale tickets to Island Moving Co.'s Dracula are now available at the website. On Saturday, October 21, the Company offers a limited number of tickets for the performance and a lavish post show supper with the Count and cast in the great hall of Seaview. Friday night's performance, October 20, is a gala Masked Ball, with food and dancing with the performers after the show available for a surcharge. For information contact Island Moving Co. at 401 847-4470 or visit www.islandmovingco.org.

Caption: Jason Stotz as Dracula with his Vampire Brides Carol Tang and Christine Sandorfi aloft at Seaview/Photo: Kate Whitney Lucey