Invitation to 277DanceProject's premiere of FLIGHT at Dixon Place‏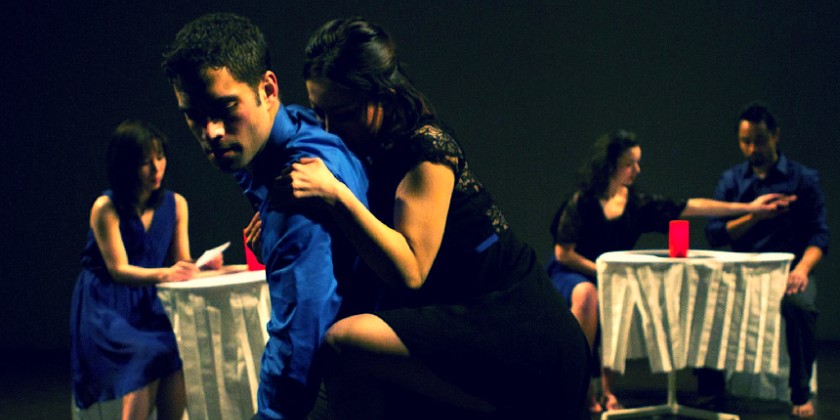 Company:
277DanceProject
277Dance Project
FLIGHT
June 17th-19th at 7:30pm
Dixon Place: 161A Chrystie Street New York, NY 10002
Tickets: $15 advance, $18 door, $12 student and seniors
Box Office: www.dixonplace.org or 212.219.0736
 
New York, NY (May 5, 2014): Under the artistic direction of choreographer Nicole Philippidis, 277Dance Project returns to Dixon Place from June 17–19 with three performances premiering Ms. Philippidis' newest work FLIGHT – a collaboration with indie folk band Burlap to Cashmere.
FLIGHT merges contemporary dance, music, and video to take a broad lens view of the New York City's populace, their lives, their beliefs, and the impact that today's urban environment has on the individual. Examining altruism, compassion and interpersonal connections, FLIGHT provides insight into the impact that city life has on its inhabitants. Drawing from her own personal experiences as a native New Yorker, Ms. Philippidis' work is engaging, emotionally driven, and illustrative of city life today. The piece offers a fresh and dynamic choreographic vision pairing contemporary dance with a striking soundscape by Burlap to Cashmere.
In a city that both inspires us and isolates us, feeds us and depletes us, forces us to be both resilient and humble, empathetic and desensitized.... FLIGHT explores the pull between our need to escape and disconnect and our deep need to connect and to belong. 
Artists: Nathan Duszny, Hannah Emerson, Jordan Gehley, Benjamin Wolk, and Mika Yanagihara
Choreography: Nicole Philippidis
Video Design: Stacey Cervellino and Nicole Philippidis
Music: Burlap to Cashmere
277Dance Project: Founded in NYC in 2008 by Nicole Philippidis, 277Dance Project is a contemporary dance company committed to creating emotionally driven work and to exploring the balance between chaos and stillness, the intersection of lives, and the external struggle to connect and survive. Entrenched in collaboration, 277Dance Project blends modern dance and contemporary jazz with a strong emphasis on theatricality, virtuosity, and musicality.
Nicole Philippidis: Ms. Philippidis is the Artistic Director and Choreographer of 277DanceProject.  Her work has been presented at Dixon Place Theater, Baryshnikov Arts Center, Triskelion Arts, Westchester Arts Exchange, Purchase College, Green Space, DanceNOW Joe's Pub, DanceNOW Raw, Inception to Exhibition Festival, Wave Rising Series, as well as various festivals throughout NYC. Nicole is a native New Yorker who attended Marymount Manhattan College where she received her B.F.A. in Dance.  She earned her M.S. in Education from City College in 2003.  She has worked and studied with tremendous artists such as Geraldine Cardiel, Deborah Santos, Alan Danielson, and Sabatino Verlezza, who have influenced her movement style and inspired her to begin making dances. Ms. Philippidis has taught modern dance technique, composition, and dance history classes for the NYC Department of Education, private schools, and studios. Ms. Philippidis continues to teach throughout NYC and is the Education Director for RIOULT Dance Company.
Burlap to Cashmere: Formed in the winter of 1994 by cousins John Philippidis and Steven Delopoulos,  the troupe was originally a college theater show that Steven Delopoulos put together for his final exam at Marymount Manhattan College. The band has toured nationally and internationally and has created albums under A&M records and SONY Records. www.burlaptocashemere.com
"The New York band that all but vanished after 1998 debut Anybody Out There? makes a triumphant return with core players in place and a largely acoustic album of sumptuous and exotic melodies, tight harmonies and poetic lyrics.
— USA Today
Stacey Cervellino: A recent International Acting Fellow at the Globe Theatre in London, Ms. Cervellino been seen in plays and musicals in New York, Chicago, Toronto, Washington D.C., and Boston. Former Artistic Director of Isadora Productions, her work was featured in American Theater Magazine and New York Magazine.  With Isadora Productions, and in collaboration with the UN, Amnesty, V Day, and Safe Horizons, Stacey created, performed and toured their original piece exploring Human Trafficking, called Becoming Natasha, (based on Victor Malarek's book The Natashas) which made its New York debut at The Culture Project.  She wrote the script, music, and lyrics for her social satire, DRESS, presented at HERE and The WestEnd Theatre. She has received work and study grants from the Fund for Teachers and the Fund for Contemporary Artists. As a movement theater artist, Ms. Cervellino has been studying Action Theater with Movement Theatre innovator Ruth Zaporah for over ten years and was also trained by Susan Dibble, of Shakespeare and Company and Dibble Dance. A member of Brave New World Rep, Ms. Cervellino is the Education Director for Brave New World Studio, and has taught in various Graduate and Undergraduate Programs in the U.S., in the New York City School system. She received her M.F.A. in Acting from Brandeis University, her B.A. from Union College, and studied Classical Acting at LAMDA in London.