JACK release: Walter Dundervill and Sam Kim‏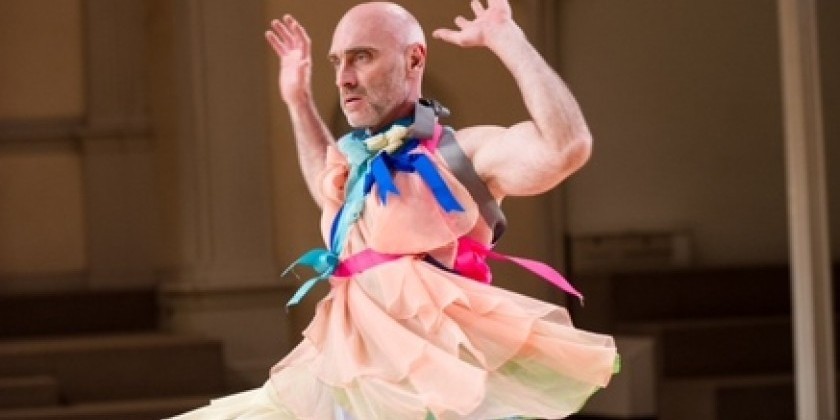 Company:
JACK
JACK's dance program, under the curation of Stacy Grossfield, is thrilled to present new work by choreographers Walter Dundervill and Sam Kim. 

Thursday, July 17 – Saturday, July 19

Walter Dundervill: ARENA

(Open for review all performances)

6 – 9 pm each night (installation performance – audience is welcome to arrive when they please)

Bessie-winner Walter Dundervill fills JACK with an installation performance for three nights. Over the course of each three-hour installation, Dundervill and his dancers utilize costumes, fabrics, and various everyday materials to build an interior landscape in a continual state of flux. 

Tickets: $15.  Available through www.jackny.org or at the door


Wednesday, July 23 – Friday, July 25

Sam Kim: Fear in Porcelain

(Not open for review) 

8 pm each night

Fear in Porcelain (working title), a solo, is another work in a series of works about private rites exposed by powerful women.  Fear in Porcelain acknowledges the humiliation and narcissism the choreographer associates with the solo form, and conflates sexual restraint with dance restraint.  Performed by Sam Kim with special guest appearances by Tess Dworman and others, lighting design by Ben Demarest and outside eye by Jeanine Durning.

Tickets: $15.  Available through www.jackny.org or at the door

Location:
JACK 
505 1/2 Waverly Ave., Brooklyn, NY 11238
Between Fulton St. and Atlantic Ave. in Clinton Hill.  
C or G train to Clinton-Washington.



More info:

For Walter Dundervill's ARENA:

In ARENA, the performers engage in a practice of collective unconscious communication driving a series of sensory-based actions and rituals. In the process, they build up and peel back layers of material and experience encapsulating a process of history, entropy, creation, and decay in a matter of hours. The audience can enter at any time during the performance and stay as long as they like. 

Walter Dundervill's choreography has been presented at Dance Theater Workshop, The Chocolate Factory, Movement Research at Judson Church, Participant Inc., Blakston Gallery, NADA, and The Solo in Azione Festival in Milan Italy.  He has received New York Dance and Performance (Bessie) Awards as a performer in RoseAnne Spradlin's under/world, for the costume design of Luicana Achugar's Puro Deseo, and for the visual design of his own choreography Aesthetic Destiny 1: Candy Mountain. Walter is a member of the Artist Advisory Council at Movement Research. He was a 2012/13 Studio Series resident at New York Live Arts and a 2010/11 Movement Research Artist in Residence.

For Sam Kim's Fear in Porcelain:

Sam Kim (Choreographer/Performer) has created several long works presented in NYC:  Darling (Performance Space 122, 2009), dumb dumb bunny (The Kitchen, 2007), Cult (Dance Theater Workshop, 2007), AVATAR (Mulberry St Theater, 2006), Nobody Understands Me (Dance Theater Workshop, 2004), Placid Baby (Performance Space 122, 2003) and Valentine (Danspace Project at St. Mark's Church, 2002). Kim has also created several shorter works since 1997.   

Kim's work has been presented and commissioned by The Kitchen, New York Live Arts, Dance Theater Workshop, Performance Space 122 and Danspace Project multiple times, in addition to other progressive venues such as Highways Performance Space (Los Angeles), Studio 303 (Montréal), the Unknown Theater (Los Angeles), Bryant Lake Bowl Theater (Minneapolis), the Brooklyn Museum of Art, Galapagos Art and Performance Space and Movement Research, among many others.  

Tess Dworman (Performer) is a Brooklyn-based choreographer and performer originally from Oak Park, IL. She studied at the Laban Centre in London and graduated from the University of Illinois at Urbana-Champaign with a BFA in Dance. In New York, her work has been presented by AUNTS, Center for Performance Research, Catch, Dixon Place, Danspace Project, New York Live Arts, Movement Research, and Roulette Intermedium. Dworman has also had the pleasure of performing in the work of niv Acosta, Laurel Atwell, Strauss Bourque-LaFrance, Kim Brandt, Yanira Castro, Moriah Evans, Tere O'Connor, Marissa Perel and Mariana Valencia.

Ben Demarest (Lighting Design) is a NYC based lighting designer. His work has been seen at Abrons Art Center, The Chocolate Factory, The Bushwick Starr, and Baryshnikov Arts Center, just to name a few. As well as designing, Ben has also made small cameos in performances playing the part of "Monster" in Neal Medlyn's "wicked clown love" and the part of "Anubis" in ROKE's "Everything one In The Disc of the Sun." He is currently dancing for Tyke Dance. He also lends his voice and puppetry skills to the web series "Bill Lowe The Pillow," as "Bill."


*************************************

DANCE at JACK

Curated in part by Stacy Grossfield, our dance programming at JACK is intended to provide choreographers with a fresh space to develop ideas.  In our first two seasons, Grossfield curated new work by Greg Zuccolo, Levi Gonzalez, Moriah Evans and Kim Brandt. JACK has also presented work by choreographers Miriam Wolf, Pia Monique Murray, Lorene Bouboushian, Rebecca Patek and Talya Epstein.

JACK – Mission and History

New Brooklyn arts space JACK was founded in June 2012 with a mission of creating radical access to the arts – serving as a platform for the most adventurous of today's performing artists and as a vehicle for bridging audiences and educating youth.  JACK, located in Clinton Hill, is housed in a standalone building that was built in 1924 as a five-car garage.  It has been transformed into a 60-seat flexible performance space that features theater, music, dance and performance art, as well as programs for teens and young children. JACK is named in honor of Artistic Director Alec Duffy's grandfather, Jack Duffy, who combined work in the community as a minister at New York's Labor Temple with a great passion for theater, as well as Duffy's grandmother, Jacqueline deBrun, a born entertainer and lover of the arts. www.jackny.org.