Jacob's Pillow Dance Festival presents Liz Gerring Dance Company in "glacier"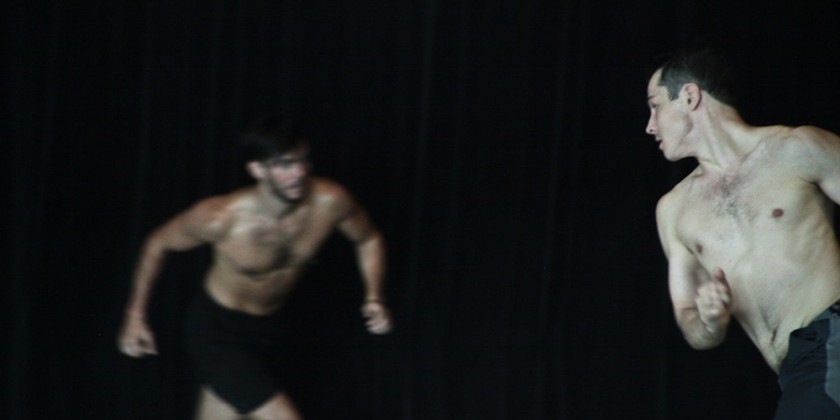 Company:
Liz Gerring Dance Company
2015 JACOB'S PILLOW DANCE AWARD WINNER LIZ GERRING RETURNS TO JACOB'S PILLOW DANCE FESTIVAL WITH GLACIER, AUGUST 19-23
August 16, 2015 – (Becket, MA) Liz Gerring, the 2015 Jacob's Pillow Dance Award winner and artistic director of Liz Gerring Dance Company, returns to Jacob's Pillow for her company's performances of glacier, August 19-23 in the Doris Duke Theatre. Gerring has garnered praise by dance enthusiasts and critics alike for her abstract choreographic style and keen use of musical and visual elements. The New York Times chief dance critic Alastair Macaulay describes Gerring's work as "something rare" and "engagingly here-and-now." Gerring's evening-length work glacier is performed to an original score by the company's resident composer Michael J. Schumacher with lighting and minimalistic set design by Robert Wierzel, and costumes by Márion Talán.
"It is a pleasure to recognize Liz Gerring for her distinguished work," says Jacob's Pillow Executive and Artistic Director Ella Baff in announcing the Jacob's Pillow Dance Award earlier this year. "She is a fascinating dance-maker. While you are enjoying the impressive athleticism and rigor of her dances, your eyes and mind open up to the creative inner workings of how dances are made. She is adventurous, super-intelligent, and a true original."
In glacier, Gerring artfully builds simple gestures into more complex movements with contrasting elements of strength and elegance, serenity and passion. The work is set to longtime collaborator Schumacher's multichannel score "Glacier", which was composed during a stay near Colorado's Glacier Lake. Schumacher's score compiles natural recorded sounds such as waves, wind, insects, and birds with guitar, piano, harp, cello, clarinet, and recorder to create a complex sound work. glacier "has wit without quirkiness, passion without emotionalism: its moods change like the weather, and its ebbs and flows carry aspects of poetry and excitement" (Alastair Macaulay, The New York Times).
The Liz Gerring Dance Company explores non-narrative, abstract movement derived from cause and effect, rather than storytelling. Gerring "relishes full-out movement and athleticism" (Susan Yung, Dance Magazine) and frequently collaborates with contemporary musicians and visual artists. Her intensely physical work has been likened to that of dance greats Trisha Brown and Merce Cunningham as "both opulent and restrained, intimate and grand" (The New Yorker), and the company's nine dancers are admired for being "paradoxically galvanized and relaxed at the same time and informally precise" (Alastair Macaulay, The New York Times). 
PILLOW CONNECTIONS
Liz Gerrring Dance Company had its Pillow debut as part of the Inside/Out series in 2006 and subsequently performed she dreams in code in the Doris Duke Theatre in 2012. The company performed an excerpt of glacier earlier this season during the Season Opening Gala when Gerring received the 2015 Jacob's Pillow Dance Award. Gerring will also participate in a PillowTalk on Saturday, August 22 where she will discuss her choreographic process and approach to non-narrative movement.
Members of Liz Gerring Dance Company will also teach a class for intermediate/advanced dancers on Sunday, August 23 at 10am in the Doris Duke Theatre. Sunday classes with Festival artists are $15 per person; all participants must be 16+ years old. Pre-registration opens Monday the week of class; registering sooner is not possible. Walk-ups will be accommodated as space permits; otherwise it is free to observe. For class information and to register, call the Community Dance Hotline, 413.243.9919 x5.
ABOUT THE JACOB'S PILLOW DANCE AWARD
One of the largest cash awards in the dance industry, the Jacob's Pillow Dance Award is granted to the recipient to be used in any way he or she chooses. Past recipients include John Heginbotham, Michelle Dorrance, Crystal Pite, Kyle Abraham, Merce Cunningham, Annie-B Parson and Paul Lazar of Big Dance Theater, Alonzo King, and Bill T. Jones. The Jacob's Pillow Dance Award was created in 2007 with an ongoing, annual anonymous gift to the Pillow of $50,000, of which $25,000 is given to an artist of exceptional vision. In commemoration, the honoree receives a custom-designed glass award sculpture by Berkshire-based artist Tom Patti, whose work is in the collections of the Metropolitan Museum of Art and the Museum of Modern Art in New York, among other prominent institutions worldwide.
ABOUT LIZ GERRING
A native of California, Gerring studied dance at Cornish Institute in Seattle, Washington, and received a B.F.A. from The Juilliard School, where she studied with Kazuko Hirabayashi and Doris Rudko. Gerring has worked as a choreographer in New York since the late 1990's, and in March 1998 she presented her first work, a four-hour movement installation. In 2014, Gerring was nominated for a New York Dance and Performance ("Bessie") Award for Outstanding Production for glacier at Monclair State University. Gerring was recently commissioned by the legendary Martha Graham Dance Company to create a new work for their Lamentation Variations project, to honor the 85th anniversary of the iconic solo.  Other choreographers on the project have included Kyle Abraham, Aszure Barton, Lar Lubovitch, and Yvonne Rainer, among other acclaimed artists.
ABOUT LIZ GERRING DANCE COMPANY

In 1998, Gerring founded the Liz Gerring Dance Company, a New York-based contemporary dance ensemble. In addition to appearances at Jacob's Pillow Dance Festival, the company regularly performs in venues in New York City and beyond, including The Joyce Theater, Baryshnikov Arts Center, Danspace Project, New York City Center's Fall for Dance, the 92nd Street Y, and Montclair State University's Peak Performances, among others. In 2001, Gerring and Schumacher with the support of Kirk Radke founded the nonprofit organization TonalMotion Inc., which is dedicated to the creation and presentation of movement and sound art, which includes the activities of the Liz Gerring Dance Company and Diapason Gallery.
More information on the Liz Gerring Dance Company is available at http://lizgerringdance.org. Liz Gerring Dance Company is a program of TonalMotion Inc., a 501(c)3 non-profit organization.
PERFORMANCE AND TICKET INFORMATION

Liz Gerring Dance Company in glacier
Doris Duke Theatre
Wednesday, August 19 through Saturday, August 22 at 8:15pm
Saturday, August 22 and Sunday, August 23 at 2:15pm

[Photo: "glacier" in rehearsal at Westbeth studios, NYC. © Miguel Anaya]