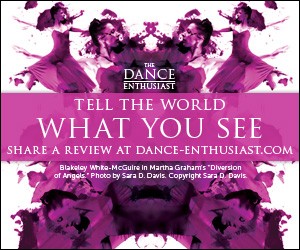 Jennifer Muller/The Works Seeks Male Dancers
Company:
Jennifer Muller/The Works
AUDITION FOR MALE DANCERS FOR JMTW'S 2021/22 SEASON
Jennifer Muller/The Works (JMTW) is looking for MALE Project and/or Company Dancers for the 2021/22 season.

If you are interested in auditioning, please email the following to both kneely@jmtw.org and jmuller@jmtw.org.
1. Head Shot
2. CV
3. Video Reel
4. Fact sheet including height, age, citizenship and and/or visa information.

A strong contemporary dance technique is recommended OR
a strong technique with an interest in learning Muller Polarity Technique.

About the Company: 
Jennifer Muller/The Works (JMTW) was founded in 1974.  Known for its history of notable collaborations, JMTW has worked with artists including Keith Haring, Keith Jarrett, Tom Slaughter, Yoko Ono and Julia Kent, and has established long-standing collaborative relationships with Burt Alcantara, Jeff Croiter, Karen Small and Marty Beller. The company has created and performed the Muller repertory in major US theaters and festivals including Lincoln Center, Kennedy Center, The Joyce Theater, City Center, David H. Koch Theater; Bryant, Battery and Central Park Festivals, as well as the United Nations. An international ambassador of contemporary dance, JMTW has performed in 39 countries on four continents, appearing in theaters and festivals worldwide. JMTW also founded WOMEN / CREATE! A Festival of Dance, a shared program between iconic NY female choreographers celebrating women's voices in dance, completing its 9th annual season at New York Live Arts this past May. Learn more at www.jmtw.org; www.womencreatedance.org.

About Jennifer Muller:
Muller's repertory is characterized by her visionary approach and innovations in  dance/theater, multi-discipline productions incorporating the spoken word, live and commissioned music, media, artist-inspired decor and unusual production elements. An influence in the dance world for over 55 years, Muller has created over 117 pieces and worked with 30 international dance, theater and opera companies including Netherlands Dance Theatre, Alvin Ailey American Dance Theatre, Introdans (Netherlands), Tanz-Forum (Germany), Ballet du Nord and Lyon Opera Ballet (France), Ballet Contemporaneo (Argentina), among others. Her prolific career has led to honors: Fortaleza's Trophy of Cultural Responsibility, and the publications: Tanz-Plan Berlin's Tanztechnik 2010 and Transformation & Continuance: Jennifer Muller and the Reshaping of American Modern Dance, 1959 to Present. 
Muller began dancing professionally at age 15 as a member of the Pearl Lang Dance Company, followed by 9 years as Principal Dancer with the JoseI? Limon Company [during which she graduated from the Juilliard School], and 7 years as Associate Artistic Director of the Louis Falco Dance Company. Now, as a result of years of productive creativity, her work has been seen on stage and television in 45 countries. 
In the covid era, Muller has introduced creative content online, including producing digital creations through inventive video-editing treatments and techniques, as well as transitioning her innovative Muller Polarity Technique training to online platforms. JMTW will be hiring dancers for both LIVE as well as virtual opportunities for the company's 2021/2022 Season.
Photo: Steven Pisano