Jill Sigman / Think Dance Presents Last Days / First Fields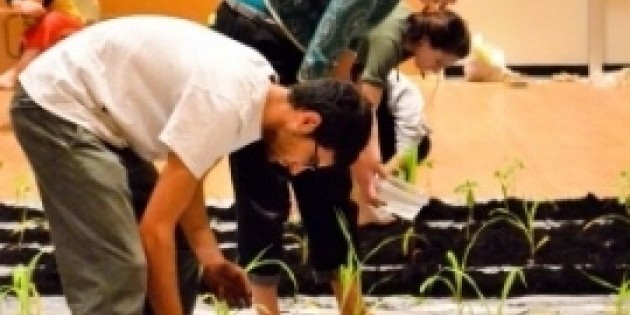 At The Invisible Dog Art Center from May 7-9, 2013
jill sigman/thinkdance presents last days/first field
May 7–9, 2013
The Invisible Dog Art Center
New York, NY, April 2, 2013 – Jill Sigman's new performance work, last days/first field, is a full evening movement and planting event set to a live score for voice and electronics by Kristin Norderval. The work will be presented in a three-night engagement that runs from Tuesday to Thursday, May 7–9, at 7:30pm, at The Invisible Dog Art Center, 51 Bergen Street, Brooklyn, NY.
In last days/first field, Sigman explores how we deal, heal, and reel as the planet heats up. A sometimes serious, sometimes ironic look at the instabilities and anxieties of our time, the piece kinesthetically distills feelings about what it is to live in the face of climate change, extreme weather, and economic instability. With an enigmatic, ritualistic, and sometimes frenetic movement vocabulary, the dancers channel everything from natural geological processes to Williamsburg hipsters to pupating insects in this oblique and panoramic look at the feeling of now. The piece culminates in a ritual planting, in which the dancers plant a micro-field of seedlings in the performance space. Audience members will be served tea and invited to join the post-apocalyptic lounge/tea party/occupy encampment that evolves on the field.
last days/first field is performed by Hadar Ahuvia, Corinne Cappelletti, Donna Costello, Sally Hess, Irene Hsi, Paloma McGregor, Jill Sigman, and Devika Wickremesinghe. Costumes by kymkym. Plants by Camilla Hammer and Henry Sweets.

Tickets are 8 online at http://field.brownpapertickets.com/. Tickets are also available at the door for 0 (cash only). Seating is limited. Running time is approximately two hours. The Invisible Dog Art Center, 51 Bergen Street, Brooklyn, NY. F/G trains to Bergen Street.
Background
Jill Sigman's work exists on the brink between ironic and earnest, between doing and being, between representation and presence. She juxtaposes physical movement with elements such as video, text, and light to create layered landscapes of meaning that explore pressing questions of our time. In 2009 Sigman began building site-specific huts out of discarded materials to invite reflection about waste and consumption. She has performed in them, served tea to passersby, and connected with urban farmers, permaculture practitioners, compost educators, environmental communicators, climate adaption experts, garbage activists and others, in an effort to make sense of how we live on this planet. last days/first field is a culmination of her research and an attempt to kinesthetically process her experience through performance.
About the Artists
Jill Sigman trained in classical ballet, contemporary dance, improvisation, and the visual arts. She has been making dances and performance installations since the early 1990s. In 1998 she founded her dance company jill sigman/thinkdance as a vehicle for her performance experiments. In the same year she received her Ph.D. in philosophy from Princeton University. Influenced by dual backgrounds in dance and academic philosophy, Sigman creates work rich in bold images and multimedia elements that prods the psyche to think and feel. She transforms simple actions like walking on eggshells, sliding down the stairs, and eating hot pink roses into complex statements about self, society, and human experience. Based in New York City, jill sigman/thinkdance now exists at the intersection of dance, theater, and visual installation.
The work of jill sigman/thinkdance has been produced by such New York venues as Danspace Project, Dance Theater Workshop, The 92nd Street Y Harkness Dance Center, Dancing in the Streets (Dances for Wave Hill), P.S.1 Contemporary Art Center, P.S.122 (Hothouse), The Brooklyn Museum, Brooklyn Arts Exchange, and Dixon Place, and has also been seen in New Jersey, California, Tennessee, Ohio, Pennsylvania, and Iowa. Internationally, Sigman's work has been seen in France, Belgium, the Netherlands, Germany, Croatia, Hungary, Slovenia, Yugoslavia, India, and most recently at the CODA Oslo International Dance Festival in Norway.
jill sigman/thinkdance has received support from the New York Foundation for the Arts, the New York State Council on the Arts, the Jerome Foundation, the Mertz Gilmore Foundation, the Manhattan Community Arts Fund, the Bay and Paul Foundations, the Puffin Foundation, the Bossak/Heilbron Charitable Foundation, the American Music Center "Live Music for Dance" Program, the New York State Music Fund, and the Kri Foundation (New Delhi). Sigman has been a Choreographic Fellow at the Maggie Allesee National Center for Choreography at Florida State University, a Movement Research Artist in Residence (2005–06), an Artist in Residence at the Guapamacátaro Interdisciplinary Residency in Art and Ecology in Mexico (2007), a resident at the ASAP Acadia Summer Art Program (2011), a Fellow of the Center for Creative Research at NYU (2012), and an Artist in Residence at Wesleyan University's Center for the Arts (2012).
kymkym (Kym Chambers) is a designer from Toronto, Canada. She graduated with a bachelor's degree in sociology from the University of Western Ontario and studied in the Fashion Certificate program at George Brown College. Her work in costume has been featured in film, print, photography, stop-motion animation, modern dance, and dance-theater with work being shown in New York, Toronto, Berlin, Athens, and Cannes. Often touching on issues of sustainability, deterioration and time lapse, Chambers employs a myriad of hand-sewing techniques, dying practices (shibori and vegetable dying) and fiber manipulation. Coupling these with a more technical approach of pattern drafting, and garment deconstruction and construction, her work explores the dynamism of costume design through an integrative process.


Kristin Norderval is a composer and singer who specializes in developing new works for voice, small-scale opera, cross-disciplinary work, and works using interactive technology. Commissions have included works for Den Anden Opera in Copenhagen, the BucharEast.West International Dance Festival, and the Parthenia viol consort. Norderval's credits as a soloist include performances with Oslo Sinfonietta, Philip Glass Ensemble, Netherlands Dance Theater, and the San Francisco Symphony. Recordings are available on Aurora, CRI, Deep Listening, Eurydice, New World, Nonesuch and Koch International.
For more information about jill sigman/think dance, visit: www.thinkdance.org.
Also visit: http://thinkdance.wordpress.com