Jillian Pena's "Jodi for Jill, Jill for Jodi" & "Polly Pocket"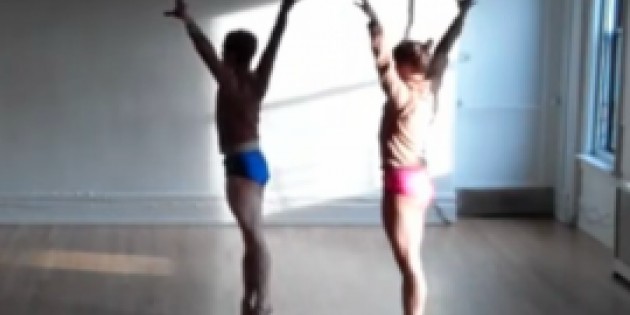 Presented by Brooklyn Arts Exchange
BAX | Brooklyn Arts Exchange
is excited to announce


Jodi for Jill, Jill for Jodi and Polly Pocket
by BAX Artists-In-Residence Jillian Peña
May 10th-12th, 2013
Friday-Saturday @ 8:00pm | Sunday @ 6:00pm
Jodi for Jill, Jill for Jodi
A video by Jillian Peña with Jodi Melnick
Jodi Melnick tries on Jillian Peña, Jillian Peña tries on Jodi Melnick.

Polly Pocket
performed by Alexandra Albrecht and Andrew Champlin
A coming of age story, Polly Pocket follows Alex and Andrew as they mediate between being siblings, friends, lovers, and mirror reflections.
Featuring BAX's Artists-In-Residence (AIR), this performance culminates a shared journey through the creative process. Audience members enjoy the rare opportunity to follow a work and engage its creators from the early stages through to full productions. This journey began with the Open Studio Series in November, continued with the Works-in Progress Series in January, and culminates in these Spring performances.

Since 1991, our Artist In Residence program has served as a core for our work with artists. The AIR program provides participating artists with one to two years of uninterrupted artistic, technical, and administrative support, as well as the rehearsal space and guidance necessary to take chances, refine their craft and expand their horizons.


Jillian Peña
is a dance and video artist primarily concerned with confusion and desire between self and other. Her work is in dialogue with psychoanalysis, queer theory, pop media, and spirituality. She has been presented internationally, including at The Chocolate Factory, Dance Theater Workshop and The Kitchen in New York, Akademie der Kunste Berlin, Centre for Contemporary Arts Glasgow, and the International Festival of Contemporary Art Slovenia. Jillian was a Jack Kent Cooke Graduate Scholar during which she was awarded an MFA from the School of the Art Institute of Chicago, where she was a fellowship recipient, and a Practice-based MPhil in Fine Art at Goldsmiths College, University of London. She was a 2009 Movement Research Artist-in-Residence, a 2009 DanceWeb Fellow at Impulstanz in Vienna, a 2010 Artist-in-Residence at Archauz in Århus, Denmark, and a 2011 Artist-in-Residence at the National Dance Center of Bucharest, Romania.