Jillian Sweeney's "Vulture-Wally"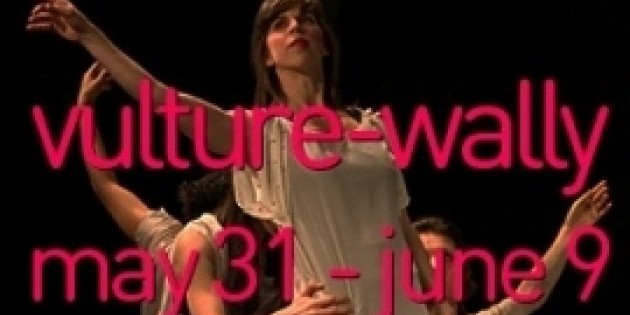 June 4 & June 6-9
Jillian Sweeney's

VULTURE-WALLY
Choreography & Concept: Jillian Sweeney
Direction: Jeffrey Cranor
Performance: Siobhan Burke, Lydia Chrisman, Tara Willis & Jillian Sweeney
May 31 – June 9// 8 general // 4 student
Jillian Sweeney's Vulture-Wally, directed by Jeffrey Cranor, resurrects the body of Wallburga
(Wally) Stromminger, a hero from a popular 19th century serial novel who challenges her
small town's moral expectations. Recasting the role amongst four dancers – Sweeney,
Siobhan Burke, Lydia Chrisman, and Tara Willis – the work frames and reframes questions
(without answers) about who owns our bodies and how we story them.
Constructed in a series of discrete chapters, Vulture-Wally builds a physicalized long-form
poem of dance, language, and song. Utilizing melodramatic film scores, social dance, live
church hymns, sound effects, and relaxation tapes, each chapter pairs a body part with a
component of Wallburga's original story in order to re-contextualize bigger themes of identity
and individual control. Vulture-Wally is interested in what pieces make up our whole and
what manipulates or motivates our actions.
Sweeney and Cranor invite the audience to move about the theater with the performers as
they journey from station to station in a shifting stage space with the potential for multiple,
ever-changing points of view. Vulture-Wally features original poetry and text by Jeffrey Cranor,
lighting by Vincent Vigilante, set design by Brad Kisicki, costume design by Suzan Eraslan
and sound design by Cranor and Sweeney.
Jillian Sweeney's work has been presented by The Chocolate Factory, Danspace Project's Food
For Thought, DanceNOW, MAD, WaxWorks, Dixon Place, and Galapagos Art Space. She
recently developed two solo-shows—THIS COULD BE IT and IMAGINARY LINES—in
collaboration with Jeffrey Cranor. She has been recognized as "a young dancer with a gift for
comic frustration" by The New Yorker. Sweeney received her MFA in Dance from Smith College,
where she was also a teaching fellow. For more info: jilliansweeney.com
Jeffrey Cranor writes, performs, and directs plays for the New York Neo-Futurists' TOO MUCH
LIGHT MAKES THE BABY GO BLIND. He is also a co-writer (with Joseph Fink) on the bi-weekly
podcast WELCOME TO NIGHT VALE. VULTURE-WALLY is his third collaboration with Jillian
Sweeney (THIS COULD BE IT at The Chocolate Factory; IMAGINARY LINES at HERE).
Vulture Wally is made possible by Lower Manhattan Culture Council's Swing Space Program
For a detailed performance calendar, visit:
https://web.ovationtix.com/trs/pr/923514
Tickets can be purchased in advance at
incubatorarts.org
or by calling TheaterMania at 212352-
3101. Incubator Arts Project (located inside St. Mark's Church) • 131 East 10th Street (at 2nd
Ave.) • L to First or Third Ave; R, W to Broadway/8th St.; 6 to Astor Place; N,Q, 4, 5 to Union Sq.
Incubator Arts Project cultivates and presents a multi-generational community of artists who
challenge the conventions of live performance by producing original work at St. Mark's Church
in-the-Bowery. IAP programs provide access to a fully equipped venue along with personalized
career support and strategic investment of resources individually tailored to the needs of each
artist.
By providing production opportunities for emerging to mid-career artists, Incubator Arts Project
functions as a training ground where formative repertoire is conceived and new work can be
constructed as each participant's artistic voice develops a distinct style. In addition to offering
artists exclusive access to a theater, technical assistance and administrative support, staff
provides professional mentoring and advisement to assist in the process of making well-
considered choices in support of artists' long-term stability and success during all stages of their
careers.
Core programs include the New Performance Series, Other Forces, Music and Short Form.
Incubator Arts Project is fiscally managed by Performing Artservices Inc., a New York based nonprofit
arts organization, and is artistically led by a team of curators who collectively make
programmatic, artistic and organizational decisions.
Since 2006, Incubator Arts Project has presented award-winning work by artists including: Alec
Duffy, Banana Bag & Bodice, Bluemouth Inc., Debate Society, Daniel Fish, Half-Straddle, Karinne
Keithley, Object Collection, Vampire Cowboys, and Witness Relocation. Incubator artists have
seen their work tour nationally and internationally and go on to Off-Broadway runs.