Contribute
Your support helps us cover dance in New York City and beyond! Donate now.
John J Zullo Dance/Raw Movement presents 2013 Season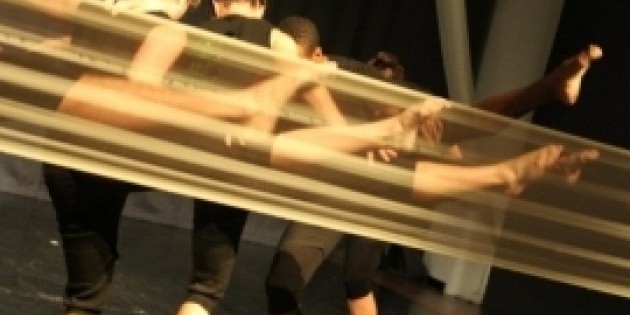 September 19-21


John J Zullo Dance/Raw Movement
presents the
2013 Season
at Danspace Project, September 19-21, 2013 at 8pm at the St. Mark's Church, 131 East 10
th
Street, NYC. Tickets are 0 (5 for students and seniors) and can be purchased at
www.danspaceproject.org
. The evening is part of DANCE: Access, a self-production series administered by Danspace Project that serves independent choreographers and dance companies.
The evening will include works from John J Zullo Dance/Raw Movement's repertory including ALL what THIS do HAS you HAPPENED see? BEFORE, as well as the World Premieres of this Exquisite diversion/mysterious Skin and project Xiii, which includes guest performers Barry Blumenfeld of TAPFusion, and choreographer Jeff Rebudal, among others. Mark Simpson is the lighting designer for the 2013 Season.
ALL what THIS do HAS you HAPPENED see? BEFORE explores perception, perspective, the insistence of memory and the inevitability of repetition. Events unfold, remembering actions we have seen, how they differ from what actually occurred versus what we remember having happened. Movements are repeated, constructed and then deconstructed, rearranged then viewed from different angles shifting the perspective to create something familiar yet new. The work creates a clear space for the action to unfold as the audience is invited to watch the work from any side of the space, as well as within. The music includes works by Monolake, Ludovico Einaudi, David Lynch, and Autechre. Costume design by Hector Perez, lighting by Lily Meyer and set decor by Lily Meyer and Zullo.
this Exquisite diversion/mysterious Skin delves into the physical manifestation of extreme psychological experiences where individual's are blocked from accessing the memories of events that happened. An out of body experience as the walls of mind and memory are slammed and mined for fragments of a lost story whose effects are felt but not always recalled. Using the text of Scott Heim's novel "Mysterious Skin" as a map and compass for the work where two young boys are sexually exploited and assaulted and the different ways their psyche's process and both accept or deny the trauma and the subsequent courses that are set in motion in their lives. The piece features a live performance by singer Jessie Davis. Sound score by David Englehard includes Olafur Arnalds, Max Richter, Deru, Jefferson Friedman, and The Mama's & The Papa's. Lighting Design by Mark Simpson, Set Decor by Lily Meyer and Zullo. Costumes by Zullo.
John J Zullo Dance/Raw Movement will also appear in
LA MAMA Moves!
on Saturday, June 22, 2013 at 10pm and Sunday, June 23, 2013 at 5:30pm; and at the Theater for the New City Lower East Side Festival on May 25, 2013. For more information visit
http://johnjzullodance.com
.
John J Zullo is originally from the Bronx, New York and currently resides in NYC. He graduated from American University in 1996 with a B.A. in Anthropology and 1999 with an M.A. in Dance. John danced with many artists while at American University, and was privileged to perform in the work of Ohad Naharin, as well as having his work presented at Dance Place in Washington,DC and being awarded the Arts Club of Washington's Award for Outstanding Choreographer 1999. John has danced with Regina Nejman Company, performing in Rio de Janeiro, Brazil and in NYC and worked with Jeff Rebudal for over 10 years as a performer, Rehearsal Director & Associate Director. He currently teaches for the Modern Guest Artist Series at Dance New Amsterdam in NYC and has also taught at Adelphi University, Long Island NY, Hunter College NYC, Wayne State University in Detroit, Michigan, and the YMCA/Evolve Dance in Tarrytown, New York.
John J Zullo Dance/Raw Movement is exploring ideas from our cultural landscape that are transformed into works that are expressive, imaginative and kinetic. The company strives to create and share these dances in the hope of eliciting an emotional response to a movement-based experience.
John J Zullo Dance/Raw Movement presented at Theater for the New City's LES Festival May 2011, 2012 & 2013 as well as presented at Dances for DNA Day May 2013 for Dance New Amsterdam and The New Museum's Ideas City Festival.
Zullo's newest work was presented at the LaMama Spoleto Open in Spoleto, Italy September 2012. Dixon Place presented an evening of Zullo's work in November 2012 as well as a Split Bill in June 2012 and the July 2012 Moving Men Series as part of the HOT! Festival. Raw Movement performed at the Blooms Festival at Green Space in LIC, NY 2010 & 2012 as well as a full evening in 2011. DanceNOWNYC presented Raw Movement for the RAW Festival in April 2011. John J Zullo Dance/Raw Movement was presented at the Evolve Festival in Tarrytown, New York as well as the IndepenDance Festival at City Center Studio 5, 2010.
John J Zullo Dance/Raw Movement had its first New York Season at Theater for the New City in April of 2011.