Contribute
Your support helps us cover dance in New York City and beyond! Donate now.
Johnnie Mercer || The Playground NYC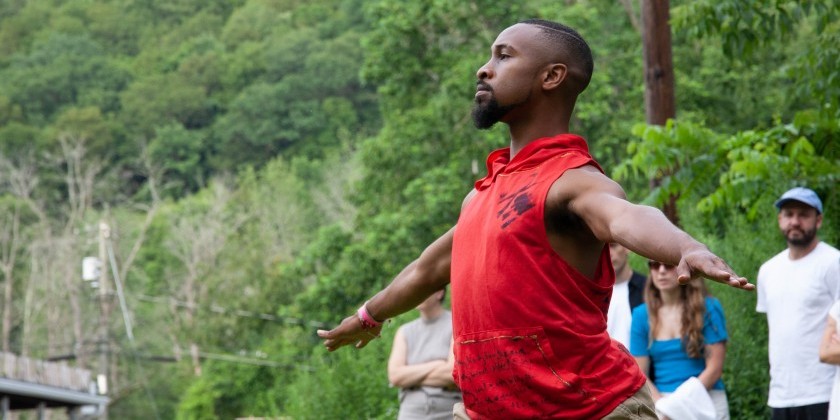 Company:
The Playground NYC
Playground Sessions
12/06 || 4:00PM - 5:45PM
Register at Gibney 
Cost: $6
Gibney Dance: Agnes Varis Performing Arts Center, 280 Broadway, NYC
Entrance 53A Chambers Street
The Playground NYC allows dancers to experience various choreographic styles and ideas, engage with a new community of dancers, and gather resourceful information and inspiration from the array of choreographers involved. In turn, established choreographers are paid for their creative investigations, are given free space to explore new movement with professional dancers, and are provided with the opportunity to establish relationships with new dancers and fellow choreographers.  
Class Description:
FUNKitUp, A Conscious Meta-Physical Practice is a facilitated space built to encourage embodied inquisition in order to investigate one's relation to dance history and the contemporary. With a focus on artistic freedom, the practice uses reflection to challenge the body's understanding of simply being, consistently asking those involved to push the limits of what it "feels" like to surrender or let go. FUNKitUp is designed for advanced movers or embodied thinkers, and finds its foundation within the philosophies of The Africanist Aesthetics. 
The fast paced class/workshop flows freely through meditative work, weight shifting, micro-articulations, rhythmic patterns, Astro-healing, traditional form play, collective improvisation, and complicated phraseology, landing ultimately at each movers personal movement theory (the fertile ground for an individual's choreographic lineage).
FUNKitUp, A Conscious Meta-Physical Practice is built around developing three major movement skill sets:
- the ability to quickly yet consciously call upon past/current movement aesthetics
-the capacity of one's body to embrace unseen time/space
-the range of one's meta-physical reach, using trance, code switching, and memory based theater to re-find experiential movement
Artist Bio:
Johnnie Cruise Mercer is a queer black thinker, maker, performer, educator and budding social entrepreneur born in Richmond, VA and based in New York City. Recently acknowledged as a 2021 Princess Grace Award Recipient in Choreography, and nominated for two 2021 Bessie NY Dance and Performance Awards (Outstanding Production for _AShadowPrince, and Outstanding BreakOut Choreographer), Johnnie's processes and work have been supported, produced, and/or presented by: The 92Y Harkness Dance Center, Stephen Petronio Company's Bloodlines(future) Initiative, The Dixon Place, Danspace Project Inc, The Fusebox Festival, Mana Contemporary, Freeskewl, The NADA Conference, Abrons Arts Center, The Clarice Performing Arts Center's BlackLight Summit, The Cuny Dance Initiative, NYU Tisch Dance, Goucher College, Bates Dance Festival, The American Dance Festival, Abrons Arts Center, Ping Chong and Company, Brooklyn Arts Exchange, The New Dance Alliance, SirenArts, The Wassaic Project, and recently at La MaMa Experimental Theater! 
Johnnie is the founding Producer and Company Director of TheREDprojectNYC (TRPNYC), a multidisciplinary ensemble of artists dedicated to the study of movement philosophy, and its use towards building communal spaces for black/other process, documentation, and investigation.
Currently Johnnie leads the team, TRPNYC, into their fourth year of a six year project entitled; "A Process Anthology: The Decade from Hell and the Decade that Followed Suite." Charted as ten individual memoir driven chapters, the full project will soon come to a close with two DocuEpic Works set to premiere Fall 2022 (commissioned by Gibney), and Spring/Summer 2024/2025!
Find more info on this project and his other work on IG @jcm_redprojectnyc, or www.trpnyc.com