Join us for the 5th Annual COMEDY in DANCE FESTIVAL!‏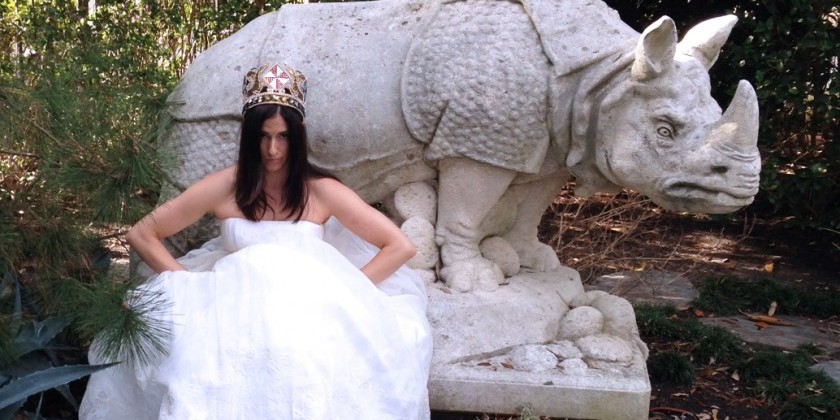 Company:
Triskelion Arts
The 5th Annual Comedy in Dance Festival
Triskelion Arts' Aldous Theater
April 3 - 6, 2014 at 8pm
Brooklyn, NY: Triskelion Arts is psyched silly to be presenting its 5th Annual Comedy in Dance Festival. This four-night festival will showcase 29 works by an arsenal of emerging and mid-career choreographers, dancers, physical improvisers, and clowns from New York City and beyond, bringing on an assault of the goofy, daring, and not-so-serious sensibilities we often secretly crave.
Participating artists include: Abby Bender and Cassie Tunick, Adina Valerio, Aimee and the Infinite Enigma, Alex Schmidt, American Goldfish Players, Andrae Gonzalo and Jamie Benson, Anna Adams Stark, Ayano Elson & Company, BodyStories: Teresa Fellion Dance, CatCo Dance, Claire Alrich, Clowntact, Cocoon Central Dance Team, Dan Danger, DNA Comedy, Erin Cairns Cella and Christopher Shepard, Intensive Care Unit, Jade  Daugherty and Natalie Cañizares, Josselyn and Kim Dance (and do other things, too…), Julia Smith-Eppsteiner, Kate Taylor Unlimited, Megan Mazarick and Les Rivera, MJ and The Reel Dancers, Peter Kyle Dance, Rachel Pritzlaff/TBA Dance, Shot in the Dark Productions, The Rachel Klein Theater Ensemble, The Raving Jaynes, Vangeline Theater
HIGHLIGHTS INCLUDE:
Butoh dancer Vangeline masterfully conducts the Fifth of Beethoven… Butoh style.
Project Runway's Andrae Gonzalo and choreographer Jamie Benson present BABS' FAVORITE SOUND, a live dance meditation on the human orgasm (Barbara Streisand's favorite sound, as revealed on the Actor's Studio in 2004). Benson interprets Gonzalo's orgasmic rendition of the singer's Oscar-winning hit, "The Way We Were," with movement invoking all four stages of Masters and Johnson's Model of Sexual Response.
Perched, choreographed and performed by Peter Kyle and Scott Giguere, is a brainteaser of a duet. Two crossword puzzlers sitting, standing and sliding along a rail perform a precarious leg swinging sequence as they attempt to outwit each other with verbal and physical calisthenics. 
WT McRae and Amy Vereby present Kama sutr-uh, a duet that combines choreographed contemporary dance, acrobatics and comedy to spotlight the subtleties of human connection.
love-joy diver is a collaboration between post-modern/dance theater choreographer Megan Mazarick and hip-hop dancer Les Rivera. Originally created in 2006, this duet looks at how differences (racial, sexual, political, artistic, physical, etc) formed the inner workings of a relationship. It is both funny and serious in a "identity-politics-meets-outlandish-modern-dance-theater-hip-hop-hybrid" kind of way.
I know it when I see it, choreographed and performed by Julia Smith-Eppsteiner, centers on the question, "Who is allowed to say what, about what?" This solo explores the meaning—or lack thereof—found in her family history, echoing Charlie Chaplin's approach to catastrophe in The Great Dictator.
Inspired by her Texas upbringing, director and choreographer Mary John Frank is pleased to share her new work, DEBUT TAUNTS. The work is loosely based on her experience and observations at an all-girl's summer camp and as a deb in her home state of Texas. The piece combines contemporary dance with cheeky and irreverent humor and explores themes of perfectionism, competition, comparison, and messages about gender that have been passed down from previous generations.
THE AMERICAN GOLDFISH SPEAKS: an exploration/rumination/celebration of everything that makes us who we are through dance, clowning, multimedia projection and more. A series of lightning-fast vignettes tied together by one audience proxy who wears many faces and holds boundless depths, illuminating what we need and how we pursue it in our everyday lives. Written and directed by writer/performer Alex Schmidt, and performed by an American Goldfish Players ensemble.
Three dancers, four teacups, one question: is this, or is this not, a cup? Oh, a Cup. Again, a dance theatre piece presented by Cat Wagner/Collaborations, weaves through a series of faux tea parties, partnering sequences, and absurdist dialogue in an attempt to answer this query. Nonsense and non sequitur set the tone as three characters squabble over the finer points of realism.
For more information and the full festival schedule, visit www.triskelionarts.org.
All shows @ 8pm in the Aldous Theater
Triskelion Arts, 118 North 11th Street, 3rd Floor, Brooklyn, NY 11249
TICKETS: $15 general admission – comfest2014.brownpapertickets.com
Special Note:
Please get involved in our Capital Campaign to help build Triskelion's new home. No amount is too large or too small but your participation is indispensable. Thank you for your support!