Contribute
Your support helps us cover dance in New York City and beyond! Donate now.
Jonathan Slaff's Monthly Update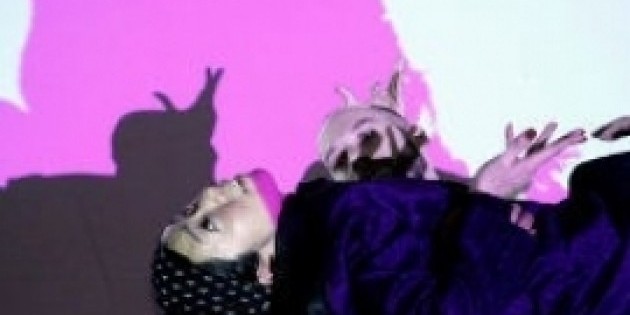 Upcoming Events by Represented Artists
THROUGH APRIL 7
CZECHOSLOVAK-AMERICAN MARIONETTE THEATRE
IN "KING EXECUTIONER"
THEATER FOR THE NEW CITY

L-R: Joseph Garner, Michelle Beshaw and Christopher Scheer. Photo by Adele Bossard.
Puppets and live performers enact an enigmatic tale of early World War II in "
King Executioner
," the newest creation of
Czechoslovak-American Marionette Theatre
, written and directed by Vit Horejš. The play is loosely based on "When you are a King, You will be an Executioner" ("A Jak Krolem a Jak Katem Bedzies," 1968) by the Polish magical realist novelist Tadeusz Nowak (1930-1991). Music is composed by Frank London of The Klezmatics. The novel, which has never been published in English, is an allegorical tale of Polish peasant life in the early days of World War II. The book unfolds like a 20th century folk tale, narrating a farm boy's bumpy journey to manhood. The boy, goes to fight with the partisans after the German invasion and his patriotic duty compels him to kill two neighbors he's known all his life. As he faces decisions about life and death for others, his story becomes a parable on the complex truths of existence and dignity.
UPCOMING
ETERNIDAY -- (L) Saori Tsukada, (R) Mike Mikos. Photo by Kaz Phillips Safer.
APRIL 4 TO 21
WITNESS RELOCATION IN "ETERNIDAY"
BY CHARLES L. MEE
LA MAMA E.T.C.
Witness Relocation, "a dance theater anarchist's utopia" (Performing Arts Journal), performs "Eterniday," the second show in its ongoing collaboration with Obie-winning playwright Charles L. Mee. This new evening length theater-with-dance piece is about all of human history happening in a 24 hour period, the random nature of life, and how amazing it is to fall in love. Productions of Witness Relocation combine dance and theater with the energy of a rock show, exploding contemporary culture into intensely physical, outrageous, poetic, and sometimes brutal performances. This one has a poetic script, caveman costumes, rooms on wheels, giant inflatable set pieces and huge dance numbers. Charles L. Mee is known for his work with SITI Company, for which he wrote "Orestes," "bobrauschenbergamerica," "Hotel Cassiopeia," "Under Construction" and "soot and spit (the musical)." He was Signature Theater's Playwright-in-Residence in 2007-2008 and last collaborated with Witness Relocation on "Heaven on Earth" at La MaMa in 2011. Directed and choreographed by Dan Safer.
APRIL 11 to 28
"AMERICAN STAR!!!" BY WILLIAM ELECTRIC BLACK
THEATER FOR THE NEW CITY
William Electric Black (left) and cast of "American Star!!!" Photo by Jonathan Slaff.
No parent wants their child to skip college to become the next Idol-like celebrity. But what would you say to your teenage daughter if she announced, "I got a 1200 on my SAT's. That makes my safety school Fairway! So I hafta get to the American Star tryouts."? American Star!!!," a rockin', boppin' family-friendly musical written and directed by Emmy-winner William Electric Black, has some of the answers. This musical is for people soon applying to college and for adults trying to live through it, in other words, for audiences aged 13 to 93.
RIVALS FOR "AMERICAN STAR!!!" -- L: Alexa Criscitiello and R: Rachel Caplan. Photo by Jonathan Slaff.
The show's the saga of Stacey Star, a high school bullying target with low SAT's, who dreams of becoming a superstar and auditioning for "American Star," a talent show emceed by the glamorous African-American celebrity Maxine Mack. Unfortunately, so does her arch-rival, Kelly Dumbrowski, a popular "Queen Bee" with high SAT's who has changed her name to Kim, in loving emulation of Kim Kardashian. Stacey's odyssey enroute to her big audition (and her eventual fairy-tale triumph over Kelly) is the plot of the musical, which is sung and danced with the wit and humor that earned fame for William Electric Black as a writer on "Sesame Street."