Karl Rogers/Red Dirt Dance with Special Guests at Triskelion Arts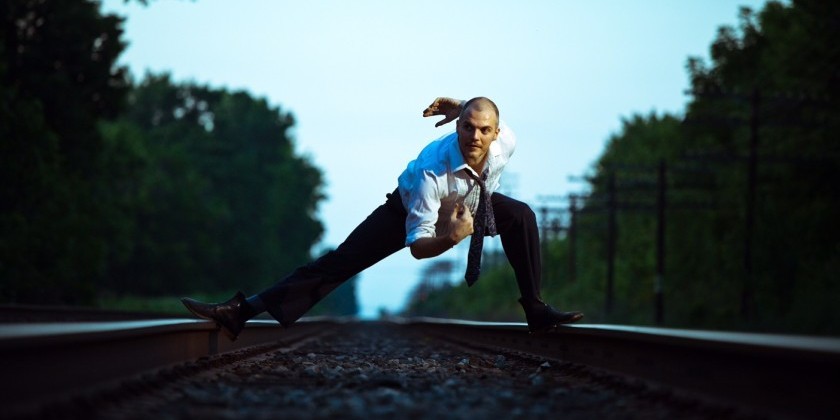 Company:
Triskelion Arts
Karl Rogers/Red Dirt Dance with Special Guests
April 23 - 24, 2015 at 8pm
at Triskelion Arts' Muriel Schulman Theater
106 Calyer Street, Brooklyn, NY 11222
(Enter on Banker Street)
Brooklyn, NY – Triskelion Arts is pleased to present Karl Rogers/Red Dirt Dance this April in the new Muriel Schulman Theater. Known for making theatrical dances that are at once humorous and profound, Rogers' newest evening of dance, all wound up and other works, includes four pieces ranging from a searing depiction of a deteriorating relationship to a spirited romp in football gear.
3 episodes big birds can't do draws on portrait postures, physical descriptions, and favorite songs, as it envisions a kinetic conversation between David Hockey and Tennessee Williams. The quartet rough draft, inspired by the recent outings in professional American football, imagines a new arena for masculine relationships.
Of the four pieces on the bill, two are world premieres. all wound up, a duet for Rogers and collaborator Tristan Koepke, considers the experience of the passage of time in fits and starts. The other premiere on the program is by guest artist Kendra Portier. With a particular blend of dance and theatre that merges virtuosity of the body into real world scenarios - romantic breakups, office settings, and domestic bliss - Red Dirt Dance showcases the dancing body as an invitation to imagine the possibilities of human interaction; the dances are interdisciplinary storytelling at its best.
Red Dirt Dance was founded in 2004 and exhibits Rogers' unique blend of theatricality and virtuosity. The company has been presented in theatres and museums across New York City, up and down the East coast and throughout the Midwest. Rogers' work has been commissioned by dance companies in Chicago, Florida, North Carolina and Tennessee. The company has also been seen at the Florida Dance Festival and the Bates Dance Festival. The work combines text, movement and design to invite laughter and poignancy as it considers the theatricality of the everyday.
Karl Rogers, artistic director of Red Dirt Dance, is a professional dancer/choreographer. For the past decade Rogers has toured the globe as a performer in contemporary dance works.  Most notably, he is the most tenured member of David Dorfman Dance, an internationally-recognized dance company based in New York City known for its hyper-kinetic vocabulary and theatrical potency. He has also danced in projects for Colleen Thomas, Terry Creach, Paul Matteson, elephant JANE dance, Melinda Ring, Hoi Polloi, and many others. Most recently, he has performed a series of duets, collaborating with both Heidi Henderson and Megan Durham-Wall. Rogers is an Assistant Professor of Dance at The College of Brockport.
Photo credit: Nick Fancher