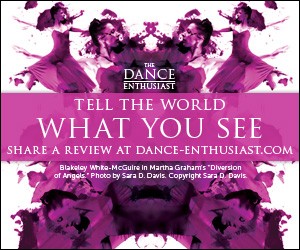 Kate Weare Is Gardening at 92Y Harkness Dance Festival
She Strips Garden and Connects it to Her Solo Work
KATE WEARE GARDENS
at 92Y Harkness Dance Festival
She "Strips" Garden and Connects it to Her Solo Work
NEW YORK, NY: February 14— Kate Weare's Garden, which she is presenting at the 92nd Street Y Harkness Dance Festival, sprang from a series of solos Weare made for herself early in her career. As her company grew from its founding in 2005, Weare saw Garden as a way to investigate how her own choreographic voice evolved along with the company itself. Now, in the Festival's Stripped/Dressed format, the choreographer shares some of her creative process and shows the bare bones, "stripped" origins of the dance before showing its final, theatrically dressed version.

During what she terms her early "foundational monk-dom," Weare created solos and intimate duets, which she often performed herself. Her choreography was innately tied to experiencing it in her own body. Over the years as the company added members, she invested deeply in each of the dancers she worked with, honing and developing their interpretations of her material and direction. In Garden, which debuted in 2011, elements of her solo material provided the seeds for a new quartet. In this context, solo material became focused on feelings of connection with others. "I've made a lot of dark work about power, aggression and autonomy," Weare says. "With Garden, I was reaching toward something more innocent and tender, a communal experience."

With the Stripped part of the program, Weare takes the opportunity to hold her solos as danced by company members and the final version of Garden next to each other to see what emerges. She is not only examining how her ideas and choreography have evolved, but how her dancers translate and embody her work. When new members joined her company, she not only recast Garden but altered the dance – changing a duet, for example, to a solo because of the impact a new dancer had. Weare and dancers will discuss and demonstrate how the movement qualities of different dancers inform the work that she creates.
Photo by Keira Heu-Jwyn Chang
WHAT: 92nd Street Y Harkness Dance Festival: Stripped/Dressed
Week Five: Kate Weare Company: Garden
WHEN: Fri, Mar 15 & Sat, Mar 16 at 8 pm; Sun, Mar 17 at 3 pm
WHERE: 92nd Street Y, 1395 Lexington Ave, New York, NY, 10128
TICKETS: 0 at www.92Y.org/harknessfestival or 212.415.5500.
Press Information
: Sarah Morton at smorton@92Y.org or 212.415.5435