Contribute
Your support helps us cover dance in New York City and beyond! Donate now.
Keely Garfield Dance in "Pow" at [DANCEROULETTE]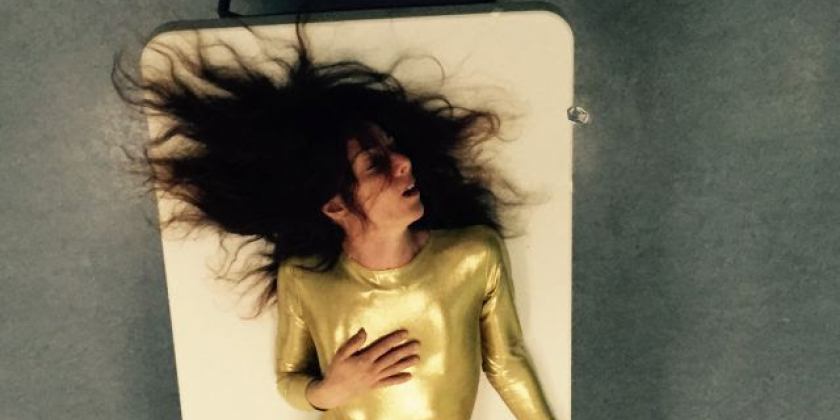 Company:
Keely Garfield Dance
Keely Garfield Dance presents "Pow" again!
Choreography: Keely Garfield
Performance: Keely Garfield, Paul Hamilton, Molly Lieber
Music: Matthew Brookshire, Cyrus Ra
Lights: Jonathan Belcher
"How is it when the tree withers and the leaves fall?" asks the student.  The master replies, "Body exposed in the golden wind." – Blue Cliff Record Koan

"My dancing body is always exposed to the golden wind, which means there is no protection, none anywhere. Dancing is a flim flam, simply a wind moving through that carries you aloft, alighting here and there. It is beautiful and rare and painful and is ultimately just another way for me to know myself and the world. A kick in the head. An invitation to shine through and wake the fuck up. Pow!" – Keely.

Pow is a Frankenstein of a dance in which elements of other acclaimed dances Garfield has made up are radically re-configured, sutured, amplified, and left to run amok in a shocking new version of events.

Roulette
509 Atlantic Avenue,
Brooklyn, NY, 11217
Map
917-267-0368
roulette@roulette.org

Buy tickets here!
"Garfield's work is resonantly individual, defiantly uncategorizable, an emanation of things deep within." - Roslyn Sulcas, The New York Times.
"Garfield's work is an act of disruption, an unmasking with occasional masks, a mouthful of Pop Rocks, a baptismal immersion in feelings that continuously build." - Eva Yaa Asantewaa, Infininte Body.
Check out The Dance Enthusiast's video coverage of Keely Garfield's earlier version of "WOW":