Kinematik Dance Theater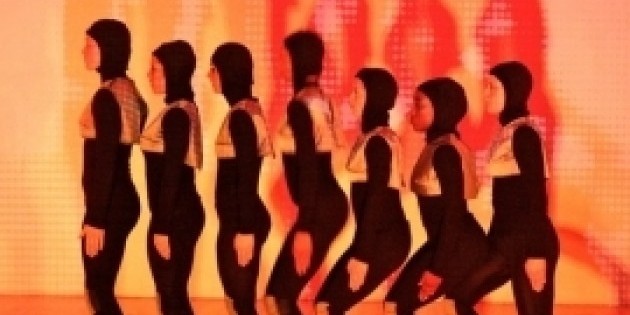 Dear Friends & Supporters,
We are excited to announce that KINEMATIK will be premiering Conversation Pieces at the Crossing Boundaries Series at the DIXON PLACE on October 30th 2012.
KINEMATIK Dance Theater is collaborating with Austria based choreographer Katrin Blantar and India based video and multi-media artist Shraddha Borawake to create Conversation Pieces, a multidisciplinary attempt to contextualize the fragmented pieces of sentences overheard on the streets in NYC, Vienna and Bombay. Crossing geographic boundaries over three continents, Conversation Pieces is a humorous and quirky interpretation of broken off segments of local conversations within a global context, as words are translated by bodies, movement, and video streamed over the web from India.
Please join us on
Oct 30th @ 7:30 PM
DIXON PLACE
161A Chrystie Street
NY, NY 10002
To purchase tickets click
HERE
"KINEMATIK takes the funky and frenetic route, with the energy levels of the dancers and media technicians at 110%."
Jennifer Dwoskin,
Dossier Journal
Please support our next project SMOKING MIRRORS by donating to our Kickstarter campaign.
To supplement our grant from the Brooklyn Council of the Arts, we need to raise 000.
Any small donation is very much appreciated.
THANK YOU for your support!
Watch the Promo Video and donate
HERE
Smoking Mirrors is the first of a series of interactive Performance Design events, that incorporate urban dance, design and multi media arts. Exploring the fragmentation of identity in our fast paced technological world, the audience moves through a multi-sensory interactive environment, experiencing tactile sensations, sights and sounds.
More info coming soon!
Thank you to everyone that came to our sold out performances of INSEKTA: THE BUSTLING WORLD OF BUGS this past May.
For those of you who missed it, please read our raving review
HERE
and watch the promo video
vimeo.com/48504149
.
"There is nothing like it... flashy, noisy, intellectually stimulating and most importantly, different." Jennifer Dwoskin, Dossier Journal