LA MAMA PRESENTS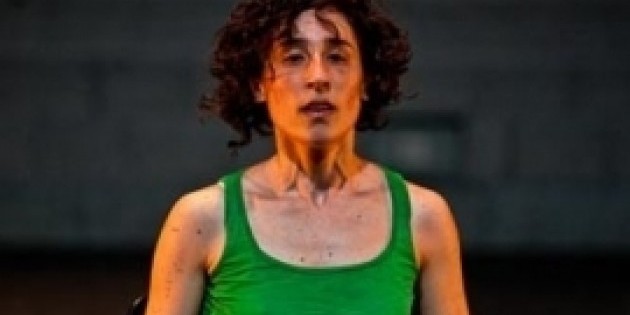 THE WORLD PREMIERE OF NETTA YERUSHALMY'S DEVOURING DEVOURING
LA MAMA PRESENTS THE WORLD PREMIERE OF NETTA YERUSHALMY'S
DEVOURING DEVOURING

AT THE ELLEN STEWART THEATRE, DECEMBER 13-16
Evening-Length Work Created with Performers in New York and Tel Aviv

September 17, 2012 — (New York, NY)

La MaMa presents

Netta Yerushalmy's

first evening-length work at the

Ellen Stewart Theatre, December 13-16, 2012.

Devouring Devouring, a world premiere, features fierce performers from New York and Tel Aviv whose singular movement sensibilities are deeply ingrained in both locales. It contends with the relationship between

how

and

where

one dances.

The dancers disappear and reappear from behind an oversized orange curtain, which sections off the upstage left corner of the stark performance space. Occasionally and abruptly, they position themselves into refined tableaus. They embody a clash of aesthetic modes, ranging from detailed and robust physicality to formalized postures hinting at Baroque iconography. A flurry of gestures and forms meander between the representational and the abstract, the elegant and the awkward.

Eerie and otherworldly, these shifts of energy and tone suggest that the dancers are somehow displaced and navigating between two worlds—one behind the curtain and one they share with the audience. The tension visible within the final work is meant to question how the viewer categorizes and ranks certain forms on stage. Why do we make sense of some actions and postures while others completely elude us?

Developed in two cities more than 5,000 miles apart,

Devouring Devouring

evolved through long-distance video exchanges as well as repeated residencies in New York and Tel Aviv over the past two years. Initial excerpts and iterations have been performed at Judson Church, Danspace Project's Food for Thought, the 92nd Street Y, Dance New Amsterdam and Tribeca Performing Arts Center.

At La MaMa,

Devouring Devouring

will be performed by Joanna Kotze, Toni Melaas, Ofir Yudilevitch and Jesse Zaritt to an original sound score by

Mark degli Antoni. Set and lighting designer

Lenore Doxsee

helps shape the worlds in front of the curtain and behind it.

Magdalena Jarkowiec, an Austin-based street artist, will also manipulate the mood of the space with costume design reflective of her
giant mutant dolls
—handcrafted, vibrantly-colored and often misshapen forms, which pop up in public spaces. Working both as a commissioned folk artist and purveyor of unsolicited installations, Jarkowiec sews, embroiders and knits these works, frequently placing them in cheeky and surprising outdoor locations.

Choreographer

Netta Yerushalmy

is a recipient of prestigious fellowships from the Bogliasco Foundation (Liguria, Italy, 2013); the John Simon Guggenheim Foundation (2012); the New York Foundation for the Arts (2010); and Six Points (2010–2012). She has been an Artist-in-Residence at the Tribeca Performing Arts Center since 2010 and was a 2011 Lower Manhattan Cultural Council Swing Space resident. Yerushalmy trained in Israel at Misgav Dance Workshop, Kibbutz Dance Company and Bat-Dor studios (Tel-Aviv).

She has shown her work in the International Solo-Dance-Theater Festival in Stuttgart, Germany; Curtain-Up, Different Dance, Intimadance and International-Exposure festivals in Israel; and in a variety of U.S. venues, including Jacob's Pillow, Danspace Project, Harkness Dance Festival, Dance New Amsterdam, The Kitchen, The Yard and Philadelphia International Festival of the Arts (PIFA), among others. Yerushalmy recently completed her first commissioned work for the Zenon Dance Company (Minneapolis). She has also created original works for the University of the Arts (Philadelphia, PA), Harkness Repertory Ensemble (NYC), Of MovingColors (Baton Rouge, Louisiana), and the Misgav Dance Workshop (Galilee, Israel).

Yerushalmy was a member of Doug Varone and Dancers (2007–2012) and currently works with choreographer Joanna Kotze. She has also worked and toured with Nancy Bannon, Karinne Keithley, Mark Jarecki Dance, Noemie LaFrance, Ronit Ziv and the Metropolitan Opera Ballet. As part of her work with Doug Varone, she has taught in the U.S., Russia and the Dominican Republic and has staged Varone's work at the University of Michigan and Point Park College. She holds a BFA in Dance from New York University's Tisch School of the Arts and has been creating dances since 1995.
www.nettay.com
PERFORMANCES
Thursday-Sunday, December 13-16 at 7:30pm

TICKETS
0 Adults; 5 Students/Seniors
Purchase tickets online at
www.lamama.org
, by calling 212-475-7710 or on site one and one-half hours before curtain.

VENUE INFORMATION
La MaMa's Ellen Stewart Theatre is located at 66 E. 4th Street, 2nd Floor (between Bowery and 2nd Avenue), New York, NY 10003. The theater is near the N/R to 8th Street/NYU, 6 to Astor Place and F to 2nd Avenue.

COLLABORATING ARTISTS
Mark degli Antoni (Composer) is a film composer and performer living in Los Angeles and NYC. He co-founded the internationally acclaimed Warner Bros band Soul Coughing and has performed and recorded with David Byrne, Laurie Anderson, John Zorn, among others. He has scored films for an eclectic selection of award-winning directors including Werner Herzog, Wallace Shawn, Finn Taylor, William Wegman, and Jed Rothstein. He studied with Milton Babbitt and David Loeb and holds bachelor and master degrees from the Mannes College of Music in Manhattan. Additional sound works have been created for Richard Prince, Julia Scher, Christian Marclay and Nam Joon Pike.

Lenore Doxsee (Set and Lighting Designer)

is a lighting designer for theater, opera and dance. Her designs for dance include collaborations with choreographers Jennifer Monson, Miguel Gutierrez, Morgan Thorson, Deganit Shemy and Karen Sherman. Doxsee has received two Bessie Awards for her work with Miguel Gutierrez and an Obie Award for Target Margin Theater's production of

Mamba's Daughters. She is Associate Artistic Director and resident lighting designer for Target Margin Theater and has designed in New York City Opera, La MaMa, HERE Arts Center, Juilliard Opera Theater, Dance Theater Workshop and The Kitchen. Regionally and abroad she has designed for Lyric Opera of Chicago, Glimmerglass Opera, Indiana Repertory Theatre, Boston Early Music Festival, Pittsburgh Opera, Spoleto Festival USA and Singapore Repertory Theatre, among others.

ABOUT LA MAMA
La MaMa is a remarkable arts institution with a worldwide reputation for producing daring work in theater, dance, performance art and music. Founded in 1961 by theater pioneer and legend, Ellen Stewart, La MaMa has produced and presented more than 3,200 theatrical productions to date and is a vital part of the fabric of cultural life in New York City and around the world.

La MaMa provides a supportive home for artists and takes risks on unknown work. Artists such as Sam Shepard, Lanford Wilson, Philip Glass, Robert Wilson, Harvey Fierstein, Blue Man Group, David and Amy Sedaris—and others whose names you haven't heard of yet—began their careers at La MaMa. International artists introduced to America by La MaMa include Tadeusz Kantor, Andrei Serban, Kazuo Ohno, and more recently, the acclaimed Belarus Free Theatre. La MaMa has been honored with more than 30 OBIE Awards, dozens of Drama Desk and Bessie Awards, and in 2006, Ellen Stewart was recognized with a special TONY Award for "Excellence in the Theatre."

For more information about La MaMa visit
www.lamama.org
.
Devouring Devouring
is supported by a grant from the Six Points Fellowship for Emerging Jewish Artists, a partnership of Avoda Arts, JDub Records and the Foundation for Jewish Culture, and made possible with major funding from UJA-Federation of New York. The creation of this work was also made possible by grants from the Manhattan Community Arts Fund, the Fund for Creative Communities, and a Swing Space residency, all administered by the Lower Manhattan Cultural Council. This project was developed in residence at the Tribeca Performing Arts Center and completed in residence at the Misgav Dance Center and the Baryshnikov Arts Center. Support for transportation was provided by the Office of Cultural Affairs, Consulate General of Israel in New York, and Consulate General of Israel in Philadelphia.