LEANNE SCHMIDT AND COMPANY March 14 - 16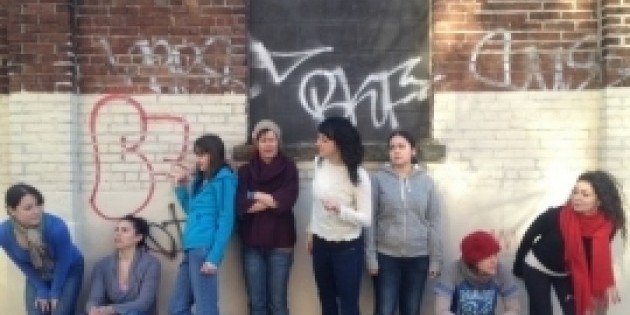 Not A Love Story And other dances
Leanne Schmidt and Company
Not A Love Story…and other dances
Triskelion Arts' Aldous Theater
March 14 - 16, 2013 at 8pm
Brooklyn, NY – Leanne Schmidt and Kim Goss are equally gleeful and tragic in their newest collaboration, Not A Love Story, premiering March 14-16, 2013, as part of their seventh season at Triskelion Arts. The work reveals the quirks that make us innately human, exploring the depths of our shared vulnerability through a story that clearly has nothing to do with a messy, unraveling, short tempered, and possibly stinky kind of love. See the dancers poke fun at life's mini-dramas and personal tragedies combining physicality, humor and honesty. The result is a journey that is rich in metaphor where the audience is bound to find candid similarities between themselves and the performers.

Developed through improvisational games and gesture play, Some people… is an investigation of relationships both intricate and simple. Created in collaboration with performers Abby Bender, Sara Ciampa, Ali Fischer, Kim Goss, Melissa Knestaut, Kaley Pruitt, Becky Radway and Natasha Ross, this new work uses intricate and deliberate, highly physical, tightly interwoven duets and trios to explore the complexities of group dynamics. Some people are just so…so…
Additionally, I Can See You're Trying To Hear Me, created in collaboration with Grand Canyon University's Ethington Dance Ensemble, makes its way to Triskelion's stage all the way from Phoenix, AZ.
Leanne Schmidt is the artistic director and choreographer of Leanne Schmidt and Company, founded in 2006. The company's mission is to recruit new audiences to the form by presenting dance that is sincere, comic, and accessible. Schmidt develops her work through an arsenal of choreographic methods and improvisational techniques, resulting in pieces that evoke surprise and empathy. Leanne has been presenting work throughout New York City since 2006 at venues including Triskelion Arts, Dance New Amsterdam, chashama, Dixon Place, and Chen Dance Center, among others. She has collaborated with visual artist Kate Fauvell on the live visual performance installation, 8PM, and with The New Alt Performance Group in Buffalo, NY on MUSE. In addition to New York City and Buffalo, her choreography has been produced in Phoenix, Washington, D.C., and on Martha's Vineyard. Leanne has received commissions from Kent State University (OH), Happendance professional company (MI), Travesty Dance Group Cleveland, American University (D.C.) and has been a guest teacher at University of Colorado, Boulder, University at Buffalo and SUNY College at Brockport. Leanne has taught at Dance New Amsterdam, Triskelion Arts, The YMCA and at other venues throughout NYC. In addition to providing workshops to the professional dance community, she has also developed and presented choreographic/creative writing workshops at the New York Public Library's Harlem and Aguilar Language Learning Centers, where her Company and adult learners created collaborative written and choreographic works. Leanne holds a BFA in Dance from SUNY College at Brockport and a MFA in Dance from Arizona State University. She is currently on Faculty at Grand Canyon University and Glendale Community College in Phoenix, AZ.
All shows @ 8pm in the
Aldous Theater
Triskelion Arts, 118 North 11th Street, 3rd Floor, Brooklyn, NY 11249
For more information, visit www.triskelionarts.org.