LEIMAY LUDUS: Guest Teacher Lab - Dairakudakan butoh with Daiichiro Yuyama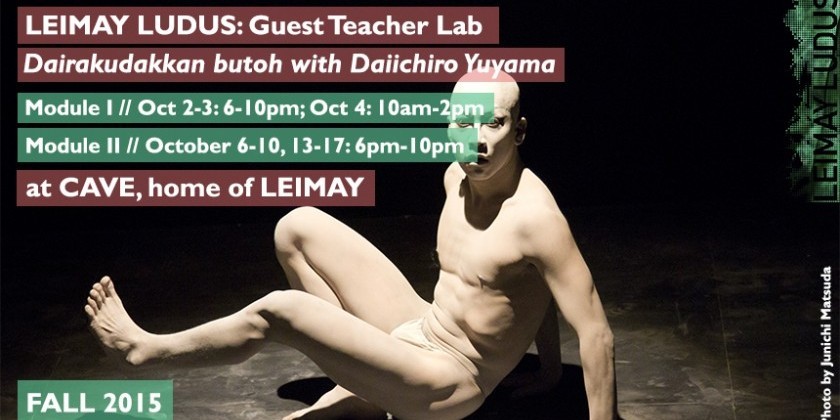 Company:
LEIMAY
ABOUT DAIRAKUDAKAN
Founded as one of the first Butoh dance companies in 1972, Dairakudakan is the product of Akaji Maro, based on his strong beliefs on "Tempu-Tenshiki" and "Miburi-Teburi". Dairakudakan emerged on to the international scene in 1982 with the world premiere of  "Kaiin no Uma" (The sea dappled horse) in Avignon, France, and is largely recognized as the first company to introduce Butoh on a large scale to Europe and the United States.
In accordance to the company's mission, Maro also encourages his company members to develop their own way of expression; several Dairakudakan company members, including Daiichiro, have developed and presented works as Kochuten performance, and has toured internationally. Dairakudakan has received numerous awards including the Japan Critics Awards in 1974, 1987, 1996, 1999.,and 2008.
Module I  // Introduction: Dairakudakan Philosophy & Approach
Oct 2-3, 6pm - 10pm; Oct 4, 10am - 12pm
In this module, participants will be introduced to Dairakudakan's basic philosophy and approach to body and butoh. Some ideas include becoming "empty" - uninstalling our selves from our body, being one "thing" which is not a human being; and unusual darkness - emptiness in mindset to encounter and coagulate moments within the quotidian estranged from the conditioned mind.
Module II // Performance Collaboration & Public Presentation
Oct 6-17, 6pm - 10pm (Days off: Oct 11-12 // Public presentation: Oct 16&17)
Over the span of 2 weeks, Daiichiro aims to create a new collaborative work based on the Dairakudakan body theory, together with all participants. Participants will be exposed to all aspects of making a piece, culminating in a public presentation at CAVE. The theme of this collaborative piece is "Gap". Daiichiro wishes to explore the potential that exists at the cusp of un-fitting, of a perpetual in between; an abundance springs from a crowd of bodies which prevails within this state of existence.
Dairakudakan will soon be setting up a satellite company here in the United States, and this is a unique opportunity for the company to preview dancers here in New York. (207 words)
DETAILS
Module I: Oct 2-3, 6-10pm, and Oct 4, 10am - 12PM
Module II: Oct 6 - 17, 6PM - 10PM (Days off: Oct 11-12 // Public presentation: Oct 16 & 17)
TUITION: Module I: $180.54 // Module II: $597.62 // Module I & II: $721.22