Lar Lubovitch Dance Company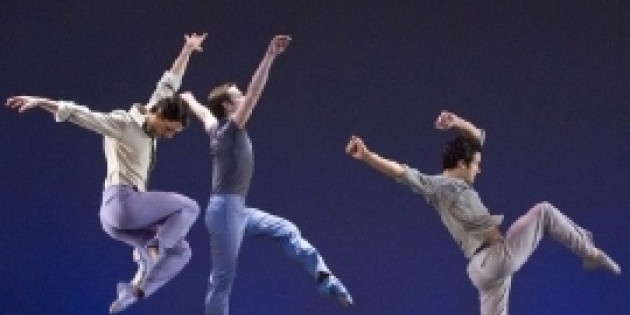 Presents A World Premiere Set to Debussy's String Quartet in G Minor
Lar Lubovitch Dance Company Presents
A World Premiere Set to Debussy's String Quartet in G Minor
November 14–18, 2012, at Florence Gould Hall
New York, NY, October 15, 2012 – The Lar Lubovitch Dance Company's fall 2012 season features a world premiere for six dancers set to Debussy's String Quartet in G Minor, performed live by the Bryant Park Quartet. The program also includes last season's premiere Crisis Variations (for which Lubovitch was awarded the 2012 Prix Benois de la Danse), set to a commissioned score by Yevgeniy Sharlat, and the company's highly acclaimed The Legend of Ten (2010), set to Brahms's Quintet for Piano and Strings in F Minor (first and fourth movements).
With his new work, inspired by Picassos "Family of Saltimbanques," Lubovitch comments on the lives of the itinerant street performers depicted in the painting and, coupled with Debussy's poignant music, creates "a series of interlaced emotional conditions captured in dance," imagining how the ephemeral and uncertain lives of those performing artists may be very like the lives of dancers today. Costumes are designed by former company dancer Reid Bartelme.
With Crisis Variations, Lubovitch challenged his signature approach to interpreting musical scores, creating the space for an accidental relationship of music and dance, and what he calls "action painting" of the sensations evoked by the word "crisis." Completing the program is The Legend of Ten. "Legend" refers not to a mythic story, but to the legend at the bottom of a map that explains the symbols used. A richly textured work for ten dancers, Legend maps the complex shifting terrain of Brahms's music. On the opening night program Little Rhapsodies, a work featuring three male dancers set to piano etudes by Robert Schumann, will replace The Legend of Ten. Lighting design is by Lubovitch's longtime collaborator Jack Mehler.
The company's 10 dancers are: Anthony Bocconi, Clifton Brown, Elisa Clark, Nicole Corea, Attila Joey Csiki, Reed Luplau, Brian McGinnis, Laura Rutledge, Katarzyna Skarpetowska, and George Smallwood.
Performances will take place Wednesday, November 14 at 7pm; Thursday, November 15 through Saturday, November 17 at 8pm; and Sunday, November 18 at 3pm. Tickets range from 0 to 5 and can be purchased through Ticketmaster at 800-745-3000 or ticketmaster.com. Press tickets are available for performances beginning Thursday, November 15. For information about the company's Opening Night Celebration on November 14, call 212-221-7909 or visit www.lubovitch.org. Florence Gould Hall is located at 55 East 59th Street (between Park and Madison Avenues).
About the Company
The Lar Lubovitch Dance Company was founded in 1968. Over the past 44 years it has gained an international reputation as one of America's top dance companies. The company, based in New York City, has created more than 100 new dances and performed throughout the United States and in more than 30 other countries.
Lar Lubovitch is one of America's most versatile, popular and widely seen choreographers. His dances have been performed by major companies throughout the world. His Othello–A Dance in Three Acts, originally created for American Ballet Theatre, appeared on PBS's "Great Performances" (and was nominated for an Emmy Award). His dances on film also include Fandango (International Emmy Award) and My Funny Valentine for the Robert Altman film The Company (nominated for an American Choreography Award). Lubovitch has also made a notable contribution to choreography in the field of ice-dancing, having created dances for Olympic skaters John Curry, Dorothy Hamill, Peggy Fleming, Brian Orser, JoJo Starbuck and Paul Wylie, as well as two ice-dance specials for television: The Sleeping Beauty (PBS) and The Planets (A&E) (nominated for an International Emmy Award, a Cable Ace Award and a Grammy Award). His work on Broadway includes Into the Woods (Tony Award nomination), The Red Shoes (Astaire Award) and the Tony Award-winning revival of The King and I. In 2007, he founded the Chicago Dancing Festival with co-artistic director Jay Franke. The Festival is a series of performances by major American dance companies that takes place the last week of August at the Museum of Contemporary Art, the Harris Theater, the Auditorium Theatre, and Chicago's Millennium Park. The Chicago Dancing Festival reaches over 15,000 audience members annually and is completely free to the public. In 2007, Lubovitch was named "Chicagoan of the Year" by the Chicago Tribune, and in 2008, Lubovitch and Franke were named by Chicago Magazine as "Chicagoans of the Year" for having created the Chicago Dancing Festival. In 2011 Lubovitch was named a Ford Fellow by United States Artists, and he received the Dance/USA Honors. Lubovitch's was awarded the 2012 Prix Benois de la Danse for Choreography at the Bolshoi Theater in Moscow for his dance Crisis Variations.
Music Collaborators
With "rhythmic and expressive vitality" (The Baltimore Sun), the Bryant Park Quartet (Anna Elashvili and Ben Russell, violins; Nathan Schram, viola; Tomoko Fujita, cello) is quickly establishing itself as an accomplished string quartet through imaginative, spirited concerts. The BPQ's "rEvolving Ear" series creates diverse programs that pair contemporary works with historical masterpieces, shedding light on both composers' creative processes. These programs also feature BPQ originals – from arrangements of bluegrass tunes to art songs. Emphasizing outreach wherever it performs, the BPQ has established residencies in New York, California, Iowa, Maryland, and Vermont. It is the first ensemble-in-residence at the Stony Brook University Community Music Programs, where it also runs a weeklong Summer Chamber Music Camp (a documentary video of the most recent camp can be found on the quartet's website). As teaching artists, the members have been invited to give master classes and chamber music seminars at Azusa Pacific, Biola, and Cornell universities. A past recipient of the Chamber Music America Residency Partnership Program grant, they have made an impact in the communities they visit by giving interactive presentations at colleges, schools, music programs, community centers, and even unconventional settings like local bars and art galleries.
Yevgeniy Sharlat has composed music for orchestra, chamber ensembles, solo, theater, ballet, and film. His recent composition, "Piano Quartet," was hailed as "one of the most compelling works to enter the chamber music literature in some time" by the Philadelphia Inquirer. He was the recipient of the 2006 Charles Ives Fellowship from the American Academy of Arts and Letters. Other honors include a commission from the Fromm Music Foundation; awards from ASCAP (Morton Gould), Boosey & Hawkes, Leiber & Stoller, and Yale University (Rena Greenwald); and fellowships from MacDowell and Yaddo. His music has been played by such ensembles as Kremerata Baltica, the Seattle Symphony, the Hartford Symphony, Seattle Chamber Players, and the Chamber Orchestra Kremlin, among others. Some of his recent commissions came from Gilmore Keyboard Festival, Seattle Chamber Players, Astral Artistic Services, and LA Piano Duo. Sharlat was born in Moscow in 1977. He majored in violin, piano, and music theory at the Academy of Moscow Conservatory. After immigrating to the United States in 1994, he studied composition at the Juilliard Pre-College, Curtis Institute of Music (BM) and Yale University (MM, DMA). He is an assistant professor at the University of Texas at Austin, where he teaches composition and music theory.
The Lar Lubovitch Dance Company is supported, in part, by public funds from the National Endowment for the Arts, the New York State Council on the Arts, and the New York City Department of Cultural Affairs in partnership with the City Council. The company also acknowledges the generous support of the Open Society Foundations' Performing Arts Recovery Initiative (administered by the Fund for the City of New York), Mid-Atlantic Arts Foundation, New England Foundation for the Arts (National Dance Project touring support and American Masterpieces touring support), New York Community Trust, Little One Foundation, McMullan Family Fund, Daniel Neidich & Brooke Garber Fund, Rudolph Nureyev Foundation for Dance, O'Donnell-Green Music & Dance Foundation, Jerome Robbins Foundation, Shubert Foundation, A. Woodner Fund, Harkness Foundation for Dance and numerous additional generous individuals, corporations and foundations. The as-yet-unnamed world premiere set to Debussy is being commissioned in part by Ronald E. Creamer, Jr. & Min Kyoung Kim (lead commissioner) and Elysabeth Kleinhans and Bernard & Evelyn Tobin (supporting commissioners). The Legend of Ten was commissioned in part by Ronald E. Creamer, Jr. & Min Kyoung Kim, Pamela Crutchfield, and W. Patrick McMullan III. Initial support for Little Rhapsodies was provided by Irwin Kroot & Anthony Catanzaro, and by Peter Schamel and the Lisa & Steve Cundall Family Charitable Trust, in honor of Broadway Cares/Equity Fights AIDS.
For more information about the company, please visit www.lubovitch.org