Laura Pawel Dance Co. at Chen Dance Center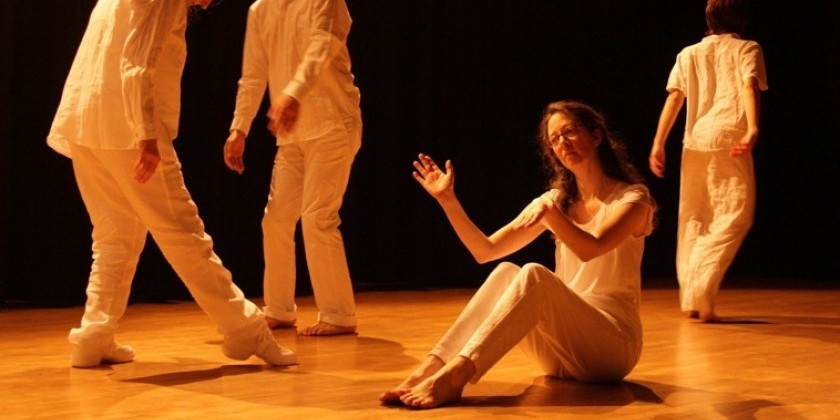 Company:
Laura Pawel Dance Company
LAURA   PAWEL   DANCE   COMPANY   IN   THE   PREMIERE   OF   '3 a.m.'

Friday & Saturday, March 14 & 15 at 7 PM
Chen Dance Center, 70 Mulberry Street, 2nd floor (corner Mulberry & Bayard)
Tickets: $20; $15 for students & seniors
Reservations: 212.349.0438

Dancers: Stacey Berkheimer, Jim Finney, Pamela Finney, Maki Kurokawa, Laura Pawel, Elaine Myrianthopoulos
All music played live by composer/performers The Cecilia Coleman Quartet, Phil Stone, and Gene Caprioglio and Dr. 88 (Barebones)
Lighting: Kathy Kaufmann

               "Ms. Pawel, who has been working with the same musicians and dancers for years,
                   considers her company a family.   That kind of kinship bodes well for improvisatory
                   work like hers, which benefits from a strong sense of trust among the performers."
                                                                Siobhan Burke, The New York Times, March 16, 2012
                  
                                                                       
Laura Pawel Dance Company returns to the Chen Dance Center for two performances, March 14 & 15 at 7 PM, with the premiere of "3 a.m." and company favorites.    Pawel's works, performed by her longtime dance and music collaborators, combine choreographed works with improvisational structures in both the dance and music.    The Pawel dancers always perform to music played live by Phil Stone, Barebones (guitar and hamonica duo), and the Cecilia Coleman Quartet.

The mellow jazz music by the Cecilia Coleman Quartet will accompany the new work, "3 a.m."   Musicians are Cecilia Coleman, pianist/composer; Dave Smith on trumpet; Peter Brainin on flute; and Chris Haney on bass.   A dance about that time of night (or early morning) - a time for nightmares, sleeplessness, wanderings, meanderings.   It could be funny or sad, or both at the same time.

The Coleman Quartet also provides the music for "Switchbacks," in which the performers tell stories that metamorphose, alter in their telling, and make the audience doubt their ears.   The movement, too, is made from each dancer's private world.

"Tete-a-Tete" is an idiosyncratic, complex conversation in motion for Stacey Berkheimer and Laura Pawel, set to music composed by Gene Caprioglio and performed by the duo Barebones (Caprioglio on guitar and Dr. 88 on harmonica).

The sextet "Easy for You to Say"  is set within a fabric of funny, familiar sentiments, also danced to Barebones music.   Composer Caprioglio composed the score for acoustic harmonica and guitar, plus miscellaneous percussion, and was inspired by the melodies and harmonies of the blues.

Pawel describes "Lost Thoughts" as a work that creates landscapes of different energies, creating a shifting environment, sometimes humorous and sometimes sad.   Composer Phil Stone blends his live performance on fretless electric bass and custom electronics with accompaniment produced by a computer music system of his own design.